Interview: Coach Bill Courtney, 'Undefeated'
A small-town football coach explains how his life became an Oscar-nominated Hollywood story... and why it can't change him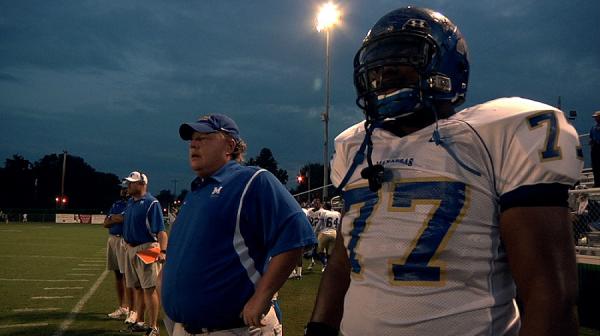 Audiences will have a chance to meet coach Bill Courtney and his Manassas Tigers, this Friday, Feb. 17, when the Oscar-nominated documentary "Undefeated" opens. Don't miss the chance. The film, directed by Dan Lindsay and T.J. Martin, follows a year in the season of a high school football team from a rough North Memphis neighborhood. People are calling it a real life "Friday Night Lights." Manassas has been terrible for generations. They haven't won a playoff game in 110 years. But as the film begins, volunteer coach Courtney has spent years rounding the program back into shape. And this year, behind stand-out offensive tackle O.C. Brown, his team has a chance for success, and perhaps greatness. But football is only part of the story here. To dismiss "Undefeated" as just another underdog sports movie would be a mistake. The reason why it will sweep you up and ultimately floor you are the genuine human profiles: Chavis, a delinquent trying to turn his life around; Money, an undersized brainiac trying to find any way out of the ghetto; O.C., a gentle-giant and star of the team; and, of course, Courtney, the man who tries to juggle a full-time business, a wife, four kids an Manassas' suddenly high expectations. It's beautiful stuff, shot in intimate vérité style.
Towards the end of a recent phone conversation, Courtney says to me, clearly, "I fear that people are going to say 'Undefeated' is a football movie and if you don't love football, don't see the movie. But football is the backdrop. This movie is about people. It's important they know that." I told him I'd mention that in the article. So, there you go, Coach. I lived up to my word. And trust me, after you talk to Courtney, you want to live up to your word. Like all great coaches, he inspires and you don't want to disappoint… even after a 30 minute introduction.
MSN Movies: Where were you when you found out you are in a movie that has been nominated for an Oscar for Best Documentary?
Bill Courtney: I was asleep. The phone rang and it was [co-director] Dan [Lindsay] and he said what he always says, "Hello, sir, how are you?" I said, "Dan, it's 7:30 here [in Memphis] and I'm trying to sleep, which means it's 5:30 there. Why are you calling me? He said, "Well, your life is now going to be at the Oscars." I laughed and said "Whatever. I'll call you back later," and hung up and went back to sleep for 45 minutes. After I got up and showered and started to kind of wake up, I called him back. I was floored. I mean, yes, I knew the nominations were coming out at some point, but I didn't think there was a chance this would be nominated for an Oscar. Look, I don't know anything about movies, I don't know anything about Hollywood, I don't know anything about any of this stuff, admittedly. Completely ignorant. But it seems to me that awards generally migrate towards movies with, say, a social agenda or with some social statement to make or have something to do with the environment, etc. This isn't that so I just didn't think we'd fit into the footprint. But it's humbling and it's an honor and it's, to me, very surprising.
MSN: Is the community excited?
BC: Since the nomination, I've done 11 speaking engagements in Memphis.
MSN: Based on how crazy your life seems in the film, I don't know how you possibly fit that into your already packed day.
BC: Well, you are right. Here's the thing: Dan, T.J. and Rich [filmmakers behind "Undefeated] became my friends. I don't mean my associates or people I know; they became my friends. I truly love those three guys, primarily because they are men of their word. They did what they told me they would do when this whole thing started.
MSN: What was that?
BC: I told them, for better or worse, bad, ugly, good or indifferent, whatever you put on film, you need to understand is my life. I am passionate about these kids, I am passionate about this message and whatever you put on film is real and honest and truthful and not contrived or manipulated. You represent who we are and what we've done here honestly. And I don't care if people like it or not. So, after the film showed at the South by Southwest Film Festival, a couple of the players were there with me, and we were standing, trying to gather ourselves. It was the first time we had seen it and it was an emotional rollercoaster. Dan and T.J. walked up and said "Well, what do you think?" Chavis looked Dan straight in the eye and he was bawling, and he said "You got it right." And they did. So, because they were honest, I trust them. So back to your original statement about being busy: This thing could help propel three hardworking, creative guys' careers. So, I want this to happen for them. I want this to do well. However, at the end of the day, I don't want it to be something that defines the kids or me. It's a movie about a moment in time. Next year, there will be another movie about a moment in time and everyone will forget this one.
MSN: [Laughs] You think so?
BC: Let's keep it real. I'm a father, I'm a football coach and I own a lumber company. I'm not a movie star, I don't live in Hollywood. The point is, this can't define us. I refuse … if this defines us, if this is the best thing to ever happen to us in our lives, then we got problems. This needs to be one of those things we look back on and remember fondly, but we need to be defined by our children, and how we approach life and the people we work with, not a movie. So, humbly, while this is a distinct honor and it matters for Dan and Rich and T.J.'s future, at the end of the day, it can't be the biggest thing to ever happen to us.
MSN: What was your original reaction when they came to you to film this story?
BC: It evolved. Originally, they came down here to do a short documentary on O.C. Then they got down here and realized there was a lot more going on down here than just O.C. Then they left and said they were going to try and raise money, that it would make a neat movie. And the whole time, I was like "Yeah, yeah. Whatever." It wasn't like "Oh, I hope they come back and make a movie!" They were just three guys who wore really funny socks and had stupid hair-dos … [Laughs] When they called back, they said they'd be here in three days and had locked up their apartments and were moving here … that was when it was like "Are these guys for real?!" But, you know, 20/20 did a story on us and we'd been in the paper a lot because people took note of this terrible program that turned around and started winning games. So, we had people around and were getting used to people wanting to hear our story.
MSN: Did having a documentary crew around add more pressure to your team?
BD: No. Not at all. The first couple of weeks, people were cognizant that there were cameras there. Dan and T.J. and Rich went to everything: Practice, film sessions, chalk talk. They went and taught a film class for the school on their own time. They went to prom. They went to graduation. They went everywhere! They embedded themselves not just with the team but with the school. They became no different than a team manager or statistician or somebody you'd see on the sidelines of any football game. After those first couple of weeks, they were just part of the team. If they missed a practice, people were like "Hey, man, where are the L.A. dudes? Are they sick? Do we need to call…?" And you know, it was just a couple of guys with cameras. There weren't boom mics and a huge crew. I mean, it sounds disingenuous, but until you've lived it … I honest to God forgot they were there most of the time.
MSN: You were a volunteer coach at Manassas. What drove you to that particular school?
BC: I taught school and coached football for a living out of college. I got married and started having kids and got into the private world and built a business. My business is half a mile from the school. Between the time I quit coaching high school and began coaching at Manassas, I was always still coaching: Junior high ball, different sports. Sometimes it was 5th graders. I've always coached. So, a guy who works with me, his Sunday school class had some guys in it that were going to inner-city schools and cooking pre-game meals for the teams and mentoring. So, the guy asked me if he could take time off to do this. I said yes, but then I said there is a high school down the street that looks old and everything else. It's in our neighborhood. So he said he'd go down there. He went down and brought them baseball hats and after a couple of times, he came back and said "Bill, they have 17 kids on their football team and one coach who is completely taxed and they've won one game in three years. But they've got a couple guys over there who look like they could play in the NFL today. I talked to them about it and they'd love if you came over and helped with spring practice." So, I went over for spring practice and never left.
MSN: What kind of situation did you find?
BC: Fundamentally, I found 14 and 15-year-old boys that were looking for a coach that would give them some discipline and somehow help them get better. They just needed a way and they accepted me into their lives very quickly. [Pause] Please understand: There was no agenda. People are going to talk about the fact that it is an all-black school in an inner-city black community and I'm a white guy who has built a business from a different side of the tracks and all of that. But I didn't look at them as my black players and they didn't look at me as their white coach. They needed a coach and I love to coach sports. Once I got there and became involved with the kids, we found out that this was an opportunity to reach a bunch of kids through something they loved. There was such a deficiency in the basic fundamentals and tenants of what you want young men to base their lives on … it was just a great opportunity to serve. That's all it was.
MSN: It's interesting that you use the word "serve" because the concept of service is one of the biggest to come through in the film. A lot of people coach for different reasons and it seems, from just watching the film, that coaching for you seems to be about service.
BC: You've seen the movie so you know that I didn't have a dad that was involved in my life. My mentors were my coaches. You know how a lot of teams after practice have the freshman carry all of the equipment in for the team. And before practice the freshman get the water bottles. You know what I'm saying: The freshman have to get abused. Well, I had a coach who was the opposite. The seniors did that. He said, "You lead by first serving." People will follow through service. I think that is very true. All that stuff that you talk about the character and the commitment and the discipline and the love and putting someone before oneself … all that falls on deaf ears unless the kids see you doing it. But if the kids see you doing it and you walk that walk, then they will follow. So you have to first serve to lead.
"Undefeated" opens Friday, February 17.