'Bridesmaids' One-Sheet Debut
Check out the new wedding comedy with Helen ...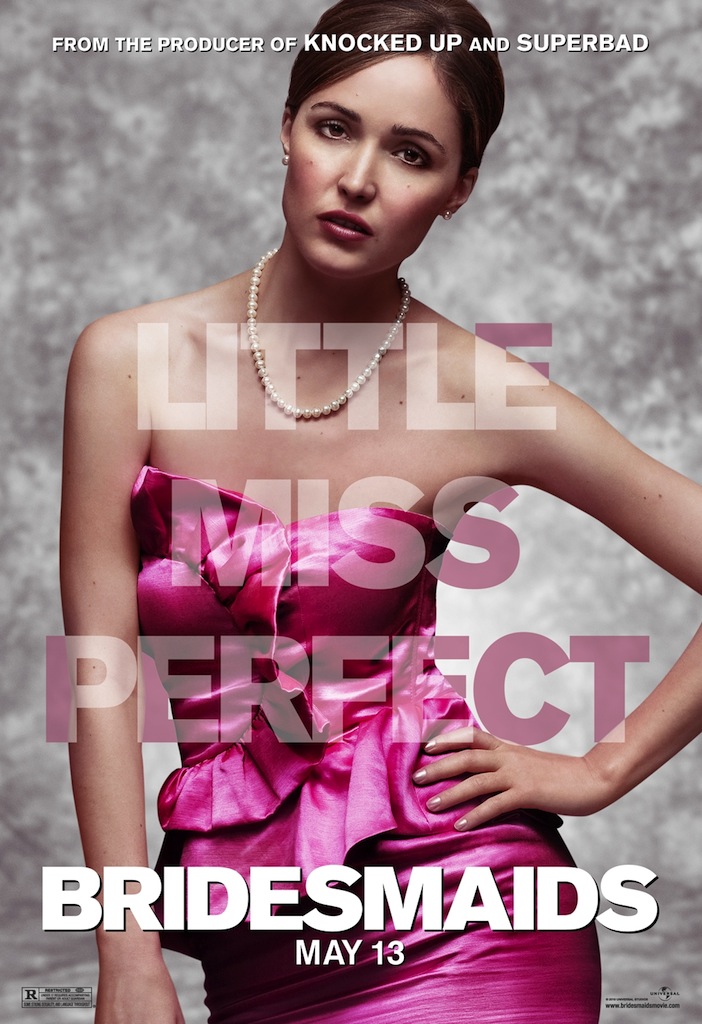 The "Bridesmaids" are coming! If you've been to enough weddings, that prospect sounds a little more than terrifying. But if you've been to enough tedious, marital-central, fluffy romantic comedies, these pretty maids (all in a messy row) look refreshingly real and genuinely funny.
That's what we hope for with the newest comedy from producer Judd Apatow ("Superbad," "Knocked Up") and director Paul Feig (creator of the great "Freaks and Geeks") -- "Bridesmaids," opening May 13.
We're also happy to debut a one-sheet of specific "Bridesmaids" characters, splitting duty with five other sites, and that we nabbed Helen (Rose Byrne). Perfect. To go along with the terrifying angle previously mentioned, Helen appears to be the scariest of all the maids -- beautiful, snooty, sociopathic. She looks hilarious.
The movie stars Maya Rudolph as the bride-to-be, Lillian (take a look at
AOL Moviefone
) who has brought together her closest, but clearly disparate friends to serve as her pink-wearing wedding posse. The women include Kristen Wiig as Annie (check out
Yahoo Shine
), Wendi McLendon-Covey as Rita (look at
SheKnows
) Ellie Kemper as Becca (go over to
ComingSoon
) and Melissa McCarthy as Megan (take a gander at
HitFix
).
And remember to check out the redband trailer for "Bridesmaids" premiering tonight on
MySpace
. If you've seen anything to do with these women, well ... to say they are
stressed out
about the upcoming nuptials (and Wiig in particular) would be an understatement. Now let's hope that translates to hilarious.