'The Expendables 2' Trailer Blows Up Internet
Wherein a bunch of old guys shoot each other and explode things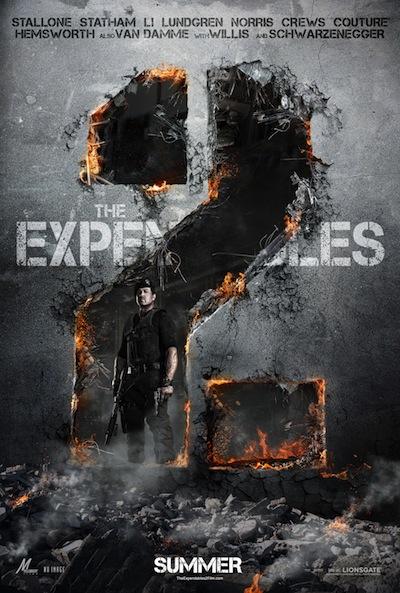 "The Expendables" was a not-too-terribly unpleasant surprise when it came out way back in those halcyon days of 2010. It made a certifiable bank at the box office, and an unexpected action star out of geriatric sexagenarian Sylvester Stallone. We suppose it was thus only a matter of time that the film got a sequel.
And that time is now, apparently. Or, rather, very soon, as we are only now bearing witness to the first trickles of what will inevitably be a monsoon of promotional material from distributor Lionsgate. The film's first trailer, posted below, wastes no time in establishing the film's multiple calling cards: original stars Stallone, Jason Statham, Jet Li, and Dolph Lundgren; newcomer Liam Hemsworth (for the ladies? ... might be a losing proposition there); and beefier roles for old-timers Bruce Willis, Arnold Schwarzenegger, Jean-Claude Van Damme, and Chuck Norris. Also, lots and lots of gratuitous explosions, gunshots, and stab wounds. But that was to be expected.
What's next, "The Expendables 3" with Kurt Russell, Steven Seagal, Mel Gibson, and the "Rowdy" Roddy Piper? Um, yes please! Check out the new trailer, and let us know what you think in the comments.
Are you sure you want to delete this comment?