Interview: Edward Burns and Rachel Nichols of 'Alex Cross'
On cops, 'Cross' and working with Tyler Perry ...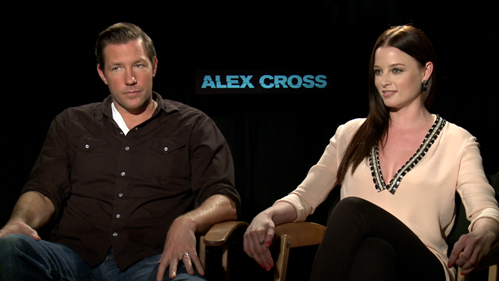 In the upcoming "Alex Cross," both Edward Burns and Rachel Nichols play cops -- Tommy Kane and Monica Ashe -- working alongside Tyler Perry's title character and trying to take down Matthew Fox's demented assassin Picasso. We spoke with Burns and Nichols in L.A. about realism, playing cops, large-sized action and bigger personalities in 'Alex Cross."
MSN Movies: Let me ask you this -- when you're getting ready to play a cop, which you've both certainly done before, but all of the stuff, the physicality of it, the shotguns, is that useful as an actor and more importantly is it fun?
Edward Burns: Both. Actually it's useful and it's fun. I mean a) anytime you have to play let's say a soldier or a cop and you're representing real guys who put their ass on the line, when you do your training with them it's very important that you don't embarrass them. So they want you to know hey it's important that you know how to handle that weapon properly. If you're an actor who cares, you want to do that as well. And also it's helpful to know how to do it as sort of second nature so you don't look like a goofball whose got 20 years on the job and you don't know how to holster your weapon. Is it fun? I'll let you answer it, but my short answer is yes and it was a blast.
Rachel Nichols: Yeah. I mean I grew up in Maine and I've been around sort of guns my entire life and shooting cans off of a fence in the field and all that. But I love shooting weapons. The first thing I learned about weapons is respect, and that carries into movies as well. If you're on set and you're dealing with weapons, live or not, you respect the weapon; you know how to handle it appropriately. You don't really joke around with weapons but it is fun when you're in whether it's a fight sequence or an explosion sequence and you have the tactical guys on set and they've been training you really well and you do a take and they come up to you afterwards and they're like, "Yeah, that looked great." 'Cause you want to see approval from the guys that are there watching you do it and when you do it well it's definitely fun.
BING:  Edward Burns l Rachel Nichols
On a film like this where the concern is both "Let's get a really good scene, let's hit the emotional tone of the piece" but also they're setting off large explosions that they will then increase with CGI, does that tend to concentrate the mind a little bit knowing that things are going to blow up and make loud noises?
Burns: Anytime you're dealing with sort of explosives and fire, there is no room for joking around. So yeah, it's a different level of focus that's required because you can hurt yourself or worse than that you can potentially hurt someone you're working with if you're not paying attention and you're not focused.
Let me ask you both this -- this is a film made from a book by one of the best-selling authors of our time. Its star is an incredibly respected and successful director and producer in his own right; you have a veteran of the action cinema directing. Was there ever a concern those three big personalities might not mesh or were you surprised by how everybody fit into a groove of knowing what they were doing to make the best film possible?
Nichols: I know Rob and I love his temperament and I love personality, and I knew that his sets were very easy to maneuver and he puts good people together. I hadn't met James Patterson and only actually just met him for the first time. I was not on set when he was there sadly. I met him yesterday, but knew that he had sort of worked on this script and been very much excited about the fact that Rob was involved and the script had his seal of approval. And Tyler also bringing him into it, as soon as I met Tyler he has this great presence and he's this formidable character, but the three of them together? Yeah, I guess you could've initially thought that maybe this wouldn't work, but it actually was fantastic.
Burns: I think you had a case where all three of those guys wanted this to work very badly. I know James Patterson wanted to sort of reboot the franchise. I know Rob was hungry to make this film and get back behind the camera again 'cause it had been a couple years. And Tyler had been offered a bunch of things prior to this and had waited to find the right vehicle for him to sort of say, "Okay, I'm going to trust my thing to somebody else," lend his personality to someone else's vision. So when you have three guys who all want the same thing, they're all going to sort of, be on your best behavior is not the right way to put it, but everyone's working towards a common good.
A shared goal.
Nichols: It was a collective.
Burns: And I think that was the vibe we had on set.
For more on "Alex Cross," check out MSN's video interview with the cast and creators: 
 ("Alex Cross" is in theaters tomorrow; for more information about movies, you can find it on  the Facebook page of MSN Movies and at the feed for MSN Movies Twitter.)