Interview: Actress/Writer Zoe Kazan of 'Ruby Sparks'
'It was very important to me that Ruby feel real over the course of the movie. ...'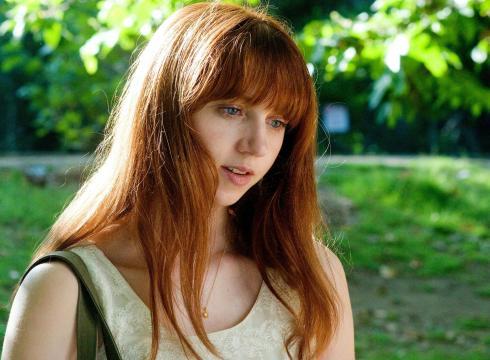 In "Ruby Sparks," a blocked once-acclaimed novelist (Paul Dano) tries to get over his creative drought by writing -- anything. He starts writing about his dream girl, falling for her even as he's writing her. It's a silly exercise... until the woman, Ruby Sparks (actress and screenwriter Zoe Kazan) materializes in his home one morning as he's getting ready to go. A mix of "Weird Science" and indie-minded comedy, or an L.A.-set bittersweet tale of magical realism, "Ruby Sparks," directed by Jonathan Dayton and Valerie Faris of "Little Miss Sunshine," manages to be romantic, heartfelt, sweet and tough and smart. Zoe Kazan plays Ruby and wrote the script; we spoke with her in L.A. about writing, how art and life can get in each other's way and the balancing act between the fun and fantastic and the wrenchingly real.

MSN Movies: Was this a chance to make sure you could find an amazing role for yourself by creating it?
Zoe Kazan: It's a good question. I think that's why a lot of actors write. I have definitely, in the past, thought about writing something for myself, but that was not how this started. The idea came to me in kind of a flash -- not unlike Calvin's experiences in the movie. And I felt so taken by my inspiration that I wasn't even thinking about who would play these parts or anything. I showed the first few pages to Paul, to my boyfriend, and he asked if I was writing it for us, and when he said that, I thought, "Oh, well, clearly that is what I'm doing." But then I felt really protective of the story, and I think sometimes when you're writing for yourself that vanity can come in, and I didn't want to get in the way of the story and the people that I was receiving so I tried to put it out of my head as much as I could in that process.
But at the same time, one of the great things about this film for you is that it didn't just feel like a film; it felt almost in a way like a form of film criticism. We've seen so many indie films where you know, a girl with bangs just shows up in a vintage dress to completely fall for the protagonist who's usually based on the male writer-director. Was writing about all this stuff a way of kind of breaking out of that trap?
I don't mind the film being about the criticism of that if that's how people want to read the film. It's not why I wrote it, not my initial inspiration or anything, but it is interesting to me what you're talking about. I do think what I see when I watch a movie like that is I see, not that there's anything wrong with the person who's writing it, but that in some ways their imagination of what a girl is is limited. And yet, so many of those stories are sort of heir to those romantic comedies or great love stories; so I did want to address that in some way. And with thinking about how, male or female, we all have an idea of the person we love and sometimes that idea can be very far from who the actual person is.
Can I just mention briefly that when I was informed after seeing the film that you and Mr. Dano are in fact involved, I was disappointed -- not for you two -- but rather just because it's just like, "Oh, that was such a lovely performance, I almost didn't need to know that." It's as if people are going to confuse…
I know, we hope, actually... I agree with you. It's the kind of information that I wouldn't want either and I kind of hope that people -- I know that doing interviews like this are going to be counter-productive to that end, but I kind of hope that people go in knowing less of that than more.
The other thing is, and I just spoke with Miss Faris and Mr. Dayton earlier but, and this applies on a screenwriting and performance level as well, I can easily imagine the far worse version of this film where it costs a lot more money, and there's a lot of special effects, and ideally somebody like Eddie Murphy who's going, "But she's not real," and lots of CGI. Was it important to shun that from the jump?
Yes, absolutely. Paul could speak much more eloquently to this than I can. But from the very start when I showed this to Paul, we both felt that the most important thing was to retain as much control over it as possible in the early stages because, as you said, it would be so easy for this concept to go off the rail. I think we forwent some possible monetary gain -- you know there was a way we (could have) sold the screenplay and lose control of it and make a chunk of change. But it was so important to us, we saw so clearly what movie we wanted to make and felt like, okay, in order for us to be able to make it, we can't let this fall into the wrong hands. And a big part of that was bringing Jonathan and Valerie on. They were our first choice of directors from very early, and I just kept seeing in my head the movie that they would make and thinking that this was the best version of this movie. When they came on, that was the point when I felt like I could relax and stop protecting it quite so hard because I knew that they would want to make the same movie that I wanted to make.
I always curious about when you're shopping around scripts that involve ... but even showing scripts that involve a couple of scenes, like there's a scene where Calvin essentially demonstrates the conceit of the film to Ruby in an incredibly unkind fashion…
In a way, too much.
Exactly. But the question is, when you write scenes like that are there people who say to you, "You know what would make this movie a lot better is if this whole scene, which is kind of the point, weren't in here." Is it hard to keep stuff from getting kind of artificially sweetened to be more palatable?
I'm sure it would be if we had gone down the more conventional route in trying to get this made. I mean, that's part of what I'm talking about, about making sure we retained some control or agency over it. We didn't shop it around. I sent it to, we sent it to a handful of producers and I met with 4 or 5, and the ones that said things to me like, "How do you want the fantasy sequences shot?" Those people were people that I ended up thinking we weren't a good match. And when I met with Ron and Albert, who ended up producing it, they really got it and said to me, "We will make this at whatever budget we need to make this at." And when I met with Jon and Val, they similarly got completely what I was aiming for which was obviously sort of bigger game than the "Bruce Almighty"/"Click" version of this movie.
I like "Bruce Almighty" and "Click." I was also thinking "Splash" and "Weird Science," which is really sad.
People have brought up "Weird Science" to me many times that I start to wonder if people are seeing the same movie that I am -- not that that movie isn't good -- I really love that movie. But I'm obviously not Kelly Lebrock and if I was trying to make that movie I would've cast a different girl in this part and put her in a leotard.
I mean, the whole thing is you are not Kelly LeBrock, but I think people are saying "Weird Science" primarily because nobody understands Pygmalion and Galatea anymore without going to Wikipedia. But also, is it really that in her way Ruby's as much an unrealistic fantasy as Kelly LeBrock?
I don't think so, ultimately. I think that when we first see her in the film, Calvin doesn't know her yet, so it's like he's looking at 2 percent of her. And those things are more of an idea of a girl -- like Harry, Calvin's brother, says, "You haven't written a person, you've written a girl." But then as we get to know her over the course of the movie, at least in my eyes, I think she becomes much more real and from my perspective, it's not that she's unreal from the start, but it's that we don't know her yet. And then as we get to know her just as we do in relationships, a more complicated picture emerges. And she has agency and faults and a mind of her own and that is ultimately threatening to the relationship or Calvin perceives it as threatening to the relationship. So I think that if you just enumerated her parts, then yes, she is just the idea of a person. But it was very important to me that seems and feels very real over the course of the movie. I hope you did, too.
She was very much so. So much so that I kind of found myself actually forgetting the central conceit which I think is the point. When you find yourself arguing, wondering about the inner life of a character who technically doesn't have one, that's slightly problematic.  
That's interesting. I just want to say something to that which is… I…(Laughs)
Please, when I said "doesn't have an inner life" I misspoke. What I meant to say was…
No, no! I totally understand what you're saying. I'm actually trying to agree with you and it hasn't come out of my mouth. I don't know how to say this without sounding like I'm being mean to men because I actually mean it in the opposite way but, I had a boyfriend once who, I realized at a certain point, thought I really didn't have an inner life at all. He couldn't actually imagine my inner life. And he is the person in the world who I think has loved me almost more than anyone. But it was an incredibly lonely feeling. And I think that that sort of dichotomy is part of what I'm trying to write about -- about how interesting it is to feel so loved and yet feel very lonely, because you feel like I don't know the person I'm loving.
And the other thing is that yeah, all of this at a certain point, whether it's vanity, or distraction, or life, or just exhaustion, you kind of occasionally forget to pay attention to the people we love, but there are worse circumstances where you actually turn it off. What Paul says is, "I don't even think about this a lot because I know everything I need to know."
Right.
I think it's this weird, bright, shiny film with an incredibly dark core.
I like that.
How imperative was it to do this in L.A. and as an L.A. story?
I don't know if it was imperative.  You probably could have set it somewhere else. For me, I think, I was living in New York, I do live in New York, but I was in New York writing this, and I think I felt homesick, like I missed the place that I grew up. And I think, this is mostly a joke, but one of the more unrealistic things about the movie is that this novelist would be living in Los Angeles and not New York. But New York is a place that, for me, I think is so much less lonely than Los Angeles. You could just walk out on the street and you're among people. And in L.A., you're so isolated, unless you work very hard to get out there and connect with people, it's incredibly easy to just be in your little bubble of your house and your car. Even walking out in the street, you don't bump into people. So Calvin's isolation, his loneliness, is such an integral part of who his character is that it seemed like Los Angeles seemed like the right place to locate him.
Your most fun day on the set? Was it the crazy dancing sequence where Plastic Bertrand's "Ca Plane Pour Moi" was blasting or was it something else?
Well, that probably is my favorite because I love to dance so that definitely ranks up there. I think also the day where I was speaking French was really fun.  That day my family came to visit the set and it was just such a funny scene.  And really any day when we had the whole cast together, so like the stuff up in Big Sur when Calvin and Harry and Susie are all at the house. I liked those days because so much of the movie is me and Paul in this kind claustrophobic relationship-y sense and it was always fun to have somebody new to play with ...
("Ruby Sparks" is in theaters now.)