Videodrone New Release: 'Ted' – A boy and his teddy bear, 25 years later
Seth MacFarlane mixes the sentimental and the scatological in his foul-mouthed comedy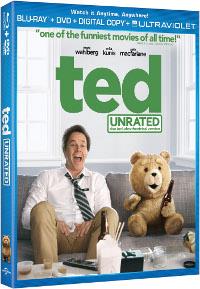 "Ted" (Universal), the feature film directorial debut of Seth MacFarlane, the cheeky TV animation bad boy creator of "Family Guy" and "American Dad," is a curious meeting of conventional romantic comedy, man-boy slacker tale, and foul-mouthed farce, all built on a "Christmas miracle" fantasy followed to its shaggy, frayed end.
Simply put, a lonely boy wishes his stuffed teddy bear to life to be his best friend forever. But 25 years later, lonely boy John is a big kid in Mark Wahlberg's body and Ted, the once adorable magic bear, has spiraled into the life of a washed-up celebrity: a bong-huffing, sexually obsessed, filth-spouting couch potato constantly pulling John into their old stasis.
It's a familiar story to modern movies, the child-man underachiever holding on to the toys and distractions of his eternal adolescence (boy and bear both embrace the colorful kitsch pulp movie "Flash Gordon," which plays a central role in the film). He resists the demands to grow up and have an adult relationship, torn between old buddy and unfathomably patient girlfriend (Mila Kunis), who is game in a thankless role.
It's not as funny as MacFarlane thinks it is, most of it built on the humor of a walking, talking teddy bear uttering absolutely vulgar things, and McFarlane has no visual invention as a director. He's a writer who points his camera at people who say and do outrageous things. What's surprising, however, is how sentimental and conventional it is under the inappropriate behavior and adolescent humor. Their friendship is genuine and Ted is as loyal and supportive his best buddy for life as can be. He's just not a good influence.
Continue reading at Videodrone
For more releases, see Hot Tips and Top Picks: DVDs, Blu-rays and streaming video for the week of December 11