Interview: Director Ti West of 'The Innkeepers'
The indie filmmaker is passionate about the art and the business of movies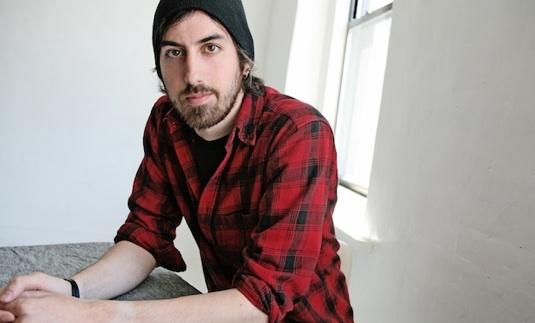 Talking to Ti West, you find yourself wishing that all young directors were as committed to their craft as he is. West has made some of the most original, offbeat horror films in recent years and his new film, "The Innkeepers," is no exception. Set in the century-old Yankee Pedlar Inn (an actual hotel in Connecticut where West and his crew stayed when they were making "The House of the Devil"), the film focuses on the hotel's two remaining employees. Claire (Sara Paxton) and Luke (Pat Healy) are bored minimum-wage workers who are determined to prove that there are ghosts in the venerable hotel before it shuts its doors for good. During the hotel's final weekend, odd guests start checking in, from a TV actress-turned-psych​ic (Kelly McGillis) to an ancient coot who had honeymooned there in much better days. Claire and Luke start to experience some very strange events. Will they finally be able to confirm the hotel's reputation for being haunted?

Last month, just before "The Innkeepers" was released on VOD (it opens theatrically on February 3), Ti West published an open letter to his fans, urging them to avoid the inevitable pirated torrents that would arrive soon after the on-demand version came online. He wrote the letter not because he expects to make any money himself on the film, but because he is all too aware of the precarious state of independent films in general. 
Every time you purchase something you are making a statement. You are creating physical evidence that something has value…I'm sure we can all agree that there are incredible movies made every year that never get the attention they deserve. That's not the movies' fault. That is our collective fault for not being proactive enough to GO OUT OF OUR WAY to support them.
 
Where we choose to spend our money should reflect what matters to us and what we want to support. If independent film matters to you, then do me a solid and pay for the film instead of downloading it. It's not a huge financial commitment, but it has a huge financial impact. I am not a corporation, I am not independently wealthy, I don't come from a family of the industry...I'm just a regular dude who made a movie and wants to keep on making them. I can't do that without your help, and it would be very much appreciated.
When I sat down with West, I asked what motivated him to write the letter.
Ti West: I think of independent film as a lifestyle and a culture more than I do a career or an industry. To be honest, I'm not even sure I think of the piracy that goes on as "stealing." For me, it's not about stealing, it's about supporting something that you care about.
MSN Movies: Why do you think so many independent movies have such a hard time getting out there?
I think we've become lazy. We're so used to things coming to us, we're so used to movies having TV spots every five minutes, or toys at Burger King, so no one is being proactive and discovering things anymore. A few years ago, when you went to the video store, you'd browse and go "Oh, what's this?" Now that's been taken away.
Do you see any advantages to online streaming?
Oh, sure. With Netflix, especially with documentaries, so many more people I know are watching them now because all of a sudden they're in their house and they go "Oh, I'd be interested in that." I think it's a powerful time to be a consumer these days. We're in a weird transition with movies and music being so available so what you choose to support becomes a real statement, especially during a recession. I just want people to think about what they spend their money on. A lot of people who wrote back to me said, "You know, I do download stuff but what you're saying makes a lot of sense."
You also urged people to see your movies in a theater if they are in a city where they are playing.
Yes, everyone sees the art house theaters going away, less screenings of independent films, and nobody likes it, but what are they doing about it? When an indie movie come out, it's a big deal to support it. And the ten bucks that you spend, it's not ten bucks going into someone's pocket, it's physical evidence that people care about this stuff so therefore they'll make more of it. And for me, as someone who spends every waking hour meticulously crafting a movie to be seen a certain way, shit, if you watch it on your iPhone, it's a bummer! It's better than nothing, but Holy God, seeing something on a big screen with other people is still the best way to see a movie! The problem is, between people being annoying at theaters and so many movies being bad, it put something into motion that makes it hard to get people to come out anymore…they've been scarred.
"The Innkeepers" has been released on VOD more than a month before it hits the theaters. What do you think about that plan?
I wasn't for it at first but "House of the Devil" was so successful I learned that it works. Our movie will be out in about 25 theaters in February, and that's great, most major cities are covered, but what about all these other people who just can't see the movie, especially now that there are so few art house theaters? With VOD, if you're in Des Moines, Iowa, and you like my stuff, you now have a way to see it. But if you're in a major city where the movie's playing, I hope you'll come see it in a real theater!
I loved the setting in "The Innkeepers." Did you use any of the ghost stories associated with the real Yankee Pedlar Inn in the film?
No, their ghost stories are different from mine but I incorporated some things that happened there and just the overall vibe of the place. I'm a skeptic, I don't' really believe in ghosts, but spending time there is as close as I've ever come…by far! It's a fascinating place because it's this mixture of 1800s beautiful historic architecture and a lot of bad 1970s renovations. I wanted to make a very traditional kind of 1800s Charles Dickens-like ghost story, but I wanted to put these very modern nerd slacker characters in there. I was interested to see how they'd react to a situation like that.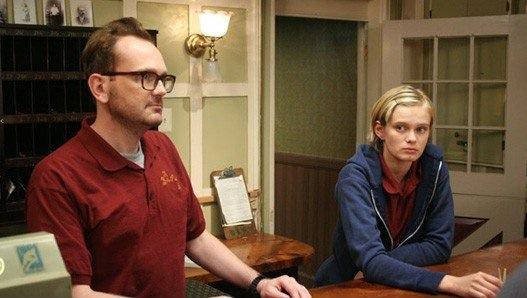 I really appreciated the humor in the film, the people in the theater where I saw it were laughing their asses off. Do you see a strong relationship between humor and horror?

For me, it was particular to this movie. It's sort of a workplace comedy that turns into a horror film. I wanted to make everyone like these people, feel like they could relate to them, and then go, "What? It's going to turn into a horror movie now? I'm not prepared for that!" I think a lot of horror movies are sort of the lowest common denominator where you're just there just to see people's heads getting cut off!
People often talk about directors of small, independent movies as biding their time, waiting for their chance to direct a big $100-million film. Is that something you'd like to gravitate toward?
Of course—I just don't want it to be "Thor 2!" It seems like the only successful big movies these days are some sort of remake or comic book story, neither of which I particularly want to do. But if someone came to me and asked about my next project which is actually a space science fiction movie, and they said, "great, we have a hundred million dollars, let's go make it," I'm gone, let's do it! But they don't, they come to me and say we're doing a remake or they have another found-footage film, or something like that. The sell-out world has gotten very narrow. I'd like to sell out, I'd like to blow something up, I'd like to do all the stuff I've never been able to do because of limitations, but I don't want to make a stupid movie, you know?
"The Innkeepers" is currently available on VOD and will be in theaters in select cities starting February 3. Click here to read our Fantastic Fest review of the film.