Cannes Review: 'Antiviral'
Blood will tell in Brandon Cronenberg's directorial debut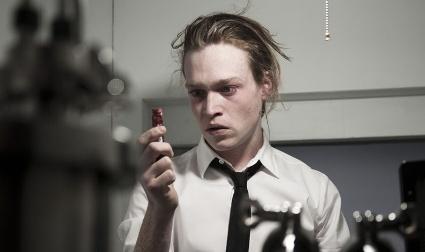 Rating: 2.5/5

Here at Cannes, where photographers will gladly and literally run over you to photograph red carpet luminaries pausing only to ask, as one did to me one year, "Whozzat bird, then?", you get to see celebrity worship at its worst. But in the directorial debut of Brandon Cronenberg -- yes, David Cronenberg's son -- celebrity worship in a 20-minutes-from-now future goes beyond even that. The result is a story that may be a little over-long -- the film could do with a few cuts off-screen to go with the many slashings and stabbings on -- but it's also one that demonstrates Cronenberg is a talent to watch, especially if he can find his own voice and not echo (albeit echo superbly) his father in later films.
Syd (Caleb Landry Jones, of "X-Men: First Class" and "Contraband") works at the sterile, high-end Lucas Clinic medical clinic -- which is ironic, as he looks like death warmed over, sniffling, sneezing, trembling with fever. The Lucas Clinic  offers a unique service to wealthy clients -- infecting them with the same viruses that the celebrities the clinic has exclusive contracts with, re-spun through high-tech wizardry and made both non-contagious and copy-proof. A pallid and shaken young man comes in, plunks down his ATM Card … and gets injected with a strain of herpes simplex "A" taken from mega-star Hannah Geist (Sarah Gadon). "Biological communion," as Syd notes … for a price.
Syd, though, has been breaking one simple rule: He's been taking his work home with him … literally, injecting himself with the clinic's newest additions to their germ and virus library from their superstar specimens and  making black-market deals with Arvid (Joe Pingue, scruffy and strong in a bit part) for money on the side. It's pretty stupid for Syd to be doing this, but I bought it -- it felt like the William Gibson version of "getting high on your own supply." And when Syd tries a little something something after picking up a vial of blood to make sure the latest malady suffered by the Clinic's biggest name is on the Clinic's menu fast, he falls asleep in a fever … to wake two days later with every news source blaring that the Clinic's biggest-name germ-and-virus provider is dead. 
It is one thing, though, to explore ideas in film, and another to explore ideas in film through character. Syd's a cipher, and while Landry throws himself into being sick, scared and pushed around by various hands on the chessboard of life, we don't get much else from him. And while Jake Howell of Movie City News has put forward via tweet that "If 'Antiviral' was (made) under a different name I'm sure it would be lauded"; with all due respect to Mr. Howell, if "Antiviral" was made by, say, Chuck Swerski or Lynn Perkins, I would think that that filmmaker had watched a lot, if not too much, of David Cronenberg's work. The clinic's head Dorian (Nicholas Campbell, elegantly menacing) is right out of "Rabid" or "Shivers"; the symmetrical arrangement and clean surfaces are out of "Dead Ringers"; the film's visions of the new flesh are out of "Videodrome" or "Naked Lunch."
This isn't to say that horror fans won't like "Antiviral" -- the film's got gouts of blood and slabs of gristle to make you recoil in the moment and creepy ideas that lodge like a splinter in your mind to stab and sting much later, with superbly gruesome effects, mostly practical. And Cronenberg the younger has a good sense of composition and style, and if the film loses momentum after a while, like the slowly-fluttering heart of a blood-loss victim, it starts strong, strange and stylish. The film's sharp stabs at our TMZ/TMI culture are perfect because they're so close to the truth -- an infra-red enhanced upskirt shot of a celeb leaving a limo as just one smart, quick, funny throwaway.  Making any film is a backbreaking effort, and mere nepotism and name-checking didn't get Brandon Cronenberg in the Un Certain Regard selection at Cannes; at the same time, for Cronenberg's next film, one can only hope there's a bit less focus on artistic inheritance and more on artistic mutation. 
("Antiviral" is currently playing the "Un Certain Regard" Selection at Cannes.)