Team Django or Team DiCaprio? First 'Django Unchained' Stills Revealed
Quentin Tarantino gets his frilly-costume on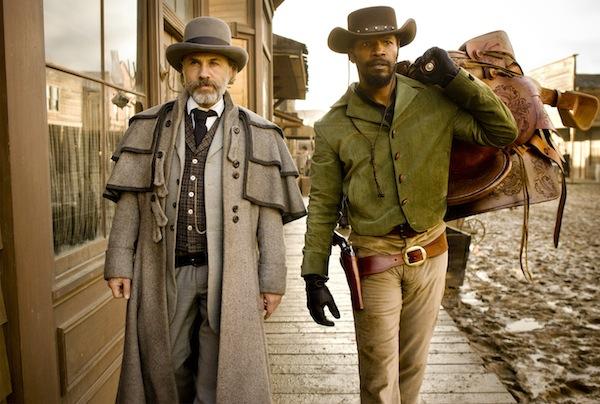 Leonardo DiCaprio has rarely played anyone so unreservedly, unambiguously evil. Sure, his characters have been known to be profane, ("The Departed") tragically self-centered, ("Romeo + Juliet") and to color the line between hero and villain by, say, occasionally shooting up the random school, ("The Basketball Diaries") but has he ever been gleefully, irredeemably sadistic? That's a stretch. All of which is what makes it such a delicious treat to see the first stills of Quentin Tarantino's upcoming "Django Unchained."
DiCaprio plays Calvin Candie, a ruthless plantation owner who gets on the bad side of Jamie Foxx's freed slave, Django, and Christopher Waltz's German bounty hunter, seen above. Just judging from this photo, we're hoping Jamie Foxx gets to do more than exude grim determination in a weirdly off-putting cowboy getup. He might look stylish in a way—specifically, in an 1850's sort of way—but he doesn't exactly look badass or threatening.
Follow the jump—if you dare!—to check out the truly terrifying sight of DiCaprio's sneering, evil visage, then let us know what you think in the comments!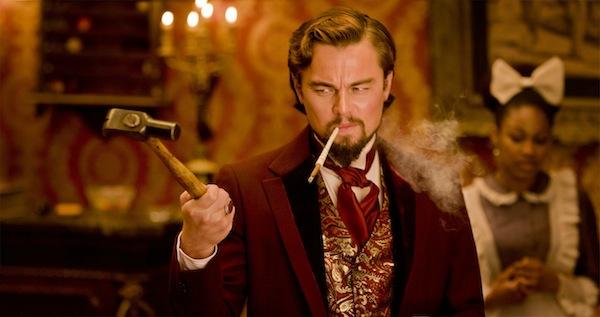 Evil goatee? Check. Evil cigarette? Double check. Vaguely ominous, probably evil hammer? Big check there. Now, if you'll excuse us, we have to go change our pants.

Knowing Tarrantino, it will be campy, bloody and irreverant, and a money maker.  I mean, nobody in the late 1860's dressed like Foxx in the picture, that kind of cowboy dress was a 1950-60's Hollywood TV invention courtesy of Warner Bros and the other makers of the Hollywood western as we know it.  And those OJ style black leather gloves...puhleez!    Decaprio looks like a villian out of Uncle Tom's Cabin.  This looks to be a send up of the Reconstruction Period doing for the Civil War what Inglorious Basterds did for WWII or Dusk Till Dawn did for Vampire flicks.  Really though, has Tarrantino ever, ever made a serious film?  Unlike Oliver Stone who makes serious films in which you cannot keep a straight face, Tarrantino's films are always campy and funny and always hit the mark.
Are you sure you want to delete this comment?