Red-Band Trailer for 'Abraham Lincoln: Vampire Hunter' Deviates from Recorded History Just a Smidge
Everyone's favorite bearded emancipator kinda sorta fought off the undead before getting around to slavery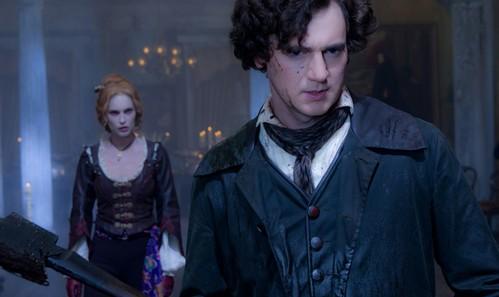 I'm still trying to rationalize the existence of "Abraham Lincoln: Vampire Hunter" in my head, despite knowing that Seth Grahame-Smith's novel has been out for two years now and having seen no shortage of marketing materials for its upcoming film adaptation, directed by Timur Bekmambetov ("Wanted") and co-produced between him and Tim Burton (for whom Grahame-Smith recently adapted "Dark Shadows" - phew!).
As this gory
red-band trailer
demonstrates, before he was the 16th President of the United States, a perhaps less-than-honest Abe (Benjamin Walker) battled the vampires responsible for his own mother's death. The visuals are as flamboyant as to be expected with Bekmambetov, but the tone remains surprisingly straight-faced. This isn't a campy romp, but a (relatively) serious, violent action-horror summer tentpole in 3D, all about one of our most famous leaders wielding an axe gun, among other weapons, against blood-sucking foes.
Something tells me this flick is going to throw off cheated book reports for years to come. Also starring Mary Elizabeth Winstead, Anthony Mackie, Dominic Cooper, and Rufus Sewell, "Abraham Lincoln: Vampire Hunter" opens on June 22nd.