'V/H/S' Green Band Trailer Shows Off a Killer Collection With Something for Everyone
Sundance favorite is hitting screens soon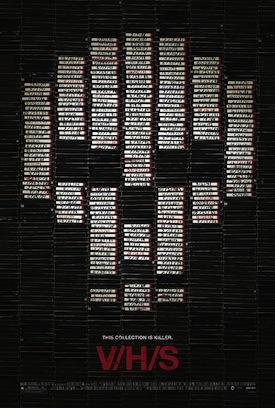 The found footage horror film has been done, pardon the pun, to death. With so many different films taking the "found" route (and often hitting the exact same beats), it seems like just another mini-genre that should kick the can soon. And yet - there are still some real winners when it comes to FF, and none more so than Sundance pick "V/H/S." A collection of short films held together by a common wrap-around storyline, the film features work by some of the freshest talents working in the business - including David Bruckner, Ti West, Glenn McQuaid, Joe Swanberg, Simon Barrett, and YouTube tricksters Radio Silence. 
The film's conceit - that it's compiled from a bunch of VHS tapes stolen from the home of a weirdo tape collector - is the hardest bit to really swallow (how did he get the tapes? how were they made? why were they made?), but the actual meat of that section of the film is so scary and with such great payoff that it's just about forgivable. The structure of "V/H/S" frees it up for a lot of fun and the inclusion of a different kind of story and trope for just about every brand of horror fan; mythological beasts, haunted houses, ghosts, creepy girls, nefarious interlopers, evil technology, uninhabited woods, and tons more are all laced in with genuine laughs and
jump-out-of-your-sea​t
scares. The film is unmitigated blast, the sort of thing that's perfect to take in at a packed theater with your best pals. 
I saw the film at this year's Sundance Film Festival, where
I hailed it
for having "something for every horror fan – jump scares, beasts, mythology, blood, technology monsters, gore, kills kills kills, haunted houses, ghosts, twists, turns – along with a wicked sense of humor to go with it." Seriously, this film has everything.
"V/H/S" opens in limited release on October 5. Check out the film's green band trailer after the break.