MOD Movies: Tod Browning and Lon Chaney – Partners in Madness and Obsession
Three of the ten films made by the director / actor team debut on DVD-R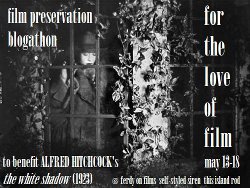 For the Love of Film: The Film Preservation Blogathon III, which runs from Sunday, May 13 through Friday, May 18, 2012, is dedicated to helping the National Film Preservation Foundation raise money to score and stream the recently unearthed reels of The White Shadow, a silent film from director Graham Cutts that young Alfred Hitchcock worked on as screenwriter, production designer, editor, and assistant director, for all to enjoy. The blogathon is hosted byFerdy on Films, Self-Styled Siren, and This Island Rod, and you can make your donations to that effort at the NFPF website here.
While most participants so far have chosen to focus on Hitchcock, I have chosen to wrote about topics close to my heart: silent film and the preservation and restoration of films of the silent era.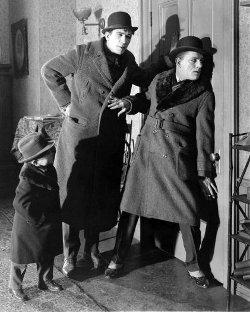 Director Tod Browning and actor Lon Chaney made ten features together between 1919 and 1929. Of those films, "London After Midnight" (1927) is lost (a "photo reconstruction" was created by Rick Schmidlin in 2002) and remains one of the holy grails of film hunters, but seven of the other nine are currently available in good to superb home video editions. Given the state of silent film preservation (experts figure that 90% of all silent movies are lost), that's an impressive number, probably due more to the star power of Chaney than anything else.
Given the state of home video sales, however, it is astounding that so many are available on DVD, and that is in large part thanks to the Warner Archive Collection, the pioneeringmanufacture-on-deman​d line from Warner Home Video. "The Unholy Three" (1925) was released in 2010 and three more collaborations have just been made available: "The Black Bird" (1926), "West of Zanzibar" (1928), and "Where East is East" (1929), their final collaboration before Chaney's death in 1930, at the age of 44, before he was able to take the lead in Browning's upcoming production of "Dracula."
Lon Chaney was known as "The Man of a Thousand Faces" for his dedication to elaborate make-up effects, but what made his creations so compelling was his complete physical transformation (the Hunchback and the Phantom of the Opera required very painful prosthetics), finding ways to externalize the inner torments and conflicted drives of his heroes, villains, and victims.
The prolific Chaney consistently brought a weird edge to most all of his roles, but only Tod Browning, a director with a taste for obsessive and tormented characters, encouraged him to reach for truly wild and twisted incarnations. They were one of the defining director / actor teams of twenties, united in their love of tragic, exotic, often grotesque characters, and the way they reveled in the extremes and the contradictions of the exaggerated figures.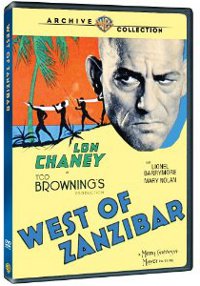 In "The Black Bird," Chaney splits that conflicted characterization into two separate personae: the Limehouse crook Dan Tate and the crippled preacher Bishop, the "secret identity" that Dan wears in the daytime that blossoms into a split personality. Is Bishop's benevolence just a pose, or a repressed part of his personality that only comes out when he takes on the elaborate physical handicap? It's not just a matter of Chaney going all out for the physical performance, mind you, it's the way the character of Dan Tate himself is so committed to his alter ego that it becomes as real as he is.
Vengeance, another consistent emotional engine for both Browning and Chaney, drives "West of Zanzibar" (1928), which is as wickedly twisted as anything Browning has made. Chaney is Phroso, a vaudeville magician cuckolded by his beautiful wife and stage assistant, and crippled when her lover Crane (Lionel Barrymore) pushes him over a balcony. Chaney transforms Phroso into a wretched figure, so consumed with hate and revenge that he spends 18 years preparing his plan in the jungles of the Congo, living as a self-made god among the cannibals while having Crane's illegitimate daughter raised in a Zanzibar brothel. Just which of these two men, Crane (now an ivory trader in the Congo) or Phroso (king of his corner of hell), is the worst villain is a fair question at this stage of the film.
Chaney's Phroso, who uses stage magic to enthrall the natives (who are, it must be said, the most insensitive kind of savage stereotype that Hollywood has given us), is more apt to drag his lifeless legs behind him as he hand-walks down steps or across the jungle floor to preside over a human sacrifice. In his early scenes it's akin to supplication, a man humbled by his fall yet still human, but by the time he's lord of the jungle, he's like a creature himself crawling through the dirt with an uncaring sneer. And he is beastly; the cruelty he unleashes on the Maizie (Mary Nolan), who has managed to hold on to some sort of hope and goodness despite her upbringing, is as vicious and despicable as anything you'll see in a twenties movies. Being a Browning film, it's also prologue to an even more wicked twist of torment.
As a side note, this was the second of four Browning films that Barrymore made. After the death of Chaney in 1930, Chaney cast Barrymore in the lead of two of his more interesting sound film efforts, "The Mark of the Vampire" (1935) and "The Devil-Doll" (1936), that latter a Chaney-esque portrait in assumed identity and, of course, all-consuming vengeance.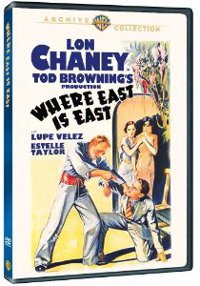 "Where East is East" (1929) was their last collaboration and one of Chaney's rare appearances without elaborate make-up or physical make-over. In fact, he radiates a hearty joie de vivre as Tiger Haynes, a hunter in Indonesia who captures wild animals for zoos and circuses. The film opens with him netting a tiger but he gets an even better second entrance, riding atop an elephant to greet his daughter Toyo (Lupe Velez), a sweetly sunny young woman with a playfully tomboyish relationship with Dad but a decidedly grown-up romance with a nice America boy (Lloyd Hughes). Initial reservations aside, Dad not only embraces him but looks after him like his own son against the vaguely supernatural threat posed by an exotic Eurasian spiderwoman (Estelle Taylor with her eyes lifted but otherwise utterly unconvincing as an Asian). She's almost as cruel as Phroso was in "Zanzibar," though her motivations are more vague.
This was the era where oriental villains were villains essentially by nature of their orientalism (or something like that) and Browning apparently never felt the need to suggest anything more behind her smiling malevolence. Even the not unexpected melodramatic revelations, which makes it all so much more personal, fails to explain anything. But no matter, it gives Chaney a chance to show that he could also embody warmth and fierce paternal protectiveness, and he does so very nicely. The rest is the usual melodramatic doings with exotic trappings, including a house filled with jungle animals (not all of them tame) and a caged gorilla (an almost absurdly cartoonish ape suit) with a grudge against our evil temptress.
The discs, mastered from vault prints with the expected wear and surface scratches of unrestored prints, look fine but appear to be from older, pre-HD digital masters, and some scenes show the video noise of a standard definition recoding. While a full restoration is likely not in the budgets, ideally they should get a new master from the best surviving source materials.
Given all that and the reality of the state of silent preservation in general, however, the fact there are home video editions this good of these films is in itself something to celebrate, and the preservation of the original synchronized music scores (with select sound effects) is a bonus. The sound is a little thin, of course, given the limitations of sound recording technology in the late 1920s, but these are the original scores as heard in theaters wired for sound in the transition years.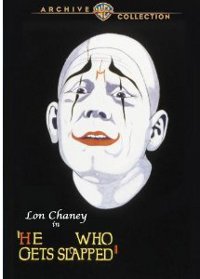 One Lon Chaney film not directed by Tod Browning worth including in this company is "He Who Gets Slapped" (1924), released in 2010 via the Warner Archive. Swedish master Victor Seastrom (nee Sjostrom) brings the expressionist adventurism of European silent movie style together with Hollywood's professional gloss for this at times histrionic melodrama. It also anticipates the journeys of the Browning / Chaney collaborations, albeit with more grace and dramatic resonance, with a performance by Lon Chaney that borders on madness. As a scientist betrayed by his benefactor and his wife (yet another cuckolded Chaney character) and ridiculed by the Academy of science, he sinks into a life of self-abasement as a renowned clown named only "He," whose entire grotesque act is based on humiliation—slapstic​k boiled down to pure, malevolent abuse—much to the delight of roaring crowds.
The film gets sidetracked in an uninspired romance between Norma Shearer and John Gilbert (both rather pale next to Chaney's energetic performance) but Sjostrom really embraces the possibilities inherent in silent cinema and in Chaney's gift for psychological expressionism. His clown act is not funny by any definition. It is grotesque and weird and perverse and the imagery of audiences laughing hysterically doesn't cue the sounds in the mind's ear so much as suggest the clown's state of continued self-punishment. He's replaying the greatest humiliation of his life every night in his performance, casting himself as the victim of an absurdist, nightmarish comedy of horrors. It has a psychological power beyond any recognizable social reality, and it's something that silent cinema could pull off so much more effectively than sound cinema, where the dimension of sound has a tendency to ground the film in a more realistic form and narrative, at least as practiced by most filmmakers and producers.
Unfortunately, this silent film classic is given a poor presentation: the film is run at the sound speed of 24 frames per second (ideally it should be somewhere between 18-20 fps) and features a "needle drop" score with snatches of pre-recorded instrumentals faded in and out according to the general mood of the scene. This is an anomaly for Warner Archive, where most silent features are presented at the correct speed and with complete scores, and I hope Warner slates this one for a new, corrected edition.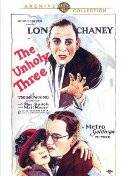 Available exclusively from Warner Archive:
"He Who Gets Slapped" (directed by Victor Sjostrom)
Other Browning / Chaney collaborations on DVD:
"The Wicked Darling" (1919), on the Lon Chaney Double Feature"Victory / The Wicked Darling" (Image)
"Outside The Law" (1920), on another Lon Chaney Double Feature"Outside the Law / Shadows" (Image)
"The Unknown" (1927), arguably their greatest (and certainly their most bizarre) collaboration, on "TCM Archives: The Lon Chaney Collection" (Warner)
"London After Midnight" (1927) is available only as a photo reconstruction produced by Rick Schmidlin in 2002, on "TCM Archives: The Lon Chaney Collection" (Warner)
MOD stands for "Manufacture on Demand" and represents a recent development in the DVD market, where slipping sales have slowed the release of classic, special interest and catalogue releases. These are DVD-R releases, no-frills discs from studio masters, ordered online and "burned" individually with every order. You can read a general introduction to the format and the model on my profile of the Warner Archive Collection on Parallax View here and on the MGM Limited Edition Collection on Videodrone here.