Unlikely Partnership: Jane Fonda and Nancy Reagan
Mrs. Reagan approves of Fonda playing her in "The Butler"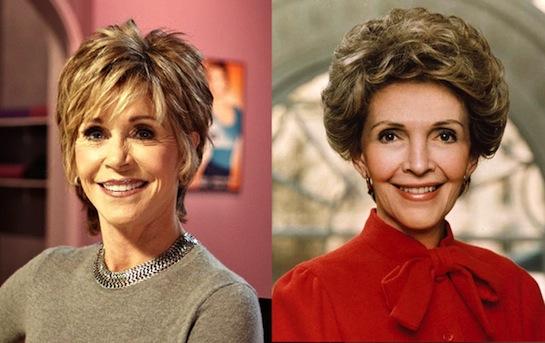 I could not be more excited about the crazy casting in Lee Daniels' "The Butler," an upcoming film about Eugene Allen (played by Forrest Whitaker), a White House butler who served eight American Presidents over three decades. Get a load of these choices: Robin Williams and Melissa Leo as Dwight and Mamie Eisenhower, James Marsden and Minka Kelly as John and Jacqueline Kennedy, Liev Schreiber as Lyndon Johnson, John Cusack as Richard Nixon, and Alan Rickman as Ronald Reagan. In a rare movie gig, Oprah Winfrey will play Whitaker's wife. But the casting news that had me jumping up and down the most was Jane Fonda as Nancy Reagan. Even more surprising? The fact that the real Mrs. Reagan is fully supportive of Fonda in the role. According to reports, the former First Lady, an icon in Republican circles, has given her seal of approval for Fonda, still icily referred to as "Hanoi Jane" by many conservatives, to portray her in the film.
Writing in her own blog, Fonda said, "I'm excited about this. I feel very ready to take her on…I know that she (Nancy) is pleased that I am playing her. I know this because a friend of mine, writer Annette Tapert, was at a party given for her…birthday. I asked Annette to tell Ms. Reagan I was honored to be playing her…I'm glad that in the brief time I have to play her, the script allows us to see how involved she was in all matters surrounding her husband…almost like a chief of staff. She took a lot of flack (sic) for the china she purchased for White House affairs, etc., but she was no fluff piece."
I can only imagine the horror of many Reagan lovers at the thought of Jane Fonda playing their beloved Queen Mother. But Nancy Reagan has always marched to her own drummer. She openly defied her party's stance on stem-cell research and has been quite critical of the way some politicians have tried to attach themselves to her late husband's legacy.
"The Butler" will hit theaters in 2013. I can't wait to see who gets cast as Jimmy and Rosalynn Carter. Might I suggest Brad Pitt and Jessica Chastain?