Oscars 2013: Seth MacFarlane opens show with safe jokes, William Shatner, and song
But, hey, he made Tommy Lee Jones laugh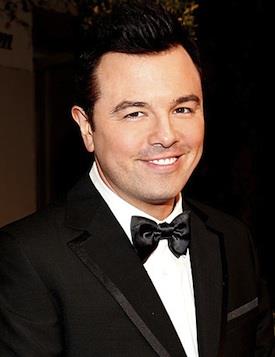 Oscar host Seth MacFarlane opened the award show with a well-received crack about making Tommy Lee Jones laugh. Almost unbelievably, he did. Congrats, Seth! You've already beat the Golden Globes and the show hasn't even been on for ten minutes!
MacFarlane continued his opening monologue with jokes about the portrayal of Hollywood in "Argo," how all those big Oscar wins for "The Artist" last year didn't spell instant stardom for leading man Jean Dujardin, Daniel Day-Lewis' Method tricks on the set of "Lincoln," and even a Rihanna/Chris Brown joke that drew groans and laughs from a surprised audience.
Bing: The Academy Awards | Seth MacFarlane
And then, well, William Shatner showed up on a video screen, in costume as Captain James T. Kirk, to warn MacFarlane about becoming "the worst Oscar host ever." With a direct line to "the future," Shatner bemoaned the fact that the awards couldn't be hosted by Tina Fey and Amy Poehler and tried to call MacFarlane off from performing a song presumably titled "We Saw Your Boobs." Through the magic of television, the entire song-and-dance number was on display, even as we tried to trick ourselves into believing it was a failed endeavor from the future. In that sense, it strangely succeeded. 
To stave off "Boobs" humor, MacFarlane trotted out Charlize Theron and Channing Tatum to perform an unexpectedly lovely and skilled choreographed dance to "The Way You Look Tonight." For anyone convinced that MacFarlane can't do class, that little ditty might have turned at least a few heads.
Shatner then showed MacFarlane (and, well, us) his next "future" trick - the movie "Flight" reenacted with sock puppets. Captain Kirk might have hated it, but the skit played like gangbusters. Jacked up on his newly found class, MacFarlane brought out Joseph Gordon-Levitt and Daniel Radcliffe for another song and dance number, because why not?
The back-and-forth continued, with Shatner subjecting us to a skit involving MacFarlane dressed up as The Flying Nun, "disrespecting" nominee Sally Field. She said she was uncomfortable, and we were, too. MacFarlane's counter? More song-and-dance, this time to "Be Our Guest." Okay, okay, we get it - there is going to be a ton of singing this year.
The newbie host's monologue started off relatively safe, peppered with the kind of jokes most people have been making on Twitter and Facebook for weeks now, but the "Family Guy" creator ratcheted it up as he wound on, and the Shatner bit was unexpectedly smart and MacFarlane played to his (often forgotten) singing strengths. For months, people have wondered if MacFarlane would sink the show, and his willingness to poke fun at himself was greatly appreciate and surprisingly fun. And, hey, singing and dancing!