Hammer Films Planning Feature About the World's Most Haunted House
Company also granted rights to film on the premises of Winchester Mystery House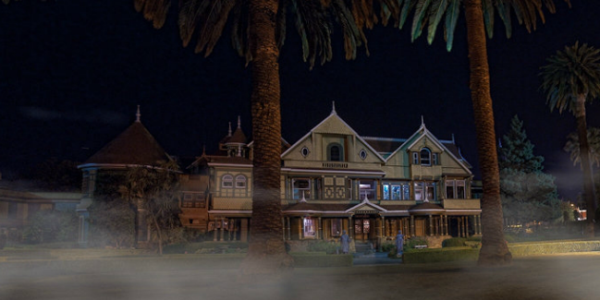 Proving that atmosphere really
does
matter in horror films, Hammer Films has just signed the a deal with San Jose, California's Winchester Mystery House that authorizes the production company to base a feature film on the property's very unique history. Additionally, Hammer will also film on the premises of the house, dubbed the "world's most haunted house."
Exclusive Media's Tobin Armbrust says of the deal, "The Winchester House has a rich and compelling history. The story behind how it was built has attracted a great deal of attention over the years and we are excited to bring that mythology to film...We are also thrilled, and terrified, that the House has allowed us to film on the premises."
The Winchester Mystery House has a long and compelling story to back up its claim as the world's most haunted house, and it's not just traditional "things that go bump in the night" that make the property so terrifying, it's some of the psychology behind it. As
ComingSoon
tells it, "the Winchester Mystery House has a startling history and attracts hundreds of thousands of tourists annually. Popular belief holds that Sarah Winchester, heiress to the Winchester Rifle fortune, was convinced she was haunted by the spirits of those killed by 'the gun that won the west.' Following a Medium's advice, Sarah built a massive house in Northern California to appease the spirits. For the next 38 years, she never stopped building believing that if she continued, she would live forever, and if she stopped, she would die." Upon her death (spoiler alert?), the mansion contained 160 rooms, 2,000 doors, 10,000 windows, 47 stairways, 47 fireplaces, 13 bathrooms, and 6 kitchens. And, had Winchester not passed away, she would have kept it up.
The house is open for daily tours, and its website features stories from visitors who claim they've seen spirits and other spooky occurrences. You can read some of those stories
HERE
. Whether or not the Winchester Mystery House is actually haunted, the home's story is a fascinating one, and the sort of thing that lends itself perfectly to the cinematic treatment.

OH for the love of...
There is no way any amount of cgi can ever capture the eerie ambience of the original film's PRACTICAL AND OPTICAL effects. Nor can any "modern" production capture the slow, insidious way in which Cain and the ghosts crept into the family's life and then took over. That was half of the fear.
Any new production of this will be edited to be fast, intense, and overly reliant on jump scares.
Are you sure you want to delete this comment?