Sundance Review: 'Safety Not Guaranteed'
Low-fi could-be sci-fi kinda-sorta rom-com? Whatever you call it, it's a sure-fire crowd-pleaser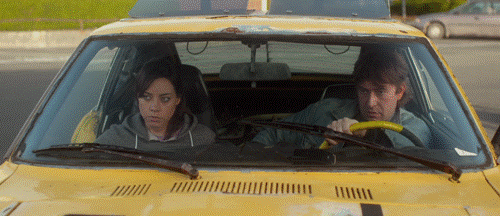 Rating: 4.5/5
I know that often, "standing ovations" occur in Sundance's theaters with the same frequency, noise level and sincerity as "orgasms" occur in pornography. With that said, I've never in my 12 years of coming here heard an audience shout, gasp and cheer -- the sounds of an audience getting on board with a film -- like they did during the climax of "Safety Not Guaranteed," the feature-length fiction debut of Colin Trevorrow and screenwriter Derek Connolly. I was one of the people cheering, notebook and cynicism both forgotten in a rush of pure moviegoing joy. 
Inspired by a real-life story that became its own tall tale, "Safety Not Guaranteed" begins with Darius (Aubrey Plaza), a harried intern at Seattle Magazine. Darius is a little sad, a little shy, a little stuck -- but when big-mouthed top-dog reporter Jeff (Jake M. Johnson) pitches the editor on a story too crazy to be true, she gets picked to go on the hunt along with another intern, Arno (Karan Soni). The three head down the coast to the sleepy getaway town of Ocean View, Washington, as Jeff saw a classified ad looking for replies to an Ocean View P.O. Box, with the ad's author looking for "someone to go back in time with me … Must bring your own weapons. Safety not guaranteed." Jeff figures they can track down the P.O. Box, find the ad's author, pump the chump and dupe the stupe for a few quotes and write a mock-'em sock-'em story, easy.

The three find Kenneth Calloway (Mark Duplass), the author of the ad -- and after Jeff shoots himself in the foot while putting it in his mouth meeting the paranoid Kenneth, Darius has to step up. Something about the thrill of the chase lights Darius up; pretty soon, she's picked as Kenneth's partner: "You seem no-nonsense." She fires back: "There's no sense in nonsense when the heat is hot ..." And then, like a mix of "Donnie Brasco" and "Miracle on 34th Street," the question quickly becomes if Kenneth is crazy -- or if Darius is simply a little crazy about him.
It's rare to see a film so well-made that it's almost fractal in its quality, with little moments that have the shape and spirit of the big moments, and those sweeping-yet-somehow​-intimate big moments spiraling out to even bigger, better scenes and themes and storytelling. There are some wickedly smart subplots here -- Jeff took the gig in part to reconnect with a high school girlfriend, while Arno needs to lighten up and enjoy his youth.
Yet the sub-plots and the jokes always work towards and speak to the film's points about how we live and how we should live, about how we can see our past looking backwards but have to still peer at the unseeable future, how it may be better to live and be crazy than wrap one's self in a straightjacket of sanity. And "Safety Not Guaranteed" -- a caution that could be said about life just as much as it could be said about time travel -- also manages to out-think, out-feel and out-write the majority of big Hollywood romantic comedies by actually showing us, and actually letting us enjoy, the process by which you understand Kenneth and Darius might find something in each other.
Plaza is best-known for her sardonic office assistant on "Parks and Recreation," yet while Darius is cut from similar dark-shaded cloth, Plaza also gets to do some very nice, very subtle and silent acting as Darius opens up a little. Duplass -- more physically funky and playful than he's ever been, shoulder-rolling and shooting to prepare for "when the heat's hot" -- flips gracefully from bizarre conspiracies to sincere intimacies, tech talk to crazy action, managing to be neither Doc Brown, Dr. Who or Travis Bickle while lightly evoking all three. And the supporting cast -- including brief but relevant turns from Jeff Garlin, Jenica Bergere and Kristen Bell -- are all superb. Soni plays every 'nerd awakening' card perfectly, while never slouching into ethnic caricature. Johnson is a mix of David Krumholtz and Bradley Cooper -- a likable douche, a braggart nerd -- who has many of the film's best laughs and moments, including a breakdown on a go-kart while driving, smoking, crying and drinking whiskey from the bottle that's simultaneously drop-dead funny and wish-you-could-die sad.
You are, of course, wondering if Kenneth is a nutjob or a visionary, if his time-travel plans are madness or genius. (At one point, when it's suggested that Kenneth is crazy, Darius asks: "Was there 'something wrong' with Einstein? Or David Bowie?") First, anyone who tries to spoil "Safety Not Guaranteed" for you out of either excitement or disdain should be ashamed of themselves. Second, what we learn -- and what Darius learns -- is that's not the point: Time travel may seem like madness, but then so does love; so does life; so does going on in the face of tragedy and long odds. With snappy jokes and deeply-felt principles, winning performances and a hand-shaped script and direction that combines post-modern ideas with an old-fashioned sense of the human spirit, "Safety Not Guaranteed" is a Sundance crowd pleaser that will also work at the lower altitudes where moviegoers are looking for something completely unexpected that still speaks to the things we all sorta know but nonetheless sometimes need to hear. Sundance applause fades, but movies with a voice as strong, strange, smart and yes, sincere as "Safety Not Guaranteed" deserve to be heard long after the festival's end.
("Safety Not Guaranteed" is currently premiering at the Sundance Film Festival.)