Weekend Box Office: 'Expendables 2' Knocks Out the Competition
The testosterone-fueled sequel roared ahead of this week's new releases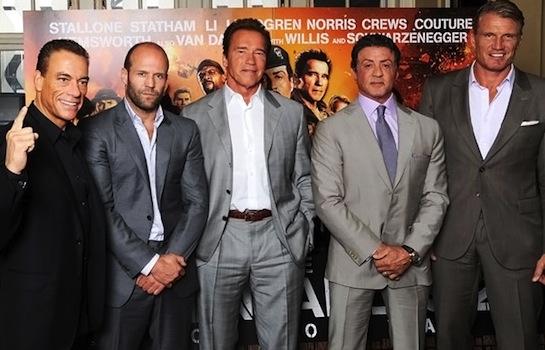 Proving that beloved action stars can survive well past the age of 50 (perhaps with a little help from Botox), most of the macho leads of "The Expendables 2" could have seen their own movie with a senior discount. Chuck Norris (72), Sylvester Stallone (66), Arnold Schwarzenegger (65), Bruce Willis (57), Dolph Lundgren (54), and Jean-Claude Van Damme (51) showed that they still had what it takes to open a #1 film. Even the film's "youngsters," Jet Li and Jason Statham are getting up there (at 49 and 44). If it weren't for 63-year-old Meryl Streep's successful new film, Hollywood's ageist double standard would seem even more pronounced.


While not matching the opening numbers of this summer's mega-blockbusters, "The Expendables 2" achieved a solid lead at the North American box office this weekend with $28.7M in ticket sales (at 3,316 theaters). At #2, "The Bourne Legacy" continued to confound moviegoers to the tune of $17M (at 3,753 theaters) while "ParaNorman," the delightful stop-motion "family horror film" opened at #3, earning $14M (at 3,429 theaters). Will Ferrell and Zach Galifianakis amassed $13.3M in contributions for their #4 film, "The Campaign" (at 3,255 theaters), and at #5, the musical "Sparkle" owed a lot of its $12M opening (at 2,244 theaters) to the presence of the late Whitney Houston whose final performance was met with mixed reviews. 


Slipping to the bottom half of the Top Ten for the first time, "The Dark Knight Rises" added $11.1M (at 3,157 theaters) to its whopping domestic total of $409.9M. The fourth new film in this week's list, "The Odd Life of Timothy Green," earned $10.9M from family audiences (at 2,598 theaters) who were wowed by the magical story while "Hope Springs," the #8 film, pulled in $9.1M (at 2,361 theaters). At #9, "Diary of a Wimpy Kid: Dog Days" made $3.8M (at 2,737 theaters) while "Total Recall" plummeted to #10 in its third week, earning only $3.5M (at 2,434 theaters).

Falling off the Top Ten list this weekend? The poorly reviewed "Step Up Revolution" along with the big summer hits "Ice Age 4," "Ted," and "The Amazing Spider-Man." With Bradley Cooper's "Hit and Run" the only major release coming up this week, the new films on this list seem pretty secure. We may have to wait until the first frost before we see box office numbers that come anywhere close to the ones from earlier this summer. No wonder the studios seem to be obsessing on sequels to recent films (follow-ups to "The Hunger Games," "Spider-Man," "The Avengers," and even "The Expendables") whose release dates are still years away.