Weekend Box Office: Presidential Campaign Hits the Movie Screens
An anti-Obama documentary makes this week's top ten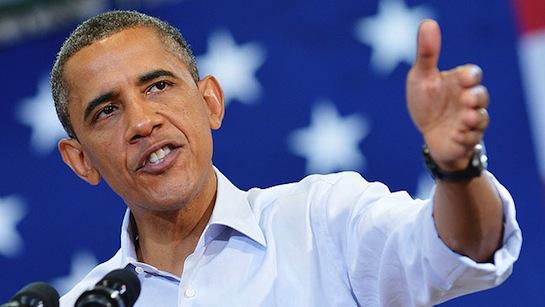 This waning summer weekend at the North American box office was so weak that a fear-mongering documentary warning about the dire consequences of a second term for President Obama made it to #8 on the Top Ten. I doubt "2016: Obama's America" is going to sway many voters, but it's an indication of the heated and inflammatory rhetoric that's to come in these final weeks of the presidential race. As far as going to the movies is concerned, I'd rather stick with the campaign antics of Will Ferrell and Zach Galafianakis! As for the three other new films on this weekend's list, none of them even broke $7 million. With no sure-fire blockbusters on the docket until November's final entry from "The Twilight Saga," Hollywood movie execs must be dusting off their holiday decorations and counting the minutes until summer ends.


Falling ticket sales for "The Expendables 2" did not budge the film from the #1 position. In its second week, the testosterone-fueled action pic earned $13.5M over the three-day weekend (at 3,555 theaters). The next three films on the list also repeated their status from last week. At #2, "The Bourne Legacy" brought in $9.3M (at 3,654 theaters) while "ParaNorman," again at #3, raked in $8.5M (at 3,455 theaters). "The Campaign," the election-year comedy, stayed firm at #4, with $7.4M in ticket sales (at 3,302 theaters) while "The Dark Knight Rises" actually moved back up to the top half of the list, adding $7.1M (at 2,606 theaters) to its six-week domestic total of $422.1M.


Last week's tear-jerking Disney film, "The Odd Life of Timothy Green," moved up to #6, earning $7.1M (at 2,598 theaters). At #7, the first new release on this week's list, Sony's "Premium Rush" featuring Joseph Gordon-Levitt and an imperiled New York bike messenger, only managed to cough up $6.3M (at 2,255 theaters) while the hatchet job on the President, "2016: Obama's America," made it to #8, bringing in $6.2M (at only 1,091 theaters). Meryl Streep and Tommy Lee Jones continued to charm audiences with their acting prowess in the #9 film, "Hope Springs," which earned $6M (at 2,402 theaters) while Open Road Films' "Hit and Run," starring Bradley Cooper, opened at #10, with $4.6M (at 2,870 theaters).

Bumped off the list this week is a trio of remakes and sequels: "Sparkle," "Diary of a Wimpy Kid: Dog Days," and "Total Recall." And what's up for Labor Day weekend? The powerful Prohibition-era "Lawless" starring Shia LaBoeuf and Tom Hardy as bootlegging brothers, the scary "Possession" starring Jeffrey Dean Morgan and Kyra Sedgwick as divorced parents trying to protect their little girl from a malicious spirit, the suspenseful "The Tall Man" starring Jessica Biel as a young mother trying to locate her kidnapped child, and the raunchy but sweet "For a Good Time Call…" starring Ari Graynor and Lauren Miller as a pair of unlikely phone sex operators.

Of course you liberals hate this film.  Most of you, inclucing the writer for the column, probably haven't seen it.  Let's be honest; no one is better off than they were three years ago.  Gas prices; higher.  Food prices; higher.  Salary increases; lower.  Jobs; less that three years ago.   We are not doing better; we are doing worst.  And while most of you liberal morons are going to try to blame President Bush; he is not in office; President Obama is.  These failings are on his watch.

2016: Obama's America is just a
Republicans/TeaBagge​r
attempt at Smearing Obama. I have seen it and have to point out many flaws.
Before you go see this movie you should read this. Just remember that in this film D'Souza who is the film director says Obama wants to get rid of the NASA program. This is false sense we just landed a car sized lander on the Mars surface. Also he says that Obama has done nothing to stop Israeli radicals witch is also false sense he gave the order to kill and did kill Binladen. He also just recently killed a senior Taliban official. He also attacks Obama for signing the New START Treaty with Russia, which calls for steep reductions in both countries' nuclear stockpiles, and mocks the president for his vision of a world free of nuclear weapons. "Dreamy idea," D'Souza quips, sparing no sarcasm. Unmentioned is the fact that the abolition of nuclear weapons was also the stated dream of... Ronald Reagan, who first proposed the original START Treaty with the Soviet Union. As Reagan told the nation in a January 1984 speech: "My dream is to see the day when nuclear weapons will be banished from the face of the Earth."  
Many other false claims but I don't have room to write them all down.
Just remember there are facts and then there is this film.

Mr. Miller, have you seen "2016"?" You did not offer such blatantly negative comments for any other movie.  You call "2016" a fear-mongering documentary and a hatchet job.....did you have the same comments for "An Inconvenient Truth" which has been proven to be full of lies? Are you that much in the tank for Obama that you cant review the top 10 money list without try to make this superb movie seem like its nothing but a smear movie thats only in 8th place amongst a poor movie crop. Please be honest with the people who read your article.  Report the FACTS and leave out your opinion or better yet get a new job sir.  This movie is already the 6th highest grossing documentary of all time and thats with a very limited release. And sir, if you bothered to see this movie, then you must not mind what awating us in 2016 if Obama becomes president again. 

My husband and I seen "2016" this weekend and thought it was a great documentery.  I think every Democrate should see it.  It should be titled "Take a Democrate to the Movies"  or everyone should be required to take a Democrate they know to see it.  We are in for shear hell if Obama is re-elected.
Are you sure you want to delete this comment?