Harrison Ford 'open' to returning as Han Solo
Despite his well-documented disdain for the role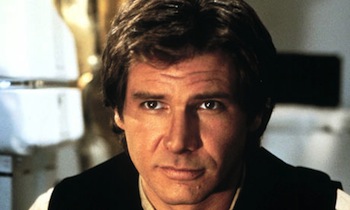 Now that all that distracting "election" hullabaloo is over, America can get back to the really important things, like wild, baseless speculation about the forthcoming "Star Wars" trilogy. For example: will Mark Hamill, Carrie Fischer and Harrison Ford return to play Luke, Leia, and Han Solo, respectively? According to one "highly placed source," as per
Entertainment Weekly
, yes! Hamill and Fischer reportedly discussed the possibility of returning for the sequels with series creator George Lucas over the summer, while the famously mercurial, evasive Ford remains, shockingly, "open" to the idea. This suggests a dramatic turnaround in sentiment for an actor who once told ABC News that, "[a]s a character [Han Solo] was not so interesting to me," which we suppose is just Ford's roundabout way way of saying that Han had been neutered—ruined—as a character, and that he wished Han had died—as had been originally planned—during "Return of the Jedi."
What made Mr. Ford change his mind? The lure of one last ginormous paycheck? Or could the Hollywood legend be developing a sentimental streak in his old age? Did Lucas and/or Disney promise him another "Indiana Jones" movie if he promised to, er, saddle up the Millennium Falcon and make nice with Chewbacca, one last time? Only time—or another, better-informed "highly placed source"—will tell.
In the meantime, what about the prospects of revisiting the now much older Skywalker twins? Is that a good idea, since Luke is the backbone of the franchise? Or not so much, since it would expose impressionable, innocent young audiences to the horrifying sight of Fischer and Hamill's haunted visages, irrevocably scarred by the ravages of time and squandered fame? What do you think, Hitlisters? As always, let us know in the comments, or tell us on MSN Movies 
Facebook
 and MSN Movies 
Twitter
.