First 'Les Miserables' Trailer Rests on Anne Hathaway's Shoulders (And Lungs)
Shockingly, her Fantine is dreaming a dream!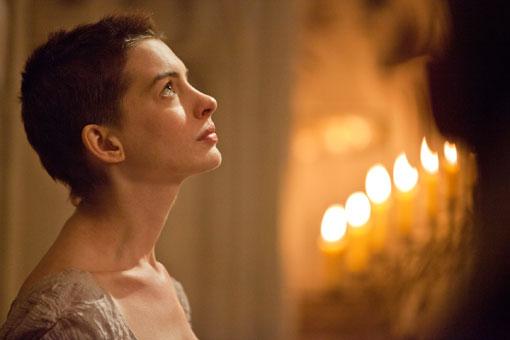 Oscar-winning director Tom Hooper made waves when "The King's Speech" helmer decided to queue up a large-scale cinematic take on "Les Miserables" for his latest project. Did we
really
need another "Les Miz"? Probably not, but Hooper added a twist - he promised that all his actors (some with extensive vocal training and experience, like Hugh Jackman and Helena Bonham Carter, some with very little) to sing their parts in the classic musical life on set, no faking it and going into the studio to beef it up. It seemed as if Hooper was going for real veracity for his film, a
movie
that
felt like a real musical.
So, was that a good idea? Perhaps. And, if this first teaser trailer for the film is to be believed, the raw singing performances that Hooper's coaxed out of his very talented cast (which also includes Russell Crowe, Amanda Seyfried, and Eddie Redmayne) will, at the very least, add some heat and interest to what some might see as a tired-out story. And we can thank Anne Hathaway for much of that. Hathaway stars in the film as the wretched prostitute Fantine, the character saddled with the bulk of the story's considerable tragedy, and the character who sings perhaps the work's best known song, "I Dreamed A Dream." For this first trailer, Hooper hasn't wasted any time - the entire thing rests on Hathaway's performance of the classic song, all while brief bits of the film's action play out in scattered scenes.
Hathaway has never starred in a full-scale musical, but she hasn't been hiding her voice - she's used her pipes at awards shows and for songs that appeared in films like "Rio," "Hoodwinked!," and "Ella Enchanted." She's also made no bones about how much she wants to star in an eventual Judy Garland biopic. From the sound of this teaser, Hathaway's singing dreams have finally come true in a big, big way.
"Les Miserables" will open this Christmas. Check out the film's first teaser trailer, thanks to MSN (!!!), after the break!