Check out the brand-new trailer for the Jackie Robinson biopic '42'
Could this be the best baseball movie ever made?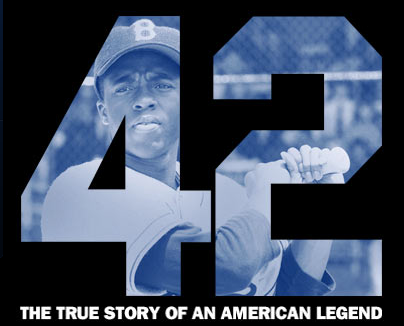 At first blush, this could be the next "Lincoln" or "Django Unchained," or it could be the next "Red Tails." Here's hoping for more of the former than the latter. What are we on about?
Apple
has just unleashed the first trailer for "42," the upcoming biopic of Jackie Robinson starring newcomer Chadwick Boseman as the man himself and Harrison Ford (!) as Brooklyn Dodgers GM Branch Rickey. 
Check out the clip for
blink-and-you'll-mis​s-them
appearances by "Law & Order's" Christopher Meloni as fiery Dodgers manager Leo Dorocher, "Firefly" and "Suburgatory" funny-man Alan Tudyk as inveterate racist Ben Chapman, and "Fast and the Furious: Tokyo Drift's" Lucas Black as all-around good-guy Pee Wee Reese. Also glimpsed: Hollywood legend Ford aging gracefully for a change, a lot of
suspiciously-rendere​d
shots of Ebbets Field, and a bizarrely anachronistic Jay-Z song. (But isn't that all the rage these days, thanks to "The Great Gatsby?" But we digress...)
Although the trailer itself isn't that telling, we hope the film is more serious, and closer in tone to Denzel Washington's classics "Glory" or "Malcolm X" than "Red Tails," which told a similarly triumphant tale of bigotry overcome, but ruined everything with a dispiriting sense of empty bombast and some overtly cloying sentimentality.
What do you think, Hitlisters? Could this film stand up to the ages—inspiring whole new generations for years to come—or will it wilt, and disappear in the annals of history, in the face of dreary production values and an oddly drab color palette? Check out the trailer, posted after the break, and let us know in the comments...