Videodrone Streams and Channels: Expiring on Netflix Instant
A few highlights from the hundreds of titles leaving the streaming service with the New Year
If you have any of these on your queue, or simply have a yen to check these out, do it soon. The are all set to expire by January 1, 2013, according to Instantwatcher.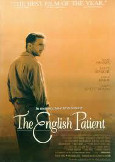 Academy Award winner "The English Patient" (1996) just arrived on Netflix a couple of weeks ago. One hopes the expiration date is merely a programming gaffe, but just in case, you might want to make it a priority. Set in the African desert for World War II and starring the intense Ralph Fiennes, the elegant Kristin Scott Thomas and the angelic Juliette Binoche, lushly romantic World War II drama could be "Casablanca" for the nineties, delivering both romantic tragedy (the end of the old world of privilege) and rebirth (the beginning of a new egalitarian world) in an old fashioned/new-age romance with the most beautiful people and gorgeous costumes you ever saw survive a trek through the desert. Adapted from Michael Ondaatje's novel by director Anthony Minghella, won nine Academy Awards, including Best Picture and Best Director.
"Last Tango in Paris" (1972), Bernardo Bertolucci's scandalous erotic drama of a grieving American widower (Marlon Brando) who goes to Paris and loses himself in an anonymous, purely physical relationship with a younger woman (Maria Schneider), created a storm of controversy when it was released in 1973. The portrait of a sadomasochistic, purely carnal relationship challenged taboos of sexual politics and on-screen sexuality, and it received two Academy Award nominations (for Best Actor, Marlon Brando, and Best Director, Bernardo Bertolucci).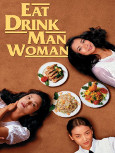 "Eat Drink Man Woman" (1994), Ang Lee's delightful take on family, food, and love, is an early film from Oscar-winning director about the uneasy relationships of three independent minded sisters to their widowed father, an aging, old-fashioned master chef losing touch with his daughters and slowly losing his sense of taste. Full of warmth and surprises, this deftly told tale of the sensual pleasures in life has a great affection for its characters, but more importantly it has an appreciation for their desires, their individuality, and their decisions. In Mandarin with English subrtitles.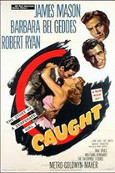 Classics: 
"Caught" (1949), a dark "Cinderella" melodrama made in Hollywood by European sophisticate Max Ophuls, belongs as much to the murky world of American film noir as to the polished European dramas of high society social appearances and power games. Barbara Bel Geddes is the car hop who flees industrialist millionaire Robert Ryan and takes refuge with idealistic doctor James Mason. Ophuls fights a script that all too often puts its themes into the mouth of Mason but his delicate, elegant style beautifully captures both the surface elegance and emptiness of the millionaire lifestyle as he twists the American dream into a nightmare, where even the happy ending feels just a bit tarnished. This one is not available on disc.
Montgomery Clift made his film debut opposite grand old icon John Wayne in "Red River" (1948), Howard Hawks' 'Mutiny on the Prairie' cattle drive epic, and the opposition of acting styles is electric: laconic elder statesman Wayne versus intense upstart method actor Clift. Hawks' style leans more to Wayne: measured, easy-going, he seems to let the characters take the story along with them, but he's a shrewd storyteller with a great tale to tell. 
More expiring titles at Videodrone