'Sinister,' Found Footage Fears, and the Case of the Totally Terrifying New Trailer
Watch it at your own risk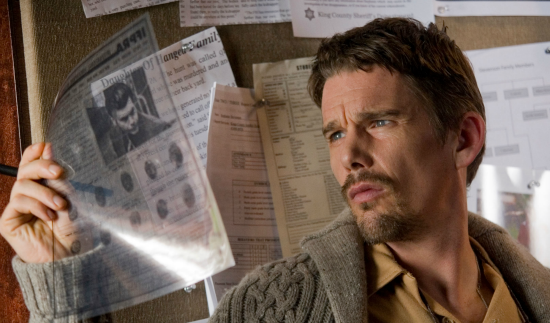 Well, here's something a little different. Earlier this year, the SXSW Film Festival scheduled one heck of a secret screening - Scott Derrickson's "Sinister," which the director penned alongside C. Robert Cargill. The film stars Ethan Hawke in an extremely on-point genre role and it is, in a word, terrifying. "Sinister" centers on Hawke's character, a true crime novelist who often decamps his entire family to towns that have been victim to truly terrible and heinous crimes, so that he may better investigate and write about them. Hawke's Ellison, though, has fallen on some hard financial times, and his latest topic - investigating the murder of an entire family - has to spawn a hit book, or it's curtains for his career.
Bent on getting as immersed as possible in the case, Ellison moves his unsuspecting family into the very house that the murders took place. This is, of course, an incredibly bad idea. Ellison's work eventually begins to center on boxes and boxes of home movies (a nice, nifty twist on the played-out "found footage" technique), and what Ellison finds is, again, in a word, terrifying. Derrickson has crafted some of the most hauntingly disturbing images in recent horror and, as they torment Ellison, they so haunt the film's audience. "Sinister" is a real
down-the-rabbit-hole​
film, with Ellison peeling back more and more layers and getting deeper and deeper into the terror, all while bringing the audience along for the ride.
So, what's the something different? Well, Summit Entertainment has just released the film's first trailer and, because I liked "Sinister" so much, I have to encourage you to
not
watch it. The film deserves to be experienced fresh.
"Sinister" opens on October 5. If you really still want to see the film's first trailer, you can check it out after the break, thanks to
ShockTillYouDrop
.