Interview: Michael Paul Stephenson, director of 'The American Scream'
For these Connecticut families, scaring is caring ...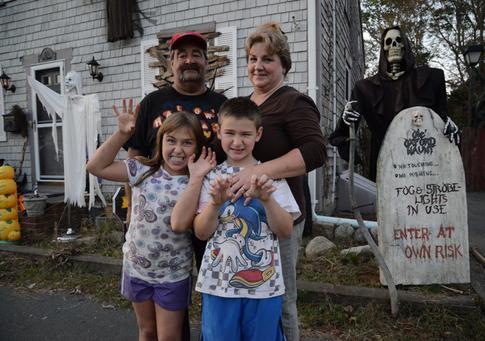 A onetime child actor -- albeit in films like the loved-and-loathed "Troll 2" -- Michael Paul Stephenson scored one of the most bright, fun documentaries about film in years, 2009's "Best Worst Movie," a personal journey into the strange afterlife and fandom of "Troll 2." Now, Stephenson is back with another portrait of affection and appreciation, "The American Scream," a look at three dedicated "haunters" in Fairhaven, Connecticut, who devote their time -- and their family's time -- to creating elaborate houses for Halloween night out of nothing more -- and nothing less -- than affection, love and the spirit of the spooky season. "The American Scream" debuts tonight on the Chiller network; it'll also be in limited theatrical release, and in theaters on demand via tugg.com. We spoke with Stephenson about his favorite candies, the role of joy in his films and what makes a haunted house a haunted home.
MSN Movies: What, for you, was the impetus to make this? Where did it come from? Were you just driving around on the eve of the 31st and going, "Hm," or was it something bigger than that?
Michael Paul Stephenson  I don't know. I mean really what happened in this whole thing wasn't, obviously it was a great idea, but it wasn't my idea to make a documentary on this subject matter. It just came to me from, what had happened was the Chiller network found us, and they had asked one of my producers Meyer Shwarzstein what I was doing next, and they had mentioned that they needed programming for October, for Halloween, and Meyer called me just out of the blue and he said he had this really great idea for this documentary on haunters, for people who create haunted houses or elaborate yard displays. And it was at that moment that it was right off the bat it was one of those things that like was "Wow this is a great idea." It was kind of a hammer over the head, and I connected to it at that point emotionally because I grew up in a very small, small neighborhood and Halloween was a big deal. And I had a lot of really fond memories from the time I was 10 to 15 or so of trick or treating, and I don't really trick or treating, but we had this one Halloween weird lady that every Halloween her house transformed into this really crazy witches lair, and that's when Meyer was telling me about the idea, and that's where it went.
And it's funny,  because I didn't go to being scared as a kid or any of the props; I went to the emotional memory and that really fond memory I had of holding a pillowcase full of candy and walking to her haunted backyard and just that feeling of everybody being together in one spot. And it was a real nice sense of like it's just a really nice memory. And so right off the bat there was no question. It wasn't like let's look into this and see it there's anything here; it was like let's do it. And we jumped off into a more of a submission process where we asked people throughout the country to ultimately fill out an online submission form and submit their haunts for consideration, and within a week we had 600 home haunters from all over the country submit their haunts to us.
BING: 'Best Worst Movie' l 'Troll 2' 
But you found these three people in this community. That's got to be delightful serendipity in terms of a lot less travel budget.
Well, it's crazy, and we felt so -- it's luck, ultimately. From the beginning, it was very important to me with this documentary was, I knew it was going to be a very playful space and I wanted to find strong characters. I wasn't interested in let's define this home haunting phenomena, kind of the same thing with "Best Worst Movie." I wasn't really interested in the B movies; I was interested in what the director of this bad movie, how he felt about people loving his movie because it was bad. Is that really such a bad thing? It felt like a very small story, like a small-town kind of American story that would essentially be rooted in family and tradition and community. And so from the get go it was like "Oh we got 600, well we need to find one or at the very most three, like one main and three supporting." And we went through all the applications and read each application and the first thing that we decided was let's put an automatic kind of limit to it. We want the setting to be reflective of fall and Halloween so immediately it was England and the east coast, and we decided there's nothing that feels more ideal than that part of the country. And the other thing that was interesting about that decision was there was a greater concentration of home haunters all within the New England area. And so not only did it look like Halloween, but it was very apparent that people were into Halloween there. And so from that we ultimately came up with our top 12 list of haunters and people that we were going to visit in considering for this story. And until that point I had phone conversations with them and kind of got to know them, and the next jumping off point was I want to have lunch with you. I want to shake your hand, like I just want to sit down and kind of get to know you. So we had this list of 12. Well all three of the haunters were not a part of that list all, and what had happened, Victor had submitted. Victor, the primary character, had submitted and his submission was nothing that jumped off the page, nothing kind of interesting, and didn't even talk to him on the phone.
And so a couple of days before Zack and I were leaving to go to the East coast to meet our top 12, I just complete kind of just luck was browsing one of the home haunt websites and I came across this photo of Victor's daughter Catherine standing in front of this gigantic spider and she had an even bigger smile on her face, a huge very bright smile. And that photo I just stared at, and I just smiled and I had this weird this feeling of 'This is so wonderful." And I called Zack and what about and we started talking about Victor and we looked our kind of Google map of all of our stops along the way and he was only about 50 minutes out of the way of our normal haunters that we were visiting, and we thought you know what? Let's just throw him on there. Like let's go by and pay him a visit and we got really kind of stupidly excited that was the number 13. Yeah, he was the number 13 haunter and we're like this is fine, we're going to do this. 
And of course it was; it was crazy because we pull into Fairhaven and right off the bat just the setting and the town it was finally felt like in terms of place it was what we were after for this film. And we meet Victor and we meet Catherine and his daughter. One of the first things she does is she dumps out this gigantic box of bloodied mutilated Barbie dolls and with burned faces and limbs had been chopped off and had this huge smile and at that point it was just like say no more. This is perfect. And right before we were to leave, Victor was like, "Before you guys go," because we still had other haunters we had to check off our list just to kind of make sure we weren't missing anything, Victor goes, "My neighbor down a couple of blocks, he does this sort of thing, too. Maybe you should go say hello to him." And we're like, "Oh, really?" And so we walked down to his house and we're led to his backyard where there was Halloween junk just thrown about everywhere and he was working on one project behind the shed, and we're winding our way through his backyard and it was this weird kind of oddball sense of like magic to what was happening back there. And then Manny popped his head out from the corner. He's like, "Ah, what do you guys want?" And it was again a moment like oh my gosh, we want you, like this is perfect. And then it wasn't until two weeks into shooting that Manny said, "You know what? I forgot to tell you, but there's a couple of other guys a few blocks away who do this thing, too." And we're like what? And I have to admit, like at that point it was a bit of an annoyance because I thought man, we already started shooting, and now you've told me this. Now I have to kind of lift up that rock or knock on that door and see what's behind it. We have to go. And so we go over and we meet the others and right off the bat, like we were filming within like 10 minutes of meeting them and then it just felt again very serendipitous and lucky that we had found these three families all within this very small, lovely neighborhood that all did this sort of thing for different reasons but arguably with the same amount of passion and love for the holiday.
Let me ask you this. Would you say that right now your filmography has sort of accidentally wound up being about enthusiasm?
(Laughs) I guess so. Yeah, I mean, for me I love documentaries that on the outside, they seem to be about one thing and ultimately they end up being about something a little bit different and passion, and like you said enthusiasm has had the foundation coincidentally of both "The Best Worst Movie" and "The American Scream." And I don't care what it is that somebody's doing. If they're passionate something, that is an easy thing for me to get behind, and I'm drawn to those stories and I think passion gets really interesting when it's on the balance beam of obsession, and seeing how all of that kind of how there's that tricky kind of balance between passion and obsession and for better or worse. Everybody can get behind somebody who is going after their dream with all their hearts and with the enthusiasm, and it's putting a lot enthusiasm into what they're doing. But the flip side of the coin is at what expense and at what risk? And I think that's always an interesting argument.
How often is it that you have also managed to capture great American regional accents in a way we don't get to hear anymore?
(Laughs) It's funny. That's actually the only time I've been asked that. The screening two nights ago, we screened at a college up here with students and it hit me, I mean we've always, every time I talk to Manny I'll always joke with him about in the way he says pizza. He's always like, "Pizzer" or "Fairhaven." And it wasn't until a couple of nights ago that I had that thought like this has really a very distinct kind of regional accent and so does "Best Worst Movie." And I don't know, it's pretty crazy I guess.
But let me ask you this, do you know the centralized resource where people can find great haunted houses in their neighborhoods nationwide? Or is it more a matter of driving around and looking?
There are two primary websites that kind of are cutting the paths for home haunters and haunts throughout the country, and also the interesting thing about home haunting is there was no level of competition between these haunters. They have a rising tide with all boats sort of mentalities. They're never afraid to give away their secrets or tell you how to make something. And there's two websites. There's hauntforum.com, which is really more geared towards kind of an online community of haunters throughout the country and how to make things and different haunting events, and I believe there's a directory of haunted houses on there as well. And then garageofevil.com is another network or online community where people get together and share their haunts and their tips and their tricks and their ideas. And those two, I mean as far as like a Yellow Pages of sorts in terms of how to find little home haunts in your neighborhood, it's not quite to that, there's not really a site that, and I could be wrong. Maybe, I think Garage of Evil you could search by region as to which haunts, which regions have which haunts. But a lot of its deal is kind of discovery, and a lot of it is knowing your community and your neighborhood and knowing that one Halloween year there's a person that does it every year. And it's one of the things that Lindsay and I, living in L.A., seeing we don't love so much is ... nobody knows their neighbors. And there aren't defined streets for our two girls to trick or treat on. I mean we're lucky last year we found three streets that actually people trick or treat on, but it's not what we had as a kid, obviously. And I don't know if that's a big city thing or if it's kind of indicative as to trick or treating, for example, in the west. I know people who are now doing trunk or treats, which sounds lame to me. You no longer go to your neighbor's house and knock on their door. You go to a parking lot and you walk car to car and get candy out of the back of somebody's trunk, and that's sad to me. I think that that tradition of strangers, I mean Halloween is that one holiday that is about strangers and is about community. It's kind of sad to see that start to kind of fade out.
I really think that you missed a chance there to say that in the haunting industry a rising tide less raises all ghosts.
(Laughs) I'm going to steal that.
Please do. One final really quick thing, what is the thing you would most like to see in a Halloween bag? Is it a fun-sized Twix? Is it a hard candy? Is it a York peppermint patty? What is it you hope to steal from your daughters' trick or treat bags every year?
(Laughs) Wow, I'm thinking of, I love the little, it sounds lame but I love the little Reese's peanut butter cups you know with the gold foil wraps. Those are always first to go in terms of candy for me. Interestingly, as a kid the one lady, the thing I remember most, I loved the most about trick or treating as a kid at least, something that I got that I loved in my trick or treat bag was at the lady's house who did the haunted house, and she always had half pound candy bars. And I was always about the half pound Mr. Goodbar candy bar, and if I had that in my trick or treat bag as a 10 year old or 11 year old, (I won). But you had to rush to this lady's house because if you didn't get there in time you'd be left with the half pound candy bar that nobody wanted.
The dark chocolate that your child's palette could not tolerate.
Yeah, yes. There was Krackle, there was Mr., Goodbar, and then there was this dark chocolate one that I cannot remember what it was called. But it wasn't for kids; it was the thing you didn't want. If you got that you kind of failed on Halloween.
("The American Scream" debuts on Chiller Network this evening, and will also be released theatrically in limited release; communities can also request screenings of the film via tugg.com; for more on movies, check the MSN Movies Facebook page and the MSN Movies Twitter feed.)