Trailer: Liam Hemsworth stars in 'Love and Honor,' which is not a Nicholas Sparks film
Shockingly enough!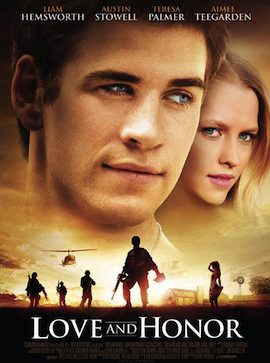 Liam Hemsworth has previously starred (quite successfully) in one film based on a Nicholas Sparks novel, 2010's "The Last Song," so it's not shocking that the actor would be drawn to another film that sounds a bit like a Sparksian film, should it be period-set and with a weird edge of humor to it. In Danny Mooney's "Love and Honor," Hemsworth plays one-half of a pair of best friends who decide to go AWOL during the Vietnam War in order to win back one of their lady loves. Surely that sounds serious, but from the looks of the film's latest trailer, that's actually the
light-hearted
portion of the film.
Confused? We are, too. 
Based on this new trailer for the film, things seem to take a serious turn once Hemsworth's Mickey Wright falls in love with the charming Teresa Palmer. Oh, things also get a little heated when Hemsworth and his pal (played by Austin Stowell) are outed as AWOL soldiers. Oops! So, what will Mickey choose? Love...or, you guessed it, honor? Looks like we'll have to wait and see when the film is released later this year.
Check out the trailer for "Love and Honor" after the break.
"Love and Honor" opens on March 22.