Interview: Maggie Grace Kicks Ass in 'Lockout'
The actress had a blast bantering with bad boy Guy Pearce in this futuristic thriller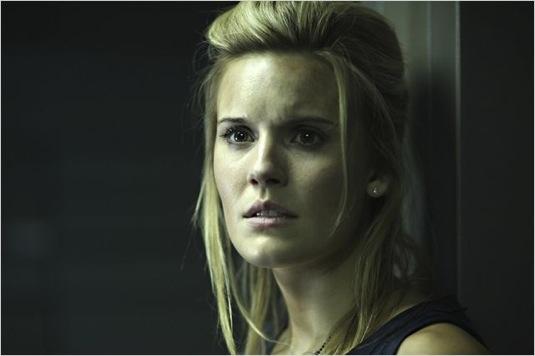 Known for her role as Shannon Rutherford on "Lost," Maggie Grace has also played Irina in "The Twilight Saga: Breaking Dawn" films and starred opposite Liam Neeson in the action thriller "Taken," produced by Luc Besson, in which she was kidnapped by Albanian mafiosos. Now she's back in Besson's high-octane world in "Lockout," an intense but surprisingly funny thriller set in the year 2079. Grace plays Emilie Warnock, the daughter of the U.S. President. While on a humanitarian mission to examine conditions on an orbiting space prison, the prisoners get loose and gain control of the facility, taking Emilie hostage. A former government agent named Snow, played by Guy Pearce, who has been convicted for a crime he did not commit, is offered his freedom if he will go to the space prison and save Emilie from the marauding inmates.

When I sat down with Maggie Grace, I couldn't resist telling her how much I enjoyed her character on "Lost." Shannon evolved from a spoiled brat who screams non-stop in the pilot to a much more independent, mature woman. Having flown to L.A. the night before, Grace told me about a bizarre encounter she just had with another "Lost" fan.
Maggie Grace: Oh my God, you wouldn't believe what just happened to me, it was one of the weirdest fan moments I've ever had! This guy showed me a huge tattoo he had of that moment where I'm screaming on the "Lost" pilot. It went across his whole leg!
MSN Movies: Yikes, that sounds like a potential restraining order!
And I'm crying hysterically in that scene so it's not pretty at all. I took a picture of the tattoo!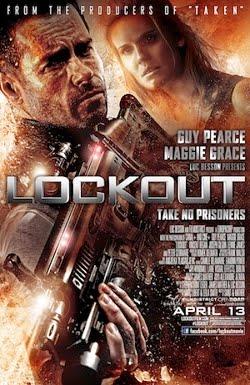 Was it the Luc Besson connection that brought you to "Lockout?"
Yes, it was the same folks who did "Taken" and "Taken 2" so this is our third film together and I love working with them. It's such a great filmmaking community over there in Paris.
"Lockout" has an interesting kind of retro style—intense and violent but also a lot of fun. Your character has to grieve the loss of a lot of her friends while still exchanging witty dialogue with Guy Pearce. Was that a hard balance to achieve?
Yeah, it was challenging, we had to find that delicate balance. The film is incredibly funny but there are some very high stakes. So finding what rings true for my character without making it seem like I was in different film took some work. Most of those tragic events happen pretty early in the film so we get through them quickly!
I loved your prickly relationship with Guy Pearce. It reminded me of the repartee between Princess Leia and Han Solo.
Yes, that's what I thought when I read the script! I couldn't help but think of that moment when Han is about to be frozen and Leia says "I love you!" and he replies, "I know."
Guy Pearce's Snow seems to have that same kind of sarcastic, bad-boy appeal.
Yes, but be careful girls! Those crazy narcissists may look like a lot of fun on screen, but you young ladies at home—run! Run in the opposite direction as fast as you can!
It's nice to see a movie set in the future that, for once, doesn't show some kind of dystopian universe.
It's true. I think sci-fi films have become rather bleak, and understandably so—I think we've made some big mistakes globally with how we're developing and we deal with that guilt by creating these very dystopian futures in films. But this movie is kind of a separate thing, it's fun, it doesn't try to be all that message-oriented.
And yet the whole prison in space plot and the controversy in the film about putting the prisoners to sleep while they're there, I can imagine a future where that seems like a good idea to some people.
And you could certainly draw analogies to certain contemporary issues—the attitude some people have about immigration, for example.
I remember that President Reagan's attempted assassin, John Hinckley, Jr., had Warnock as his middle name. Was that a deliberate move giving the Presidential family of the future that name?
Oh, really? I didn't know that! Our directors, James Mather and Stephen St. Leger, have been developing this story for a while they may have put in a few little Easter eggs like that, I'll have to ask them about it.
Was this the most green-screen work you've ever done on film?
Yeah. Well, there was a lot of green screen in "Twilight" but this was different in that the whole world was green screen! You had to really trust the directors and know what you're reacting to.
Were you able to survive this shoot without any major bruises or injuries?
Yes, luckily so, we all get a little roughed up occasionally. But in the scene where I punch Guy Pearce, I accidentally made contact in one take! He was very forgiving but I felt horrible, it's so against the actor's honor code.
I don't know if they used that take, but that was a killer punch!
I think he was okay, he probably loved it! My guns aren't as serious as Guy's even though I'm working on it. It was really fun preparing for that scene, actually, and I hope to hit a lot more boys in the future!
I hear you just signed to be in Kevin Williamson's new Fox TV series with Kevin Bacon about a serial killer.
Yeah, it's a recurring role—the main thing I want is to get my Kevin Bacon degrees down to zero in one fell swoop!
Are there certain kinds of roles you'd love to do next?
I've been doing a lot of action, it'd be fun to do some smaller indies. And I'd love to find a good romantic comedy one of these days—I'm kind of a goofball!
"Lockout" opens nationwide on April 13.