Cannes Diary: How to Survive in Cannes on Several Hundred Euros a Day
When your badge has currency, and time is your capital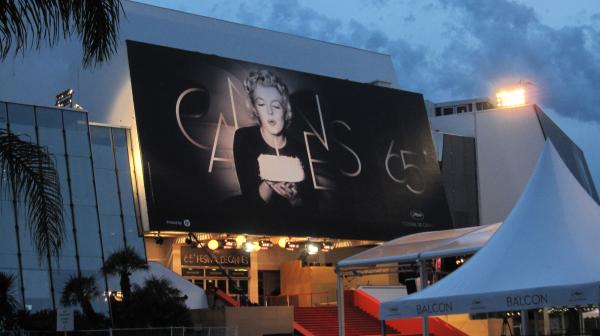 It is hard, in the sleepy seaside resort town of Cannes, to not accept that this is some fairly upscale turf. On my way from my rental flat to the festival's headquarters, I pass a plucky farmer's market and cute bakeries and butcher's shops; a few blocks down from the Palais, though, it's $1,000-a-night hotels and Yves St. Laurent boutiques. With the French playground of Monaco nearby – and enough casinos in Cannes itself that you could get into some serious trouble if you weren't so busy and didn't worry about the complexities of gambling in French. (In fact, there's a Casino that's part of the building that makes up the Palais; it's as if the Bell Lightbox in Toronto had a OTB attached.)

So you could, theoretically, spend hundreds, if not thousands of Euros here daily – a decent upscale meal starts at 18 Euros, and the exchange rate is stiff. And some film companies do exactly that – I can't conceive of the cash outlay it takes to get the cast of "Madagascar 3" here, never mind putting them up in movie-star style, and I'm sure the private beach clubs along the Croisette – like the Carlton Beach, where I talked to the cast of "Moonrise Kingdom" earlier today, also charge a hefty rental.
But as a member of the press, you try and conserve your cash – do you go with the only-in-certain-area​s free wi-fi provided by Euro-telecom Orange, or do you shill out the equivalent of $140 for the works-anywhere pay version? How much free Nespresso can you drink in lieu of paying three times the everyday price for a regular cup of American joe? Just how many people can share a rental flat without going mad like some cruel sociological experiment?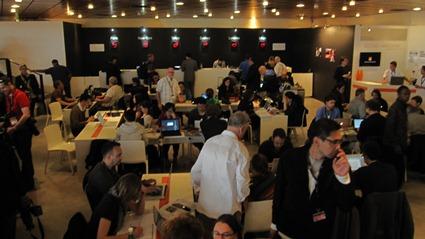 Worse than the expenses though – and you can't fault Cannes for making hay while the sun shines; a report last week noted that Sundance 2012 pumped $80 million into Park City's coffers – is the cost of time. How early do you have to line up to get into a film you want to (or, if assigned to review, need to) see? Can you put 20 minutes between two films 200 feet apart, or will you be shut out? How can you combine trying to see 3, 4 films a day while not going mad and still having time to write something, anything. (I awoke this morning restless at 3:30 am to find one of my flatmates up polishing a review; after silently eating  a bowl of French nerve-settling cereal, I went back to bed while they were still searching for le mot juste.)  The press badges are prioritized by color – Orange, Yellow, Blue, Pink, Pink with a Dot ("Rose et Pastille") and White – and, trust me, this is the time you do want to be Mr. Pink, as they let in White badges first, then Rose et Pastille etc., etc. But a better badge means less waiting, not no waiting – and sometimes, at sidebars like the Director's Fortnight or the Critic's Week, the colors are rendered irrelevant. And yet it's still amazing to be here, and even getting shut out of a film at Cannes means, well, you're in Cannes.
I'd share more, but first I have to get an interview data card from the firm that shot the interview earlier – they had a problem with the data – and do some writing before I rush over to see a 6:00 film and ... oh, you get the picture. Time, here, is a money of its own. But it's time well spent.
Tomorrow: Paparazzi, Press and Public Peering