We haven't even seen a trailer for 'Pacific Rim' yet, but the sequel is already in the works
Oh, Hollywood!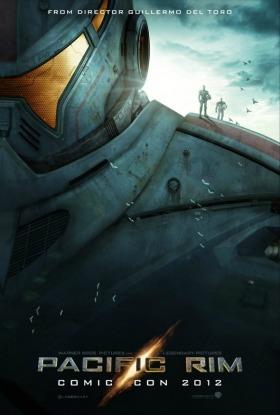 While we've
previously heaped praise
on the very cool viral campaign for Guillermo del Toro's "Pacific Rim," we're still mostly in the dark when it comes to what the finished product will actually be like. The news that the film's very first trailer will be arriving online sometime tomorrow is exciting, but perhaps not exciting enough to warrant the reveal, over at
THR
, that a sequel to the film (still over six months away from opening in theaters) is already in the works.
Bing:
'Pacific Rim'
|
Guillermo del Toro
The outlet reports that screenwriter Travis Beacham (who penned the initial treatment for "Pacific Rim") is now set to write a sequel to the film with del Toro. It's not known as of yet if del Toro will return to direct, but considering the filmmaker's well-known affection for signing on to projects that he doesn't ultimately wind up directing, any announcement on the subject would not only be premature, but might later prove to be just plain wrong.
Also unknown? The plot, who will star, and anything else that could even remotely be considered "details" on the film. It is, however, safe to assume that it will again focus on giant, human-controlled robots and attacking extraterrestrial invaders. Which, unfortunately, might dilute the punch of the first film. What happens if the good guys win? Should we lower expectations now, and just assume that they'll have to battle again? Oh, Hollywood indeed.
Concerns aside, everything that we have seen for "Pacific Rim" looks pretty terrific so far, so perhaps, come July, we'll all be chomping at the bit for further adventures in this new world. The sequel will reportedly start production in January of 2014.
"Pacific Rim" will open in both 2D and 3D on July 12, 2013.
Want more Movies? Be sure to like MSN Movies 
Facebook
 and follow MSN Movies 
Twitter
.