Videodrone New Release: 'God Bless America' With a Bullet
Bobcat Goldthwait directs this blood-soaked, black comedy rampage through American pop culture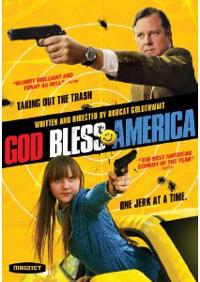 "God Bless America" (Magnet) is a satirical sucker punch to the current nadir of empty American pop culture celebrity. Actually, it's more of a bloodbath launched from the heartland, with a mad-as-hell divorced everyman named Frank (Joel Murray, brother of Bill) who decides the only proper response to culture of rude, self-absorbed Americans is to take out the most celebrated offenders. 
Think of him as a 21st century Travis Bickle who wants to cleanse the media landscape of the loudmouthed, crude, greedy, hate-mongering, and just plan annoying folks who give Frank a headache. And on this trip, he gets a sidekick in a teenage girl (Tara Lynne Barr) who encourages him to up the ante: "With so many horrible people in the world who should be taking the big dirt nap, why quit now?"
"That this movie, written and directed by Bobcat Goldthwait, doesn't give much consideration to the contradiction inherent in this particular course of action isn't surprising," argues MSN film critic Glenn Kenny. "The anger the movie gives vent to is, yes, righteous, and its targets are arguably apt. But it's also kind of a crock, a safety valve, as it were for someone who finally doesn't have the stones/integrity to opt out of the popular culture he so claims to despise.
Continue reading at Videodrone
For more releases, see Hot Tips and Top Picks: DVDs, Blu-rays and streaming video for the week of July 3