Interview: Melanie Lynskey, the World's Most Grounded Actress
The brilliant star of "Hello I Must Be Going" talks about her circuitous road to fame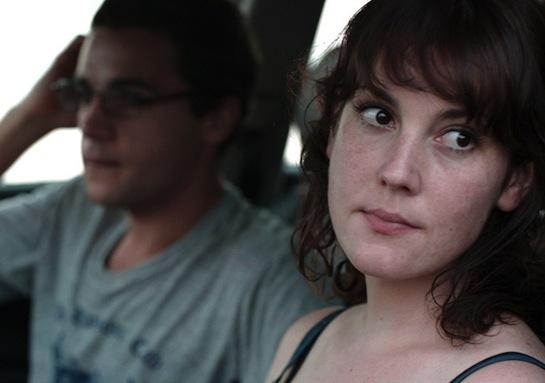 I can remember where I was sitting in the theater in 1994 when I first laid eyes on Melanie Lynskey and Kate Winslet in Peter Jackson's "Heavenly Creatures." Based on a real-life case in New Zealand from the 1950s in which two teenaged girls murdered one of their mothers, it was the screen debut for both actresses and I remember thinking with utter certainty that both were going to become enormous stars. Young Kate Winslet dazzled as Juliet Hulme, an affluent English girl whose family had just moved to New Zealand. But in some ways, Melanie Lynskey, who played Pauline Parker, the working class girl who became Juliet's friend and partner in crime, had the more challenging role. I wasn't the least bit surprised when Winslet's career went through the stratosphere almost immediately, first with an Oscar nomination for "Sense and Sensibility" and then playing opposite Leonardo DiCaprio in the mega-blockbuster "Titanic."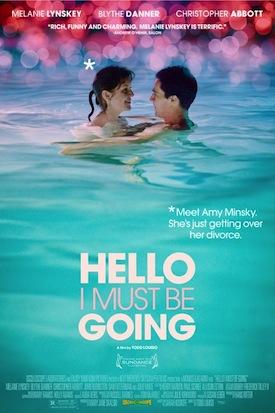 But what about Lynskey? I was excited every time she showed up in a small role in films such as "Ever After," "But I'm a Cheerleader," "Up in the Air," and this year's "Seeking a Friend for the End of the World." But I kept waiting for her to get that break again with a big starring role. So I was especially thrilled and gratified to watch her amazing performance in Todd Louiso's moving and funny "Hello I Must Be Going." With an insightful screenplay by Sarah Koskoff, this film is the true star vehicle that Melanie Lynskey has long deserved. And as Amy, a woman who is stuck in a deep depression after a divorce and living at her parents' house in suburban Connecticut, Lynskey hits it out of the ballpark. 
Playing opposite the always great Blythe Danner and John Rubinstein as her parents, and "Girls'" Christopher Abbott as the young paramour who helps re-ignite Amy's passions, Melanie Lynskey gives a performance that is so skilled, nuanced, funny, and breathtaking it would be a crime if she's not nominated for an Academy Award in next year's Oscar race. Of course, when I mentioned that to her, she laughed in my face and told me I was insane. Clearly one of the nicest, most grounded actors in Hollywood, Lynskey and I spent a good portion of our time together arguing about how incredibly talented she is.
MSN Movies: It seemed like you were able to really get inside Amy's head in this film. Was there a lot about that character that you could relate to?
Melanie Lynskey: Yes—unfortunately! I've definitely had times in my life where I've been depressed and not able to do anything at all. Like Amy, I've had to be shaken awake and forced to get it together. So yeah, there was a lot about her that I related to. Including that wonderful feeling of falling in love with somebody and letting yourself open up to that and feel beautiful and happy again. That whole thing was very exciting for me to play.
While we see so much growth in your character over the course of the film, what I love about this movie is that nothing terribly "dramatic" happens—she's not suicidal or threatening or going bonkers. It was refreshing to see such a realistic portrayal of a woman in that situation.
Thank you for saying that! This is the kind of movie that I always hope to see—looking at people's real lives, in this case someone's experience of divorce. It's not always exciting or dramatic, but it shows how people eventually find a way to move on. I so love these slice-of-life movies!
And of course it's also hugely entertaining and funny. And very poignant. Your scenes with Blythe Danner just killed me. Everything she does on screen makes me cringe and yet I couldn't help but like her. You can see that she's trying to be a good mom, even though she's failing miserably.
It's true! Blythe has such a genuine warmth about her that it's impossible to be upset with her for too long. Even when she's playing this kind of mean and distracted person, you can see her fundamental sweetness underneath. She was so fantastic in this part!
Was it weird for you to do the sex scenes with Christopher Abbott?
Uh…YES! To be honest, it's weird doing scenes like that with anybody, but especially in this case—I didn't want to feel like some kind of child molester! There's a strange balance you have to strike, being open with each other, letting a certain amount of intimacy happen, but then also assuring each other that it's safe, that nothing creepy is going on. I really didn't want to come off as the creepy older woman!
It didn't feel that way at all! You guys are so sweet together and have a great chemistry. Did you have time to work on that before filming began?
No! We didn't know each other at all. I remember in one of our first scenes we had to kiss each other and as soon as it ended we had an emergency conversation. We knew we needed to open up, we were being way too polite and respectful. So we talked it all out, what these characters were about, what they were feeling, what their motivations were. That took the fear away for me and from then on our chemistry kind of clicked—it was great!
I've been following your career ever since you blew everyone away in "Heavenly Creatures." You sort of disappeared for a while after that film. Did you just go back to your regular life in New Zealand?
Yeah. I was 15 when I made that film and when it was finished I completely went back to my life as if nothing happened at all. Eventually I started thinking, "Hey, wait a minute, I really enjoyed doing that! I miss it! I want to do more movies!"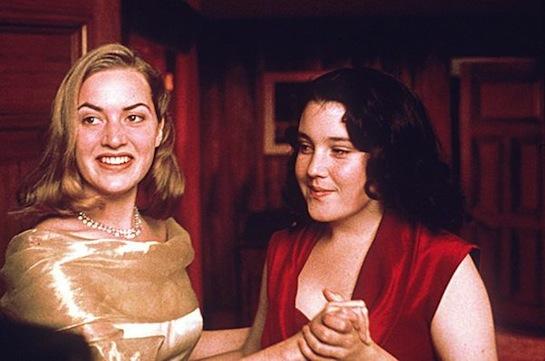 Was it strange for you to watch Kate Winslet become so famous so fast?  

A little bit. But I mean, she's one of the greats, there's no question about it, she's just an amazing, amazing actress. When we made that film together, we were in such different places. She'd been a professional actress since she was 12 years old. She'd done TV shows in England and was already very successful. On "Heavenly Creatures," she was like, "This is my movie, this is my big break, I'm going to go for it!" She had incredible ambition and drive and such a huge belief in herself. And of course, she should have had that belief because she's a fucking genius! But it was completely different for me. I was literally plucked out of high school. When I got the part I said, "Really? A movie? Me? Are you sure?"
How did you end up getting that part?
They went all over New Zealand auditioning regular high school girls. I had done some school plays and I wanted to be an actress but I never dreamed that I'd ever get a chance to make a movie—that seemed like insanity.
And after the film came out, did you think of trying to parlay that into a big film career like Kate was doing?
I didn't have any kind of career path in my head, it just seemed so crazy to me that I was even in a film! When Kate took off, I thought, "Well, that's her thing, she worked hard for it!" I had so much self-doubt back then, I didn't really feel like I deserved a career. Who was I to want that?  
And there weren't agents knocking on your door or scripts piling up in your mailbox?
Nope.
That's amazing to me. I remember feeling frustrated about your lack of roles after that. "Where the hell is Melanie Lynskey?"
You know, the character I played in "Heavenly Creatures" was dowdy, I was chubby, I was from New Zealand, I wasn't here taking meetings. Most people probably thought, "Oh, okay, she's just some weirdo who fit that one part."
So when you finally decided to throw yourself into an acting career, was it hard to get it going again?


Yeah, it was really hard! People would take meetings with me because they liked "Heavenly Creatures" but by then I was a different person, around 18, and you change a lot between 15 and 18! And unfortunately, I was still very shy and I was just horrible in meetings. I would come in and immediately start apologizing for myself. I was so self-conscious!
Something tells me that back then Kate Winslet wasn't apologizing for herself in any meetings!
(Laughing.) Oh my God, definitely not! Never! I can assure you Kate was not apologizing to anyone! I think that kind of confidence is such a beautiful thing.
But you eventually did get a lot of work.
I really wanted it and I kept changing my approach. I'd say to myself: "It's okay to feel like you can do it! It's okay to go into an audition and trust that you might be the best person for the job! It's okay to put on a little makeup!" When I first came here, I thought, well I'm not pretty so I'm not going to even try to look like these women. I had all sorts of crazy things going on in my head!
I love your New Zealand accent but am always amazed at how perfectly you're able to do American accents. Did you master that right away?
Thanks! You know, when I first came here I stayed with Joss Whedon and his wife. I had met him at some audition and we became friends. He had this insane video collection, and I'd just sit there and watch all these films and try to imitate every accent I heard! I remember watching these Juliette Lewis movies and trying to do her white trash accent. (Lynskey launches into a perfect Juliette Lewis impersonation.) I would just talk back to all these movies—they were my dialect coach!
I've enjoyed all of your performances, I don't mean to denigrate the smaller roles you've played at all, those were great! But I have to say how thrilled I am to see you in such a starring vehicle. Finally, your well deserved turn to shoot to superstardom!
(Laughs.) Oh come on! I don't think anything is going to shoot me to superstardom, but thank you!
What? You're crazy! If you don't get an Oscar nomination for this performance—
Oh my God, you're so funny! But you're out of your mind! I just hope that people get to see this film.
Me, too. Now that you're part of the acting establishment, is being a movie star what you thought it would be when you were a girl in New Zealand?
(Laughing.) Oh, come on, stop it, I am NOT a movie star! Not at all! But I am a working actor and I feel really good about that! I'm very proud of myself that I made that happen. The acting life is different than I thought it would be. I love it—it's actually a lot less pressure than I thought it would be.
So people pretty much leave you alone? You don't get the "Heavenly Creatures" fanatics coming at you on the street?
No, not really. The most intense people who approach me are fans of "Two and a Half Men."  I played a character on that show who was crazy, so some people just assume I'm crazy, too! Those are the only times where people have gotten a little nutty.
Do you see "Hello I Must Be Going" as a new jumping-off point for your career?
It was super exciting to be entrusted with this part, it was amazing, but I just want to be in movies that I like. I've been offered other lead roles but the movies have been shitty, so I didn't want to do them. I feel pretty good about where I'm at in my life. I know a lot of actors have all these expectations and believe that one thing should lead to another thing and that's probably the right way to build a career. I don't know what's wrong with me—I just don't think like that!
And I'm sure you're much better off for it! But are you finally able to really take in how respected you are as an actress? That there are tons of people who think you are among the very best we have?
What? Oh, stop, I don't think that's true at all! I think you're just being a nice person.
No, I'm not! I swear!
I'm just grateful that this film is being released! I really love it!
 "Hello I Must Be Going" opened today in select cities. Click here to read James Rocchi's interview with Melanie Lynskey. 
Are you sure you want to delete this comment?