Interview: David Mackenzie, Director of 'Tonight You're Mine'
The rock n'roll love story was filmed entirely on location at Scotland's T in the Park music festival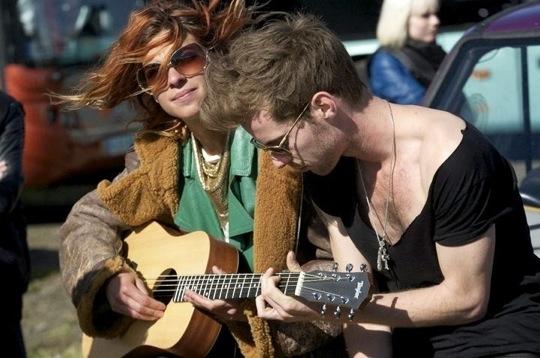 Indie rockers Adam and Morello have an unusual "meet-cute" in David Mackenzie's romantic comedy, "Tonight You're Mine." Both are performing at the massive T in the Park music festival in Scotland, Adam in his hugely successful band, The Make, and Morello with her struggling all-girl punk group, The Dirty Pinks.  The two detest each other at first sight and get into an impromptu brawl on the grounds of the festival. A rogue security guard breaks up the scuffle and seeks to teach the two artists a lesson by handcuffing them together. He then disappears into the crowd, leaving Adam and Morello begrudgingly joined at the wrist for the next 24 hours. How will they cope with their enforced togetherness? What will their respective mates say? And how will they perform in their upcoming festival gigs?

Mackenzie ("Young Adam," "Perfect Sense") did something quite miraculous with this film. He shot the entire story within the four and a half days of the actual T in the Park festival, incorporating random events and weather changes into the story and using the 100,000 festival attendees as extras. It's a remarkable achievement, and gives the film an energy and vitality that makes you feel like you, too, are stuck in the mud and the fun along with the rest of the grungy crowd. The cast, working at breakneck speed, is wonderful, especially Natalia Tena (Nymphadora Tonks in four of the Harry Potter films and Osha in "Game of Thrones") and Luke Treadaway ("The Whistle Blower," "Attack the Block").
I spoke with David Mackenzie by phone about the unique challenges of this kind of guerilla filmmaking.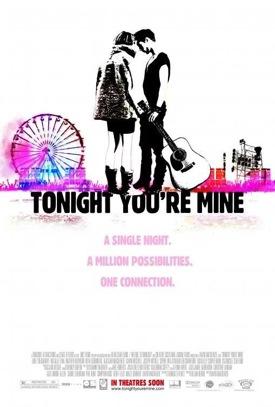 MSN Movies: Given the unusual nature of the shoot, how closely did the final film resemble your original script?
David Mackenzie: I always think of the script as a kind of map—you follow it when you need to and ignore it when you don't. With this film, there was always going to be an element of letting the magic of the festival do its bit for us. There was a point in the process when I realized we were getting some great stuff from the festival and I thought it was really important to let that roll and to enjoy it rather than forcing some of the elements of the script onto the story. We had to find a certain flexibility and let the festival breathe. Some of those moments are my favorite parts of the film.
But shooting an entire movie in less than five days? Did you ever stop and think, "How the hell can we possibly do this?"
It was a hell of a journey! Quite an incredible experience spending four and a half days trying to shoot a conventional romantic comedy with tons of obstacles including 100,000 people who were there to have a good time and weren't terribly interested in what we were doing! Normally in a film there's so much pre-planning involved, but here I had to completely think on my feet. Unexpected opportunities would come up all the time and we all had to just go for it. It was actually quite thrilling for a director to have such a quick path from thought to action, that doesn't happen with most films!
I assume there was no time for reshoots and that you had to keep moving from scene to scene.
Right. Each scene took about half an hour to shoot and then that was that. Everyone just sort of got into the groove of it.
I thought the whole cast was superb but I was especially transfixed by Natalia Tena as Morello. 
Oh, I'm glad you're singling her out because I think she's just fantastic. What a firecracker!
You obviously had to have actors in this case who could also sing and play the guitar.
Absolutely. Natalia and Luke are both musicians, Natalia is really in a band, and they brought a lot of that experience into their roles. There's an amazing scene in thie film where Morello's got one hand on the guitar and Adam has his other hand on it and they're singing a blues track. Natalia and Luke just came up with that out of nowhere, they were fantastic. It's just a magical moment, totally unrehearsed. That's what happens when you put people into that environment who are thinking on their feet.
Did the weather cooperate with your original vision for the film?
Well, we wanted a mud scene, and our very limited art department had some mud on standby, if necessary. But fortunately, the Scottish weather did what it's supposed to do and gave us enough rain for some real mud!
Do you think making a film in this way will affect how you make movies from here on out?
Yes, I do. I came away from this shoot thinking there are ways of bringing this method of working to other types of movies. It kind of feels like you're doing theater. You give it your all in the moment and that's that, you're not saving it for the fifth take or getting more coverage for safety. There's something so interesting about that kind of immediacy. It's scary but it makes you develop the ability to trust what you're doing and use all of your instincts.
So you're not looking forward to the luxury of a controlled soundstage?
(Laughs.) Well, my next film is a prison drama, so we will shoot it in a more traditional way but I'm hoping to bring a level of spontaneity and speed to the shooting so we can have some of those elements!
("Tonight You're Mine" is currently playing in select cities.)