SXSW Review: 'Eden'
The Audience Award for Narrative Film at SXSW earns its regard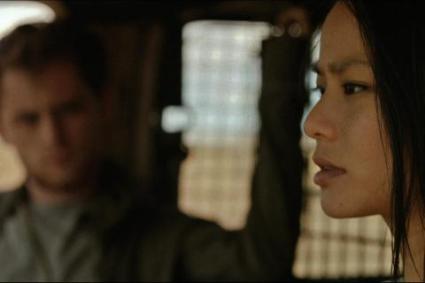 Rating: 4/5
It's hard to think of a phrase that contains more potential for confusion in five words than "Based on a true story." Any dramatic interpretation of real events is, in itself, inaccurate; at the same time, in many cases the inaccuracy isn't only a matter of dramatic license but also one of emotional distance. No matter how we feel when, for but one example, watching Haing S. Ngor walk through a graveyard of history playing the real Dith Pran in "The Killing Fields,"  the filmed version of events, no matter how harrowing, cannot even begin to capture what the real Pran saw and endured. The winner of the Narrative Audience Award at SXSW, "Eden" is based on the real story of Chong Kim, a Korean-American girl who was abducted and, to put it bluntly, was rendered a sex slave as part of an international human trafficking ring. She escaped. Eventually.  
Directed by Megan Griffiths with confidence and clarity, "Eden" re-names Kim Hyun Jae, played by Jamie Chung. If you had said to me at any point during the '90s that I would, one day, praise the acting work of a participant from "The Real World," I would have laughed uproariously, but the fact is that Ms. Chung's work is excellent -- conveying fear but also understanding, confusion and complicity, deer-in-the-headligh​ts paralysis and confident action.
Some critics and audience members have called "Eden" 'exploitative' or 'lurid' -- I for one found it neither. Yes, "Eden" -- the name Hyun Jae is given by her captors -- is forced into sex acts, but we never see those acts, merely reactions to them. (And before you think this lets the audience off easy, let me not that it does not; in one case, while we only see the backs of a ring of Frat boys chanting a countdown without seeing the young women they're watching, the mind shudders to imagine what, exactly, it is they're counting down.)
Fans of "Breaking Bad" will possibly see something similar in "Eden" -- the wide open spaces of the American Southwest, where bad things can happen not only to good people but because of people who, in their hearts, think they're not so bad. Matt O'Leary is excellent as Vaughn who works as, for lack of a better word, middle management in the slavery ring ; he can appreciate how "Eden" wants to move up the ranks doing more desk work and less bed work, while still closing a friendly request to finish a task with "… or I'll shoot you with every gun I have." Beau Bridges is also excellent as a U.S. Marshall working the case, folksy and warm and fearsome and cold.
"Eden" has also been characterized as a 'revenge thriller' -- which could not be farther from the case, and anyone expecting Lara Croft-styled heroics would do well to both avoid "Eden" and grow up. Chung shows us what a young woman will do to survive -- a small-scale version of the choices faced by the Karpo, the concentration camp prisoners who watched over other prisoners in the hopes their servitude would keep them alive. And while we see the sense of the interconnected web of money and sex and drugs and bribes that keeps a world of sex slaves humming along profitably, we're never granted an omniscient view; we almost always see things from Eden's perspective, which keeps the narrative moving fast. "Eden" is based on a true story, but it also knows where to apply just enough invention and drama to keep things thematically and dramatically coherent -- which, let's be honest, real life often lacks. Moving without being maudlin, exciting without exploiting, complex but clear, "Eden" is a rewarding, righteous example of how fiction can tell the truth. 
("Eden" is currently seeking distribution.)