Interview: Joseph Gordon-Levitt of 'Looper'
On time travel, the film's Toronto premiere and the joys of the audience ...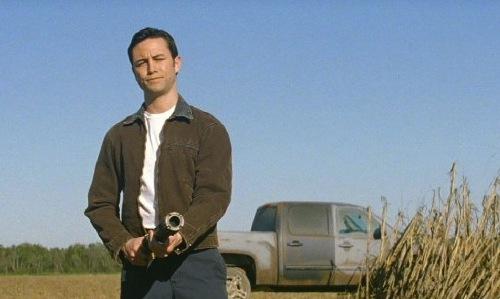 In "Looper," Joseph Gordon-Levitt plays a young criminal hired by a crime syndicate that exists 30 years from now with the black-market understanding of time travel. Gordon-Levitt's Joe is hired to kill victims that syndicate sends into the past of 30 years ago, the present where Levitt's character lives; it's as if all of time and space were just a swamp in New Jersey. But that plot also means Gordon-Levitt has to eventually face down his older self (Bruce Willis), as part of that syndicate's violent retirement plan, and Willis does not want to go quietly into that good night. Gordon-Levitt is a bit of a futurist in his own right; he's been backing HitRECord.org, a multi-participant platform that lets its users interactively create. We spoke with Gordon-Levitt in Toronto about 'Looper's debut, the twisty, tricky script and direction by Rian Johhnson and about if the audience now and then wants to be confused. …
MSN Movies: I asked Miss Blunt this but, by the end of it all was your script just flagged with post-it notes and arrows to circle back to other points where (everything) shifts thanks to the film's time travel?
Joseph Gordon-Levitt: You know, I didn't find it that complicated to keep track of to be honest. It's something that …it reminds me of when "Inception" was first coming out a lot of people asked us, "Aren't you afraid that audiences will be confused?" and both Chris (Nolan)'s answer as well as everyone else's answer was "No." I think audiences actually enjoy being challenged sometimes by a film.
And in the spirit of fairness, you have had two years of the script whereas most of the audience gets two hours.
That's exactly right, but we had to make it whereas the audience has to just watch it. (Laughs)
                                                 BING: Joseph Gordon-Levitt | HitRECord.org
Well, if the audience made it that would be awkward.
Yeah, that would be. Well, it might work out.
It might work out well. Sounds like a "Hit RECord" project; crowd-source a film.
(Laughs)
You spent three hours in the makeup chair every day to get the prosthetics so you can look more like Mr. Willis. I mean, at a certain point do you throw your hands up and go, "Why couldn't we have cast somebody who looks a bit more like me?"
(Laughs) I was just so stoked that Bruce liked the script and wanted to do it. It's such an honor. And you're right. We don't look anything like each other and that did pose a challenge, but I think we always knew even if we had cast someone who looked more like me they would need that makeup. We didn't want to do it digitally because we thought that would look fake, and we just wanted to do enough so that it would make it clear for the audience that this is the same person, and I think that's enough.
George Orwell famously said that by age 50 every man has the face he deserves. I mean, when you look at Bruce Willis as the old you is it an exciting or cautionary tale?
It's very exciting, obviously. I hope it goes that well for me.
(Laughs) You'd be pretty happy. That steely gaze of intimidation …
(Laughs) Dude.
Working opposite Miss Blunt in the second half of the film, when it takes on this weird kind of Western tone in a great way, she's got the shotgun, she's taking care of the homestead. How satisfying was it just to hole up in the setting and act?
Well, Emily's so good in the movie. I mean I'm a fan of all her movies, but you know speaking of transformation, she really transformed herself, too. She's not wearing prosthetic makeup, but she's totally different than you've ever seen her before. She's just, you know, she's a sophisticated young British lady, and in "Looper" she's a farm girl from Kansas wielding a shotgun like a badass and doing it completely convincingly.
She's gone from like "Downton Abbey" to like a really good Springsteen song in the film.
(Laughs) That's one way to put it.
Putting the pieces of the film together when you watch with an audience, is it great to like hear the separate radio show of their realizations and conclusions and revelations hitting them? Were you able to enjoy that last…
Absolutely. Yeah, well we just premiered at the Toronto Film Festival for 2,000 people and I've been watching cuts of the movie as it's been coming together but this is the first time I've watched it with an audience, and it's entirely different. And my personal opinion is the reason to go to a cinema is to watch a movie with an audience. Storytelling is something human beings have always done socially. And look, I love watching movies at home alone, I do it all the time, but it's a different experience when you're out with other people.
It's like praying versus church?
Oh … that's a good comparison.
("Looper" opens Sept. 28; Is this the leading role that'll make Joseph Gordon-Levitt a star? Tell us on MSN Movies Facebook and MSN Movies Twitter.)