The Ten Best Movies of the Year*
*Um…I didn't say what year!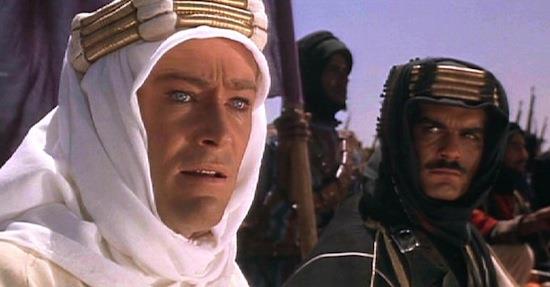 As 2012 comes to a close, we seem to be inundated by lists of the best films of the year. The writers at MSN Movies have already published our Top Ten lists, but I have one more to add—as long as we can hop into our trusty time machine and pop back half a century.
While there may not have been talks about going over the "fiscal cliff" 50 years ago, things were not all that stable as 1962 was coming to a close. The price of gas had gone up to an expensive 28 cents a gallon with new cars averaging just over $3,000. The median cost for a new house was $12,500 (who could afford that?) and tuition at Harvard University was an unheard of $1,520 a year. The country was still recovering from the Cuban Missile Crisis, an event that brought the world to the very brink of nuclear war. President Kennedy helped to avoid that catastrophe but the Cold War with the Soviet Union raged on. John Glenn became the first American to orbit the earth, Marilyn Monroe was found dead in her L.A. home, and federal troops were called to the University of Mississippi following the attempt of an African American student, James Meredith, to enroll.
The year saw the birth of many people who would eventually make their mark in the movie business. These 1962 babies included Tom Cruise, Jim Carrey, Jennifer Jason Leigh, Matthew Broderick, Steve Carell, Jodie Foster, and Ralph Fiennes. All in all, it was a pretty remarkable year for the movies. Let's go backwards and look at our picks for the ten best films of the year. Be sure to check out the trailers for each film to see how the 1962 marketing campaigns differed in many cases from how we view these films today. 
10. "How the West Was Won" (John Ford, Henry Hathaway, George Marshall, Richard Thorpe). This is by far the best feature film ever made in Cinerama—that crazy technique where three 35mm film images are synchronized and joined together on a huge curving screen that fills your peripheral vision. I've seen "How the West Was Won" as originally intended twice at the Cinerama Dome in Hollywood, one of the few theaters left that can still screen such films, and it is  breathtaking spectacle—a star-studded epic that follows four generations of a family as they migrate westward from New York state to the Pacific Ocean between 1829 and 1889. With different segments filmed by different directors, a sweeping narration by Spencer Tracy, and a cast of 24 stars including Jimmy Stewart, Henry Fonda, Debbie Reynolds, Gregory Peck, John Wayne, Robert Preston, and Carroll Baker, this is not a film to be missed. Take a look:
9. "Jules and Jim" (Francois Truffaut). This was only the third film of the great French director Francois Truffaut and it is one of his best remembered. The story of a love triangle between an impulsive woman (Jeanne Moreau), an Austrian writer named Jules (Oskar Werner), and a Frenchman named Jim (Henry Serre) takes place before, during, and after World War I and was a strong example of the French "New Wave," a style of moviemaking that drew on elements of Italian neorealism and classic Hollywood cinema. Such films often used natural light and almost had the look of documentaries. A classic that must be viewed by anyone serious about film.
8. "David and Lisa" (Frank Perry). This tiny independent film, made on a shoestring budget, was a surprise success in 1962 and garnered Oscar nominations for director Frank Perry and his wife, screenwriter Eleanor Perry. It tells the story of a young man (Keir Dullea) suffering from obsessive compulsive disorder who meets a girl (Janet Margolin) who has dissociative identify disorder. Definitely not your typical boy-meets-girl romance—the clip below will give you a feel for the rather odd tone of the film. "David and Lisa" is ultimately a riveting psychological drama, as were the couple's subsequent films, "Ladybug, Ladybug," "The Swimmer," and "Diary of a Mad Housewife."

7. "Gypsy" (Mervyn Leroy). True, in terms of her singing chops, Rosalind Russell was woefully miscast as Mama Rose, the infamous stage mother of stripper Gypsy Rose Lee, but Warner Bros. thought she was more bankable than Ethel Merman, who played the part in the original Broadway musical. Still, this somewhat dark look at the life of the legendary performer is well worth a look, especially with Natalie Wood as Louise (the "untalented" daughter who would become the famous stripper Gypsy Rose Lee), Karl Malden as Rose's long-suffering boyfriend Herbie, and Ann Jillian as Louise's sister June. There have been numerous Broadway revivals of this show, a TV version starring Bette Midler as Mama Rose, and a purported movie remake in the works with Barbra Streisand as the iconic character.
6. "What Ever Happened to Baby Jane?" (Robert Aldrich). This scary thriller with Bette Davis and Joan Crawford as a pair of once-famous sisters is not to be missed. The former superstars reportedly despised each other during the making of the film which only adds to the on-screen fun. Bette Davis is magnificent as the tortuous and washed up Jane Hudson, a successful child star in vaudeville who flopped badly in her later attempts at a movie career. And Joan Crawford is mesmerizing as the crippled Blanche Hudson, a still beloved star from the golden age of movies. Director Robert Aldrich goes to town with these two, with Davis torturing Crawford at every opportunity (rat for dinner, anyone?) and Crawford keeping a huge secret that has affected her sister's life in a big way. After seeing this film, no one could ever accuse Bette Davis of having an actor's vanity—she was willing to to go to any lengths to convey the horror that Baby Jane had become.
5. "Days of Wine and Roses" (Blake Edwards). Still one of the best films ever made about alcoholism, this powerful film starred Jack Lemmon and Lee Remick as a fun-loving couple who descend into the depths of hell as a result of "social" drinking that gets out of control. The desperation shown in the performances by Lemmon and Remick is almost hard to watch and we see in explicit detail how they struggle to deal with their addictions to varying degrees of success.. This was one of Blake Edwards' most critically acclaimed films and unlike many movies that touch on this topic, the story does not exactly have a happy ending. Lemmon's AA sponsor was played by the late Jack Klugman.
4. "The Miracle Worker" (Arthur Penn). It's amazing how many great directors were making movies in 1962. This magnificent Arthur Penn film, based on the award-winning stage play (by William Gibson) about the early life of Helen Keller, was adapted by the playwright for the screen, and in a rare move for Hollywood, starred the original Broadway leads, Anne Bancroft as Annie Sullivan, Helen Keller's tireless teacher, and young Patty Duke as blind and deaf Helen Keller. Although the studio had originally wanted bigger stars for the leads, both Bancroft and Duke won well deserved Oscars for their intense, emotionally raw performances. I don't know about you, but I only have to see a second of the final scene in which Helen finally makes the connection between the finger-spelling Sullivan has taught her and the actual meaning of the words and I'm just a big sobbing mess.
3. "To Kill a Mockingbird" (Robert Mulligan). This adaptation of Harper Lee's Pulitzer Prize-winning novel about a lawyer in the Depression-era South defending an African American man against false rape charges may be one of the most incisive films ever made about race inequality in this country. With Gregory Peck giving an Oscar-winning performance as Atticus Finch, and young Mary Badham as his daughter "Scout," "To Kill a Mockingbird" also features remarkable performances by Robert DuVall (his screen debut) as Arthur "Boo" Radley and Brock Peters as the innocent black man. To celebrate its 50th anniversary, the film was screened in the White House earlier this year with the Obama family in attendance.
2. "The Manchurian Candidate" (John Frankenheimer). In my opinion, "The Manchurian Candidate" is the greatest of all Cold War thrillers. The suspenseful film tells the story of a young sergeant (played by Laurence Harvey), the son of a prominent right-wing family, who has been brainwashed to be an assassin for an international Communist conspiracy. With Frank Sinatra, Janet Leigh, and an incredibly powerful performance by Angela Lansbury as Harvey's ruthless power-hungry mother (believable even though she was only three years older than the actor playing her son!), this is one of the hardest-hitting political films ever made. Even with the great Meryl Streep in Lansbury's role, the 2004 remake paled by comparison.
1. "Lawrence of Arabia"
(David Lean). Clocking in at close to four hours, David Lean's epic film about the life of British army officer T. E. Lawrence, especially his role during the Arab Revolt against Ottoman Turkish rule, deserved all of the accolades it received, including Oscar wins for Best Picture and Best Director. True, many historians question the the accuracy of Peter O'Toole's brilliant portrayal of the title character, as well as some of the historic events in the plot, but there's no denying that "Lawrence of Arabia" is a cinematic masterpiece, from the breathtaking cinematography to the haunting score by Maurice Jarre. With great performances by Alec Guinness, Omar Sharif, Anthony Quinn, and others, the film was definitely a high point for what turned out to be a very strong year in film.
Other movie highlights of 1962 include "The Longest Day," "Sweet Bird of Youth," "Advise and Consent," "Cape Fear," "Lolita," "Two for the Seesaw," "The Man Who Shot Liberty Valance," and the first James Bond film, "Dr. No." The year also saw the release of Elvis Presley's "Girls! Girls! Girls!," Robert Preston in "The Music Man," and Doris Day and Cary Grant in "That Touch of Mink." Let's just hope that the coming year has movies that come close to this depth and range.
Are you sure you want to delete this comment?