Interview: Taylor Kitsch of 'John Carter'
'I've got to go beyond all out to make you believe that I'm there.'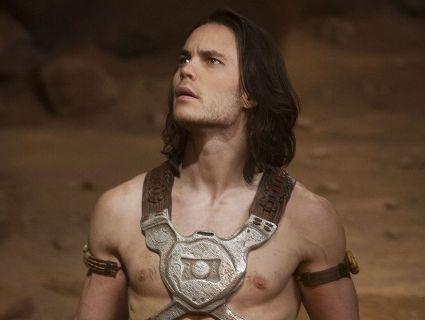 Perhaps best known for playing Riggins on "Friday Night Lights," Canadian-born Taylor Kitsch steps into not one but two huge could-be-franchises this year, Peter Berg's "Battleship" and, of course, Andrew Stanton's "John Carter," in the title role. We spoke with Kitsch in Arizona about scale, success, giving your all ro the role and if he'll be watching ticket sales the first weekend …

When you sign up for this film, and they say, "It's a hundred year-old book that's inspired a lot of Twentieth Century science fiction. It's going to require huge amounts of special effects. Oh, and you're playing the guy it's named after." What's the tension meter go up to when you realize that?
Taylor Kitsch: No pressure, man. No pressure whatsoever.
You're obviously being sarcastic.
Yes, I am. That's the dry humor, the awkward dry humor I'll throw out there. I don't know. After you have a meeting with Andrew Stanton, who -- of course it's his childhood dream, and you're leaving, and the phone (rings with) the managers and the team, and you're like, "Basically, anything I've got to do to get this role. I'll do it. My hat is truly in the ring right now, so I'm going to go there." To work with a guy like that, obviously it's a risk, like you just played out, but it's more or less you're going to grow from that experience, and I truly did. It was so fun, and an honor to play that guy.
I'm always very curious about the disconnect between reading something and doing it. For example it says in the script, "John Carter, because he's from Earth and Mars has lighter gravity, he can jump high, and he's strong and more durable." Then you get on the set and they're hooking you up to wires to haul you sixty feet into the air. What was your leaning curve on the wirework?
It's so technical that I don't think you'll ever have it perfected. But there's definitely moments when they're counting, "Three, two, one," and you're ninety plus feet in the air, and you're going to free fall for a while -- it puts you in the moment. It's more of a fun ride than anything. I enjoyed a lot of it. Sometimes in the morning when you'd be there at 6am and you open your trailer door and that harness is glowing looking back at you, you kind of don't want to deal with it at that time, but at the end of the day in the film it really is worth that sacrifice.
I was lucky enough to see the film's set in Britain. They'll build a section of the set, and the rest of it will be filled in by CG. All of the Tharks are there on stilts, and they'll be covered up by performance capture. What percentage of the actual film do you see while you're making it? Is it ten? Is it five? Have you seen the finished film yet?
I've seen the finished film. I'm very proud of it. (And) it depends what scene. There are scenes on earth that are full scale, full sets, and you know what it's going to be by the end of the day. Then there are scenes like the great white ape scene. We can use that for example, that obviously there's no such thing as great white apes. They built about a quarter half of the arena, and there wasn't an arena full of Tharks, so you're making a full speech, a rally speech, to the clouds at the time. There's all that, but within all that lies an immense amount of trust with Stanton that he's going to do it, and that I've got to go beyond all out to make you believe that I'm there.
There are a number of books in this series. The first weekend box office, are you going to be following it waiting to see if you'll get the phone call, "Hey, keep working out. Grow your beard, and work on your Virginia accent?"
I don't think I'll excessively track it. I want people to enjoy the ride like the next guy, but my heart's in it, so I'd love to do it another time, because I just think it's such an incredible story. The journey I make in it … hopefully you guys have that same journey in just watching it.
("John Carter" opens today …)