Interview: Craig Zobel, Pat Healy, and Dreama Walker of 'Compliance'
This challenging, controversial film urges us to examine how we interact with authority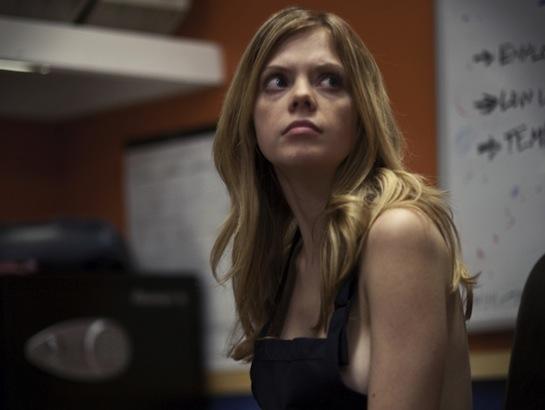 Is it possible for a film to be painfully uncomfortable to watch but still fascinating and enriching? As someone who enjoys being challenged by the moviegoing experience, I say yes, but people heading out to see Craig Zobel's "Compliance" should be forewarned that this is not typical escapist fare.
Based on a shocking real-life occurrence at a Kentucky McDonald's in 2004, "Compliance" tells the story of a man who calls a fast food outlet claiming to be a police officer. The caller (Pat Healy) tells the manager (Ann Dowd) that he believes one of her young female employees (Dreama Walker) has stolen money from a customer's purse. He describes the employee in question and gives the manager two choices—have the young woman hauled down to the police station and booked, or to carefully follow his instructions on the phone and try to locate the evidence while waiting for police officers to arrive on the scene. What happens during the next three and a half hours is hard to believe and often excruciating to watch, with the manager, employee, the manager's boyfriend, and others blindly following whatever the caller tells them to do—from a humiliating strip search all the way to a sexual assault. Shockingly, what happened in 2004 was not an isolated incident. Over a period of ten years, dozens of such calls were made to fast food restaurants, with unsuspecting employees obeying the caller's bizarre demands.
I spoke to director Craig Zobel, Dreama Walker ("Gossip Girl," "The B in Apartment 23"), and Pat Healy ("Magnolia," "The Innkeepers") in Los Angeles.
MSN Movies: I thought this film was so well made AND the most uncomfortable 90 minutes I've ever spent in a movie theater!
Pat Healy: We wouldn't have it any other way!
But I don't mind when movies make me squirm, as long as they're giving me something to think about.
Craig Zobel: That's the dividing line right there.
When you were making the film, did you anticipate the level of discomfort and anger that it might produce in audience members? I've read about your screening at Sundance when some people in your audience stormed out and others were quite confrontational at the Q & A. 
Zobel: In order to achieve what we going for, I knew we had to make decisions that were going to be too much for some people. I don't think I anticipated that we'd have so many people there who knew absolutely nothing about the movie. The screenings we've had since Sundance haven't been like that. The thing is, it's hard to get tickets to movies at Sundance so some people just go to whatever they can. That's how some of the people who don't like to watch this kind of movie ended up in that screening!  
We all want to think we'd never let ourselves be victimized in that way, that we'd just hang up on such a caller or say no. But then you think about all the times people do things out of fear of losing their job or because they have some kind of blind acceptance of authority. How much did you guys talk on the set about the psychology of this story?
Healy: Constantly!
Dreama Walker: All the time. For me, that was what made me want to be a part of this film. I found the subject utterly fascinating and I think the movie is a wonderful platform for people to start having these kinds of discussions.
As shocking as this story is, I also think the film shows a lot of restraint in what we see on the screen. Craig, knowing the creepy details of what really happened in this case, was it a hard balance for you to strike in figuring out what to show and what not to show?
Zobel: Definitely! I remember one scene we shot that I thought went too far and it didn't make it into the movie. But I also had people telling me not to make the film too "easy" either. My editor, Jane Rizzo, urged me not to shy away from really challenging the audience. The way I worked during the editing process was to show the film to very small groups of people at a time and listen to their thoughts. I never showed it to a large group until Sundance which was around 600 people. I was like, "Oh, so that's how it reads!" (Laughs.)
Dreama, as you're playing that part, do you have to find a place inside you where you understand why your character would do what she does?
Walker: Absolutely. Like you said, the first reaction everyone has to this story is that they'd never do that, how can people be so stupid? It's easy to say that once you know it was a prank caller and that everything was a lie, but when you're actually in that situation and you're being made to feel like you might lose everything and that you may be going to jail and that you're a bad person, I can see how that girl could end up participating in that.
When you're making a film this intense, is it a very heavy set?
Healy: No, not at all.
Walker: We had to balance it.
Zobel: I don't think you can do this kind of work without decompressing a little bit as you're going. 
Yeah, you wouldn't necessarily want actors like Robert DeNiro or Daniel Day-Lewis refusing to break character!
Walker: (Laughs.) Right! I made everyone call me Becky and I insisted on being naked the entire time!
Healy: I totally respect people who work that way, but personally, I can snap in and out of it. That being said, when you're shooting those scenes, you are in those feelings and it can be very difficult. In a film like this, the camera is very close and intimate.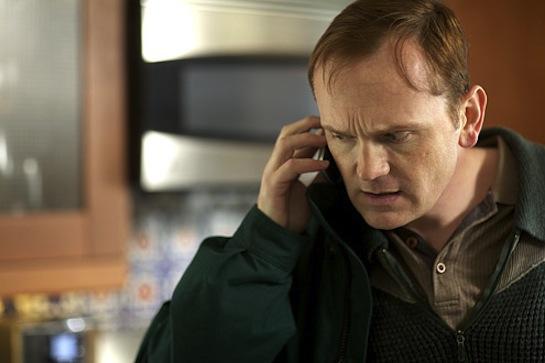 What did you to, Pat, to get into the head of someone that disturbed?
Healy: To be honest, at first I didn't want to play the part. This guy clearly has a hatred and contempt for humanity that I obviously don't share. I think it comes from a deep sense of self-loathing which he projects outward. So even though it's not me, in the moment I have to tap into those feelings. It feels awful!
The most terrifying thing about that guy is that he probably comes off as pretty normal in other parts of his life.
Healy: It's true. I've heard of that kind of compartmentalization​ with serial killers, for example, where they seem to have very normal lives but there are bodies stacked up in the basement. People like that think they're putting that dark stuff away, but it doesn't work for long. It's like if you don't like bananas and just stuff them into a cabinet out of view. Eventually they're going to start rotting and fermenting. That's what happens to people who try to keep that part of themselves inside instead of dealing with it. Their entire being begins to rot.
Zobel: I think of this guy as someone who has very little agency in his life, so these calls are his way of kicking the dog. It's his release, his way of thinking, "I'm actually smarter than everyone else. I can make total strangers do anything I want!"
After seeing this film, I started questioning how I interact with all authority figures, even real ones!
Zobel: My only reason to make this film was to look at what there was inside of me that I recognized in these people. The whole point of the movie was to explore the universality of it. We give people authority over us. Most don't take advantage of it, but I hope the film makes people feel that they are able to question when things don't seem right or if they feel there's some kind of abuse of power.
Aren't you all desperate to work on some frothy rom-com now?
Zobel: Yes! We've been talking about that!
Healy: Dreama's lucky, she gets to do that.
Walker: I really want to do one with all of them!
Zobel: Yeah, our whole cast is really funny, it would be really great. We could set our comedy in a fast food place and use the same set!
Have you ever watched the film with an audience and been creeped out by their response?
Zobel: I had a little of that feeling recently when we showed the movie in Europe. We often hear nervous laughter in screenings but this seemed more like a judgmental kind of laughter that I couldn't fully process. I think it was something like, "Oh, you stupid Americans!"
As if Europeans would never fall victim to crazy authority figures. World War II, anyone? 
Walker: Oh, right, that little Holocaust thing…whatever!
Thanks so much for talking to me, guys. I admire what you did here—even if I've never been more grateful for a movie to end!
Zobel: There's our blurb for the poster!
"Compliance" is playing in New York and opens next week in select cities.