Jessica Chastain on 'The Debt,' Rough Thrills and the Sprawling 'Tree of Life'
Fighting, acting, and dealing with the jump to stardom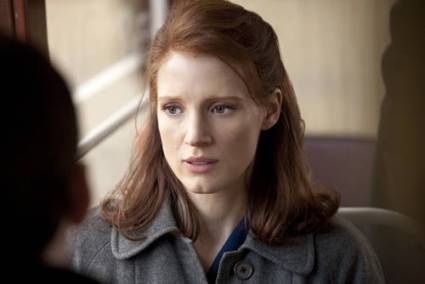 It's the classic tale of Hollywood hyperacceleration -- you work on a few films over a few years that all come out at once. It's happening to Jessica Chastain, whose current performance in 'The Debt" will be followed by a host of other movies -- and whose work opposite Sam Worthington and Marton Csokas as a Mossad agent in the '60s (with Helen Mirren, Ciarán Hinds and Tom Wilkinson as the three-decades-later versions of those characters) drives much of the movie's excitement. We spoke with Chastain in Los Angeles as part of a round-table interview about "The Debt," the fast-forward jump of her career and on going into the voice over booth over 60 times for "Tree of Life."
Talk about, first of all obviously this movie, 'The Debt,' and working with Sam...
Chastain: Well, I was really, really fortunate because on 'The Debt' was the first time I met Sam, and a few months before we started shooting, we all came out to London, we all had dinner together — Sam, Marton, John Madden and I. And we knew kind of from the very beginning, the three of us guys, this is going to work. We really liked each other, we were laughing a lot. I felt like the chemistry was absolutely there. And that continued on through the shooting. I'd never done an action film. I mean, most of you guys know this — I went to Juilliard, I was trained in Shakespeare and the classics, and so the idea of me running and jumping into a moving van and shooting guns was so foreign to me. And Sam was wonderful because it wasn't foreign to him, and he really was my coach during this film — my like action coach, where he would show me the best ways to hold a gun or ... Even with the running scenes, he was teasing me. He nicknamed me Tommy Cruise because he says that my action run was as good as Tom Cruise's. So we had real good fun. After working with him on that, we joked that we had a three-picture deal. So when 'Texas Killing Fields' came up, I thought, well it's another opportunity to work with him. And now I'm just looking for the third picture. Maybe we'll expand it to a five-picture deal.
You tend to be unrecognizable in each of your roles. How important is the transformational aspect for you in terms of getting further away from either previous roles or yourself?
Chastain: To me it's everything, because I don't want to play the same thing twice. I've already started to feel, when 'Tree of Life' came out, I started to get these scripts, and I was like, 'These are all 'Tree of Life' scripts.' They're like very supportive, stand-by-your-man-ty​pe of women. So I do see that Hollywood does try to think, Oh she can do that so let's have her do it again. And I'm really fortunate that it goes from 'Tree of Life' to 'The Help' to 'Take Shelter,' where I'm hoping that they just won't know what to do with me. And in fact after I do all my press, I'm going to go shoot a genre film at the end of the year because I've never done that before. It's called 'Mama.' It's Guillermo del Toro's company.
In this film, you're sort of wrapping yourself around the performance duties of doing a thriller. Is that something where you have to educate yourself through study of a genre? Or is it more immersive? Like, you've spent your life watching thrillers ranging from the very good to the very crap, so you know how they're supposed to look.
Chastain: Do you know what the funny thing, actually, about this film though? I didn't really know that it was a thriller until I saw the first screening of it. Then I was like, 'What?' Like, my heart was beating the whole time and I thought, 'This is so different.' I thought I was making like this sweeping drama action film, which of course when I watch it now it's absolutely a thriller. But I think probably because I approached it like it was a drama — actually, I approach everything, I approached 'The Help,' even though she's really kind of a goofy character, I approached it like I was doing this great drama. Because then I think that really helps me fill the characters out. But for 'Mama,' the genre film, I'm going to approach it like it's a drama. I'm going to watch a lot of films to kind of get in the zone, but yeah, that's how I approach everything.
How much did the training that you actually had to go through mirror the character development, in that she is obviously trained to be able to be physical, but at the same time she has no experience. How did that inform the character as you were playing her?
Chastain: Gosh, I think it informed so much of it. I spent four months before shooting working in Krav Maga and learning that. I didn't know how to throw a punch. I mean, I had fight combat at Juilliard, but it was more like swords and stuff for Shakespeare plays, which you don't really see in movies. Um, so this was a lot of hand-to-hand combat, and my teacher was really good at teaching me to use my body weight and different ways that you can twist someone's arm to make them fall on the ground, even if you're not incredibly strong. So that gave me a lot of confidence to approach it, but you know I just really tried to put myself in the situation Rachel was in, so in a scene like in the doctor's office, you know it's an incredibly invasive spot for her to be in. Usually as an actor I just try to think the thoughts of whatever the character is thinking and that kind of leads to something. The first time I did it was with Al Pacino. He told me it always has to be a big deal. So if I'm really feeling something, it's best if I can... I usually ask myself, 'I'm really uncomfortable, why am I uncomfortable? Oh, maybe my character's uncomfortable.' So I always try to connect the real to what I'm doing.
On a physical performance, meat-and-bone, 'please get your hip out of my stomach' level, which is worse to shoot, fights or love scenes?
Chastain: Oh gosh. You know, it's so strange because... I mean, fight scenes are more exhausting, especially the fight scene I had in the film with Marton and Sam, because Marton's a big guy, you know? And thank goodness for him. He didn't want it to look like it was easy for me. That was a really exhausting day of shooting for me. But also when I was a child I had a lot of dance experience, so for me a fight, I realized, is like dancing because you have your scene partner and you're both counting silently. So it's like a duet of sorts. So that's... you know physically, fight scenes are harder. Just love scenes are hard because they're embarrassing. Like, nudity, all that stuff. Anything like that is just really embarrassing, and once you can kind of get over that, then it's fine. So I guess love scenes are more emotionally difficult and fight scenes are more physically difficult.
When I saw you in Berlin, it was for 'Coriolanus,' and at that point none of your movies had come out yet, and you'd been working for four years. And now we're going to have seven of them out. What's it like to actually start getting the reaction, to be recognized, to do the red carpet, to sort of have this career pop now, when four months ago nobody knew who you were?
Chastain: It's a very strange thing. I mean, to be honest I don't get recognized, which is great. To me it's not important to be recognized. When someone comes up to me and says that they saw 'Tree of Life' or that they saw 'The Help' and were able to piece it together that I was in and say nice things, of course I love that. I love talking to people who have seen the film. But for me it's so important to be able to disappear into the roles, and I think sometimes a trapping of fame is that someone knows so much about you that they don't want you to disappear into the role. They want you to be how they think you are. So right now, it's all great. I'm getting to do the work and I'm getting to have a normal life. I am still shy, like the red carpet for me is... it's a shy thing. Especially that Cannes one was out of this world and terrifying and exciting at the same time. So I'm learning. I'm still learning this part of the business.
As a follow up to that, just so we have some perspective, could you tell us what order you shot the films in?

Chastain: 'Salome' is the very first film I did, which was great because it started from... I was an actor who did a lot of theater and television, so I would go back and forth and do both. And I got cast in 'Salome,' the play version, with Al Pacino. We did it at the Wadsworth Theater and then made the film of it. So it was a really easy transition to make the film for me because I'm acting opposite one of the greatest actors of all times, and I get to see his performance change from a 1,400-seat theater to the camera and all the lessons he gave me with that. So it started with 'Salome,' 'Jolene,' I did a movie — the title changed so many times — I think it's called 'Stolen' now, 'Tree of Life,' 'The Debt...' what did I do next?
And then the one with Michael Shannon, 'Take Shelter?'
Chastain: That was last year. So after 'The Debt' I think I did the TV movie, 'Murder on the Orient Express,' then I did 'Coriolanus,' then I did 'Texas Killing Fields,' then I did 'Take Shelter,' then I did 'The Help,' then I did a couple days on Terrence Malick's next film. Then I did 'Wettest County.' I'm exhausted. 'The Wettest County in the World' is the John Hillcoat film with Tom Hardy, Shia LaBeouf and Gary Oldman.
As a follow-up and to clarify a matter of apocrypha, and asked politely just out of curiosity, I was informed by external sources that you went into the voice-over booth 60 times for 'Tree of Life.' Is that number accurate?
Chastain: I never counted, but that would make sense, yeah. Over the past four years, I was called many times and asked would I mind putting some voice-over work on tape. I love it. Because I come from the theater, I love the idea of workshopping something. I worked on 'Salome' for a year. I love the idea of things taking their time and finding their way. So I made sure to let Terry know he could ask me to go in as many times as he wanted. I love being an actor, I love the creativity of it, of creating something. It's not about me feeling, Oh, I want me free time. I could've gone in that booth 60 more times.
But if he called you right now, would you be like, 'Oh Jesus, Terry, let it go'?
Chastain: No, I would do it. Because I know, someone told me, that he's working on a longer... I would absolutely do it. Even for 'Salome,' I did that a lot for 'Salome' over the last few years, for ADR and actually — I think it was like a year and a half later — I did another scene for the film. So I have no problem. I'm such a fan of directors and films and actors, which is why I probably... every film I'm like working with Helen Mirren or Terrence Malick, all these great artists, that any opportunities to spend time with them is an opportunity for me to learn from them and kind of enrich my life. So I'm going to do it. I would be the one to be calling Terry going, 'Do you need more voiceover?' That's me.
("The Debt" opens this Friday.)
Are you sure you want to delete this comment?