Weekend Box Office: Dracula and Friends Bring Some Welcome Relief
"Hotel Transylvania" and "Looper" re-invigorate North American ticket sales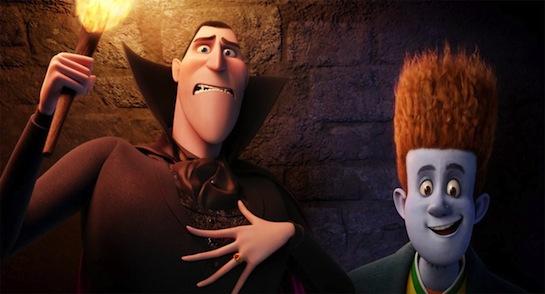 Is the late summer drought finally over? The computer-animated "Hotel Transylvania" starring Adam Sandler as Count Dracula and "Looper," the sci-fi action flick starring Bruce Willis and Joseph Gordon-Levitt brought the dangerously anemic North American box office back to life this weekend. A harbinger of a healthy and profitable holiday season? Movie execs are keeping their fingers crossed.


With opening weekend numbers more than three times the amount of last week's #1 film, Sony's "Hotel Transylvania" exceeded expectations by earning $42.5M (at 3,349 theaters) over its first three days. At #2, TriStar's "Looper" also appealed to audiences, with moviegoers forking over $20.8M (at 2,992 theaters). Last week's top film, "End of Watch," slipped to #3, bringing in $7.8M (at 2,780 theaters) while Clint Eastwood's "Trouble with the Curve" enjoyed some staying power at #4 with $7.2M in ticket sales (at 3,212 theaters). Moving to #5, "House at the End of the Street" added $7.1M (at 3,083 theaters) to its now $22.1M domestic total.


At #6, the delightful "Pitch Perfect" brought in $5.1M even though it's in limited release at only 335 theaters (it goes into much wider release this Friday). "Finding Nemo (3D)" dropped to #7, lampooning $4M (at 2,639 theaters) while "Resident Evil: Retribution" scared up $2.9M (at 2,381 theaters) giving it a new domestic total of $38.6M. At #9, "The Master" continued gaining devoted followers as well as Oscar momentum. With a slight increase to 856 theaters, the film earned $2.6M over the weekend. Rounding out the Top Ten, Fox's "Won't Back Down" starring Maggie Gyllenhaal and Viola Davis brought in $2.6M (at 2,515 theaters).
Next weekend will feature a little boy bringing his dog back to life in Tim Burton's "Frankenweenie," Jennifer Garner doing amazing things with dairy products in "Butter," and Liam Neeson going to incredible lengths to save his daughter and ex-wife in "Taken 2."