Trailer for 'Oz, the Great and Powerful' Debuts at Comic-Con
But you can see it here...and it's worth taking a look!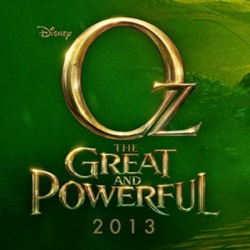 With Comic-Con in full swing in San Diego, there's lots of talk of vampires, zombies, and superheroes. But another film that's getting a bit of attention is Disney's "Oz, the Great and Powerful," the prequel of sorts to MGM's "Wizard of Oz" and a film we discussed last week with equal parts skepticism and excitement. But if the trailer that just debuted at Comic-Con is any indication, we may be spending more of our time in the excitement column.

The Sam Raimi film starring James Franco as the wizard has a visual style that evokes the 1939 film but also breaks new ground. I was surprised but not disappointed to see the same gimmick from the classic Judy Garland vehicle used in this film—bleak, depressing Kansas appears in black-and-white while mysterious Oz dazzles in vivid color. Our three witches (played by Michelle Williams, Rachel Weisz, and Mila Kunis) show up briefly in the teaser and all I can say is…I want more!
Check it out: