'Iron Man 3' Starts Production
So soon after 'The Avengers'?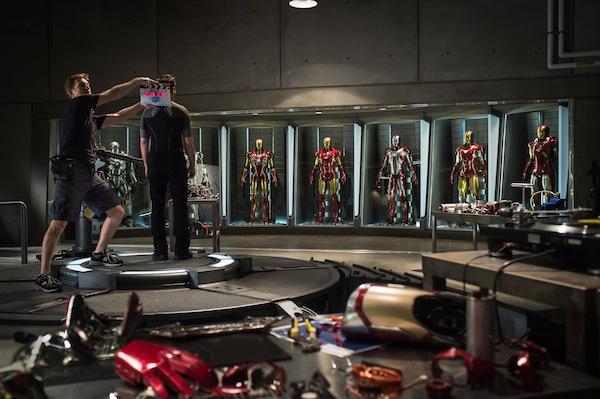 "The Avengers" may still be the #3 movie at the box office (and setting records: it's now the 3rd highest grossing movie of all time) but the gears of Hollywood grind ever forward. While audiences can continue sitting back and watching the fruits of Robert Downey Jr.'s labor — like the time he saves Earth by throwing that nuclear missile through that wormhole thing into the alien netherworld — the man himself is now back at work. After all, there are fortunes to be made, villains to valiantly punch in the face and "Iron Man 3" to film.

All of which is just an elaborate preamble to the rather droll, not-terribly exciting news that "Iron Man 3" has officially started principal photography. From the first production still, seen above, it seems Tony Stark is back to his old tricks in the laboratory. In the background, not one or two but seven (!) previous iterations of the Iron Man armor? What about the suit that Rhodey stole in "Iron Man 2" to become War Machine? Did he return it? And are those the artifacts of a new suit sitting on Stark's workshop table? The intrigue!
"Iron Man 3," written and directed by Shane Black ("Lethal Weapon, "Kiss Kiss Bang Bang") will find Iron Man battling Ben Kingsley's The Mandarin, and will co-star Gwyneth Paltrow (as usual), Don Cheadle, Guy Pierce, Rebecca Hall, and James Badge Dale. Expect it to hit theaters May 3rd of next year, or just about when "The Avengers" finally closes.
Are you sure you want to delete this comment?