Casting Rumors Continue to Ramp Up for Finnick Odair Role in 'The Hunger Games: Catching Fire'
Is there truth to any of these rumors?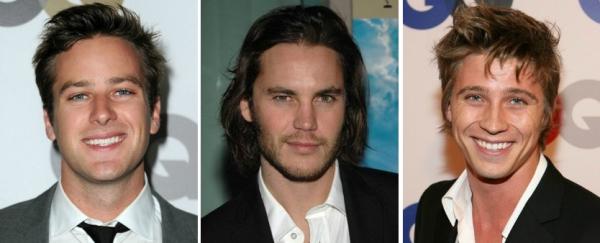 Just last week, Corwin helped
bat down a casting rumor
that was spreading like wildfire - that "Twilight Saga" leading man Robert Pattinson was being looked at to co-star in the next "Hunger Games" film, "Catching Fire." The buzzy little rumor was just that, pure rumor, and the actor himself helped debunk it. But that by no means implies that we're out of the metaphorical woods on this one, and that's because that role that Pattinson was rumored for is one of the most beloved characters in the entire "Hunger Games" universe and one that fans of the series are hungrily (tee hee) anticipating seeing coming to life on screen.
So let's look at what could be yet another totally unfounded rumor when it comes to the casting of former Hunger Games champ, total stud, and secret romantic Finnick Odair!

E! Online
is now reporting that an in-the-know source has revealed three possible casting picks that are being "bantered" (this source might have the lead on some casting news, but they sure as shootin' don't know the meaning of the word "banter") about by Lionsgate for the Finnick role, names that include Armie Hammer (a persistent fan pick, and my personal favorite for the role), Taylor Kitsch (who, after proving unable to carry
two
of this year's blockbusters, might want to stick to supporting roles), and Garrett Hedlund (an unexpected choice who might actually pull it off).
And while that
may
all just sound like random chatter, that source also reveals that the studio
may
announce their decision as early as next week. Or they
may
be looking at unknown actors. Or, hell, this source
may
not know what they're talking about.
The operative word here is "may," so take all of this with a
may
-jor grain of salt until Lionsgate officially announces anything.
"Catching Fire" will start filming this fall and the film is slated to release on November 22, 2013. Or, you know, that
may
change
.