Watch Red-Band Trailer for Star-Studded 'Movie 43'
The raunchy ensemble comedy featuring a roster of A-list stars defies description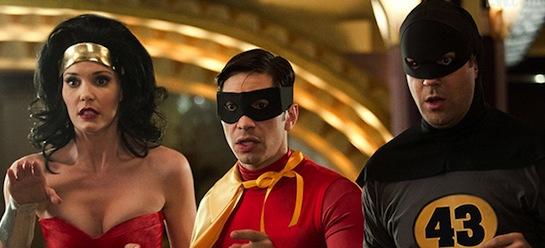 I've been hearing about "Movie 43" for over a year now and I've always had one simple question: What the hell IS that? Now that Relativity Media has released an R-rated trailer which you can watch here on Comedy Central, I'm still confused! The star power in this film is beyond belief. The familiar faces include Kate Winslet, Richard Gere, Halle Berry, Terrence Howard, Naomi Watts, Gerald Butler, Emma Stone, Hugh Jackman, Uma Thurman, Live Schreiber, Elizabeth Banks, Tony Shalhoub, and many, many others. When I saw that Winslet's name in the film was Juliet Hulme, the same character she played in her breakthrough role in Peter Jackson's "Heavenly Creatures," I thought maybe "Movie 43" was a series of re-edited clips from old movies. But no, it seems to be a collection of short comedy sketches directed by a range of folks including Peter Farrelly, Brett Ratner, Griffin Dunne, and Elizabeth Banks.

Bing: Movie 43 | Peter Farrelly
Take a look at the new trailer and see if you can make sense of what this film is about. With so many short sketches, including one that features Jason Sudeikis as Batman, Justin Long as Robin, and Kristen Bell as Supergirl, it's bound to be a bit uneven, but the sheer outrageousness of the bits as well as seeing our favorite stars in the most unlikely and offensive of situations may provide more than a few laughs.
"Movie 43" opens in theaters nationwide on January 25, 2013.