Paul Schneider Is So Much Better Than This First Trailer for 'The Babymakers'
The sperm isn't the only thing that's lazy in new film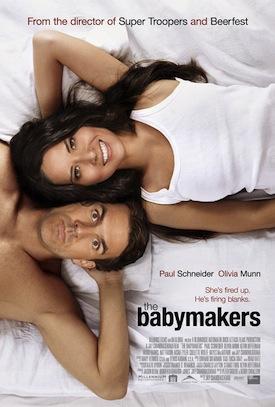 The Broken Lizard crew hit comedic gold with 2001's hilarious cult comedy, "Super Troopers," but while not all of the team is back together for Jay Chandrasekhar's latest, "The Babymakers," that might not be the only thing to blame. While the film does feature both Chandrasekhar and Kevin Heffernan, the rest of the film is rounded out by non-Broken Lizard members, most of whom are much better than the material they're given to work with here - especially leading man Paul Schneider.
The film does come with a funny premise - Schneider's Tommy and his wife, Olivia Munn's Audrey, are finally ready to start a family. But that simple decision is thrown for a loop when Tommy's sperm is revealed to be lazy or, as Audrey observes, "they look drunk." But Tommy knows something Audrey doesn't - his sperm wasn't always like this, because years earlier, he sold quite a bit of it to a local sperm bank to help finance Audrey's engagement ring, and the bank seemed more than happy with his deposits. After a number of mishaps, Tommy conceives of a mother of a plan - he and his idiot buddies will break into the sperm bank to steal his sperm, so that he and Audrey can start their family. 
More on Bing: Watch an Interview With the Director of 'Babymakers.'
It's a nifty twist on the bank heist genre, but the execution of it is so poor and so flat-out unfunny that's it's hard to believe that some of the talent behind "The Babymakers" are even allowing it out into the theatrical world. All the pieces are there, but "The Babymakers" just doesn't spawn anything amusing (I saw the film back at SXSW, and was seriously disappointed by it). 
Check out the film's first trailer, thanks to 
Apple
 and 
First Showing
, after the break. The film opens in theaters and on VOD on August 3.