Lionsgate Searches For 'Catching Fire' Director
This is news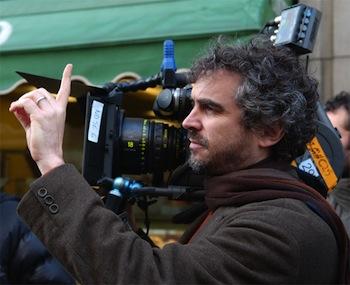 It seems that fewer and fewer films are being made by women, for women. Or just by women, period. To cite just one prominent example, even under the creative oversight of novelist Suzanne Collins—who supposedly has final say over such matters—not a single female director is even under consideration for "Catching Fire," the hotly anticipated upcoming sequel to "The Hunger Games." Instead, the admittedly prestigious names of David Cronenberg, Alejandro González Iñárritu, and Alfonso Cuaron have been bandied about. Whither Julie Taymor, Mimi Leder, Kathryn Bigelow?
Seriously, couldn't the Academy Award-winning director of such harrowing action fare as "The Hurt Locker" do justice to "Catching Fire?" Admittedly, Bigelow is currently busy directing "Zero Dark Thirty," a dramatization of the Navy SEAL raid that famously killed Osama bin Laden. Maybe the producers could catch her the next time around, like for "Mockingjay: Part II," which will inevitably be filled with gunfire and explosions. (Long considered her forté. See also: "Point Break.")
Still, that leaves the "Hunger Games" tetralogy in the hypothetical hands of Cronenberg—whose most successful film is 1986's "The Fly," and who has never directed a big budget film—Iñárritu—who, um, directed "Babel," so...—or Cuaron, who admittedly would be kind of perfect. Meanwhile, other female directors like Nancy Meyers are left to make films like "The Chelsea," written by the filmmaker's own daughter, about an apartment complex in New York City's Chelsea neighborhood, and the ensemble of presumably quirky women who live there and their adorable and or aggravating women problems. All of which can either be considered great news—nepotism? eh, so what—or a sad commentary on the state of gender equality in Hollywood. As in, after so many decades of social upheaval and struggle, there still isn't any. Cheers!