Interview: John Cusack of 'The Raven'
'I think Poe was the rock star of the day ...'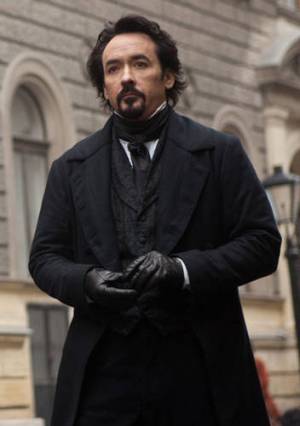 Ushered -- no pun intended -- into a hotel room to meet John Cusack to talk about his work playing Edgar Allan Poe in the thriller "The Raven," the actor's scribbling a list, frantically; music inspired by Poe, for a promotional bit of business. The Chicago-born actor may be aging -- as are we all -- but the familiar mannerisms from a career stretching back to the 80's are there: The hesitancy, the hand-thru-the-hair, the muted explosions of real enthusiasm. We spoke with Cusack in L.A. about playing Poe, why he so often plays writers, and his view of the late author as 'a badass ...'
MSN Movies: When you find out you're going to be playing Poe, to what degree do you roll up your puffy sleeves and just dive into the life and work?
John Cusack: Right away.
There's stuff we think we know, and then actually learning more about it. What were you most surprised to learn?
Well, I think, what I hope everybody does is maybe takes the time just to read him again. When you read him again, you see how prescient he was, how many genres he invented, how many styles he was capable of. You see him as a satirist, someone who's taken the ludicrous and heightened it to grotesque. You see him as a first person narrative, as a precursor to Truman Capote and Hunter Thompson and Norman Mailer, all these writers who write for themselves. You see so much there when you read him again. I think because he's iconic, he somehow becomes two-dimensional over time. When you reread him, you see, "My God, he started all this stuff. He started everything."
Was it also nice as you read the script to realize that this was in way an ignoble Poe, this ink-stained wretch, hustling for the next gig, always late on deadlines?
Yeah. I think there's something heroic about somebody that has the courage to be that honest about their neuroses and fears and troubles. I think he was a genius, a pioneer to the subconscious, but he was a badass, disagreeable ...
Occasionally drunken ...
Yeah, he went on a lot of benders.
What was the most humanizing thing you learned about him? There's the work, but from the life, what was the most humanizing thing you learned that you didn't know previously?
I didn't know that he was funny. I didn't remember that. When I read him again, I could see the satiric element, and the pulp element of him. I think one of the most human things I think is how much he loved the women in his life. I think he was a rock star of the day, and I think he liked the company of women and to be adored by women. He didn't have very many close friends that were men. Men were competition and they were to be dueled. He was at war with the world literarily and artistically. He wanted to be recognized as a genius and all that stuff, but I think he adored the company of women. The women in his life that he loved, his mother, his stepmother, then his wife, I think he was profoundly in love with. He loved them, and was profoundly shaken by their loss. I think he did have a kind of transcendent almost religious love for women. It was kind of non-sexual in a weird way. It had more religious feeling to it, so I think that makes him very human and very vulnerable and likable.
His classic line is that "There's nothing more poetical than the death of a beautiful woman."
That's it. He said, "I could not love, except where Death / Was mingling his with beauty's breath."
You play a lot of writers. I'm curious if that's just a function of being an actor, where people know you can wrap your mouth around a couple multi-syllabic words or if it's something you look for?
You know, I don't know. It sort of finds you or you find it. I don't know. I also write, so maybe filmmakers know I write a little bit, because I've written some of my own films. I write things. I don't know. It just seems to happen.
When you're channel surfing late at night, which one of your old movies are you most likely to not click by out of embarrassment, and actually watch, because it holds up, or you enjoy watching yourself or other people in it? Is it something where it all just goes, "Oh no, done that, been there. Let's find something else?"
I don't usually stop. I can just tell you, the last one I did stop at for a while was "The Grifters" one night. It was about seven years ago I stopped at that. The only thing I found interesting about it was I saw it differently, and then it reminded me that my own opinion is not that important.
You mean you had a different understanding of the film or a better appreciation of the film?
No, I think you experience it differently. Art is like, to me, if you just set it on a piece of paper is just a bunch of digits, and it's numbers, and it's all the same math all the time, but it's interactive, because as you experience it, a good piece of art has a pulse and has a life to it. You can see the same things, but experience it differently. I think when I was so close to these films, I usually see them, and I usually see my own disappointment and what I was striving for, and where I fell short. It's not that I'm obsessed with myself, as much as I can't get past it, and I can't see it clearly sometimes. So if I do a film, and I think "Okay, the film's really good. I kind of ruined it, but everybody else around me was great." That to me means it's working. Like I don't ever feel like, "Oh wow, I'm so great" you know? I sort of feel like, "You should've done that better or something." When I saw "The Grifters," I saw it and I was like, "Oh no." I could see it from a different perspective. It's like looking at a painting from a different perspective. I found that was interesting, and I just so enjoyed watching Angelica (Huston.) I just sort of stopped for a while, and I was like "Wow. Oh, I wasn't that bad in that. Okay."
I'm also curious about you filming a work with director James McTeigue, because he's got this really interesting weird resume of super slow-mo and action-y stuff, but in some cases a lot of very real resonances; say what you will about "V for Vendetta," it tries to do more things than the average action film.
No, it doesn't try to do more things than the average action film. It makes some radical intellectual arguments.
I would concur. I would also suggest that compared to the source material, it's more in favor of a collective liberalism than the pro-anarchy ideas of the source material.
Perhaps.
But we can talk about that all day, and bore people to death.
(Laughs) Even so, there are things in that film that are not seen in any studio movies at all. There are ideas in that film that are not put out ever in studio films ever.
Yeah, it felt like out of the class of 1999, with "Fight Club" and "Three Kings"...
But I think the intellectual ideas about forceful violent revolution and all that stuff (last), and you can still see the anonymous thing has a cultural resonance that has lasted now for ten or fifteen years. James has got a big brain.
What one Poe story should people read if this film piques their interest in awe discovering his work?
That's such a hard one to say the one. I'll just pick one, because there's so many good ones, but I can't say it's the most favorite, "Fall of the House of Usher," "Masque of the Red Death." They're all so good ... "Hop Frog." I would say maybe "Masque of the Red Death" when Death actually comes into the ballroom, because it's one of the set pieces in the film. It's really hard to pick one ...
("The Raven" opens Friday.)