Stunning 31-Disc 'Harry Potter' Blu-ray Box Set Is Nothing Short of Magical
But it comes with a hefty price tag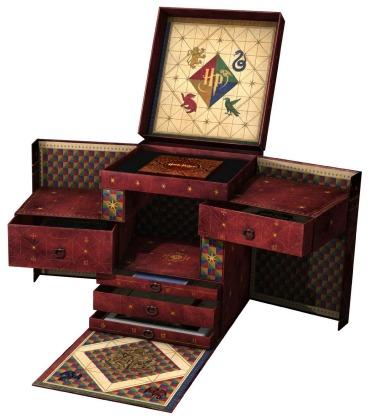 While I don't often go gaga for home video sets, the Harry Potter Wizards Collection has left me open-mouthed. Beyond just being "complete," the set is a real stunner - a gorgeous collection that includes all eight films and so much more. Do you want the option to watch the final two films in 2D or 3D? This set gives you both. Fan of the Extended Cut of "Harry Potter and the Chamber of Secrets"? It's here, too. Hungry for special features? There are thirteen discs of them here - thirteen!
The set is priced at hefty $499.99 but if you pre-order the box now, you can get it for just $349.99. I know, I know, that's still not cheap, but it's about eleven bucks a disc, far cheaper than most normal Blu-ray discs sold separately. And the box! Think of the box!
The set's Amazon page has been revealed (thanks to /Film), and while we don't yet know all the goodies that the box will hold, the product page does reveal the following:

Contains 31 discs, inclusive of all content ever previously released, in addition to over 5 hours of never before seen special features, in a limited and numbered edition.
18 movie discs
Harry Potter and the Sorcerer's Stone Theatrical Version and Extended Cut
Harry Potter and the Chamber of Secrets Theatrical Version and Extended Cut
Harry Potter and the Prisoner of Azkaban
Harry Potter and the Goblet of Fire
Harry Potter and the Order of the Phoenix
Harry Potter and the Half-Blood Prince
Harry Potter and the Deathly Hallows – Part 1 2D and 3D Versions
Harry Potter and the Deathly Hallows – Part 2 2D and 3D Versions
13 Special feature discs
Includes multiple specially-produced, collectable memorabilia items, including concept art, a Map of Hogwarts and much more!
"Much more"? I can't wait. And I may not have to for too long - while we also don't know the set's exact release date, Amazon does reveal that it's set for "2012." After the break, check out a video from Amazon (smartly embedded by
JoBlo
) about the set. Will you be buying it?

Don't know where he figures $11 a piece being cheaper then standard Blue Rays. When I buy movies I get the packs with BD, Standard and Digital Copy which means I keep the Blue Ray for the house, put the Standard disk in the van for the kids to watch and copy the Digital one to the laptop. If you buy them either when they first come out in Wal-Mart you can pick one of the 3 packs up for $21 tax included (making them $7 each) or wait a month or so and pick the 3 pack up for $15 making them $5 bucks each.  Sure I'd like to have this set but I'm not about to give $350 bucks + tax and s & h cost.
Are you sure you want to delete this comment?