'Carrie' Teaser Gives Away the Game
We'd say *SPOILER ALERT* but there's that whole original movie thing, too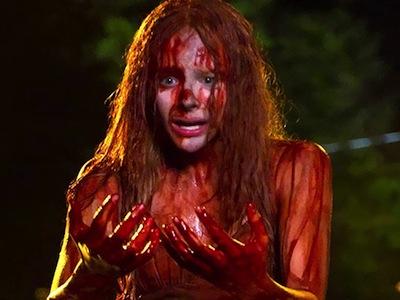 We'd accuse the attached teaser trailer for the forthcoming "Carrie" remake of spoiling the film's ending, but we're pretty sure that the film's various promotional images—not to mention Brian De Palma's 1976 original film—have already given away the game.
So yes, there's a burning school; the scattered wreckage and detritus of some unknown, ungodly mayhem; and at the center of it all? Chlöe Grace Moretz's Carrie, covered in blood, freaking out over her first... But we digress. It's all pretty chilling/thrilling stuff, even if you've seen it all before with Sissy Spacek. Although Moretz still seems much younger/age appropriate than Spacek did. We wonder why. Maybe it's because Spacek was 27 when the original "Carrie" came out, whereas Moretz is still only 15. Hard to believe.
What do you think, Hitlisters? Check out the trailer, posted after the break, and let us know what you think in the comments.