Interview: Rosemarie DeWitt of 'Promised Land'
'Everyone in this movie is at a loss what the next step is, and they all have to figure it out.'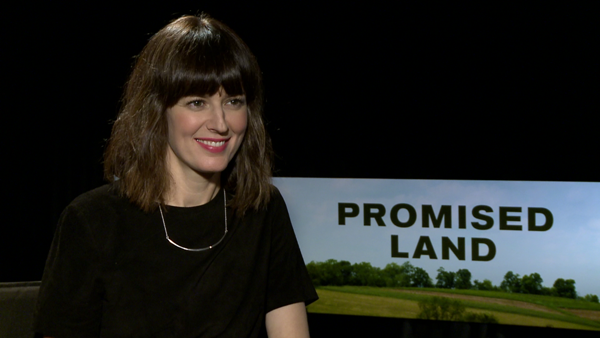 With her resume ranging from big-budget films ("The Watch," "The Odd Life of Timothy Green" to acclaimed indies like "Your Sister's Sister" and "Nobody Walks" -- as well as strong work on the small screen in "Mad Men" and "The United States of Tara" -- Rosmarie DeWitt has quietly built a fascinating filmography characterized by smart choices and strong work. In "Promised Land," she plays a small-town resident torn -- philosophically and personally - between Matt Damon's oil company advance man and John Krasinski's idealistic activist. We spoke with Ms. DeWitt in Los Angeles.
MSN Movies: When you find out that you're going to be working on has a story by Dave Eggers, one of the most acclaimed writers of our time, that then happens to be written by your two leading men who are immensely talented, how fortunate do you feel?
Rosemarie DeWitt: You feel so fortunate. You read it, and you think, "I'll never get this." You know what I mean? You're really relaxed. Like they're not going to give it me. I worked with John Krasinski not long before this, and I didn't know he was writing this. My jaw was kind of on the ground when I was reading. Like the scope of the movie and the characters are so real, and I felt like it wasn't black and white. It just operated in this gray zone. I was really inspired.
Your character winds up sort of being between Mr. Damon's oil company operative and Mr. Krasinkski's environmental idealist. And putting aside the whole thing of, "What a pity to be torn between those two," but is it nice to be in a film where, as a female character, it's about options and choice for you romantically?
Yeah, and it's nice not to just be supporting their journey but to have a bit of a choice on her own. And I really appreciated the fact that they wrote her to be a smart cookie. Like, she didn't need either of them. I mean she was going to listen with an open mind to their arguments, but she was smart enough to do her own research, make her own decision in matters of the heart, and for what was best for the good of her land that's been in her family for hundreds of years.
And your character plays someone who did live in a larger urban area and came back after a death in her family and really liked stewardship of the land, getting that great mix of small town with a little bit of big city experience. But I mean is that completely false? I have no clue or sense of how you grew up. You could've grown up in a high rise or on a farm. Which of the two was it?
BING: Rosmarie DeWitt l 'Promised Land' 
Neither. I grew up in the suburbs.
Oh, okay.
But you know ... I kind of moved out of the town I grew up in as quick as I could. I left right after high school. And there is this thing where we reject where we're from, and the older we get we realize this is the place that made us, and it might actually hold some of the things that we're looking for. And I think a lot of us have fantasies of going back to where we're from, or when we do go back we're so nostalgic about it. She's really at a place where she doesn't know. The only reason she went back was because her dad died, and she didn't want to be the one to give up the farm. So she's kind of at a loss, too. Everyone's at a loss really in this movie with what the next step is for them, and they all have to figure it out together.
And that is a great thing about this film that every single character is on the cusp of a great set of decisions…
Yeah.
…which they can also not make.
Yeah.
When you find that you're going to working with Mr. Van Sant who's done incredible and distinctive films from "Milk" to "Elephant," what's it like working with him as a director? Is it very calm and quiet? He seems like he's not a shouter.
No, he's calm and quiet. I was so nervous though because I had admired him so much, you know? And he's a man of very few words. He gave me like two notes the entire time we were shooting. And I would kind of just always look over like, "Is it going okay?" And he'd give me a thumbs up because he really is making all the magic behind the camera. He's letting the actors just go, he gives us full reign to try whatever we want to try, and then he composes these beautiful shots. And really the most important character in the movie is the farmland, you know, becomes another character. And that's all Gus kind of orchestrating it and working it into every scene.
The film does a great job of balancing this sort of idyllic fantasy of country life with the realities of it. When you read the script were you gratified to see that it wasn't just this Hallmark card vision of simplicity?
Oh yeah. I thought it was very, very gray. I didn't know who was to be trusted, who wasn't. I thought there was something that felt like a bit of throwback. It reminded us of the kind of America that our grandparents talk about, where people were all raising each other's kids and making decisions as a community. And through the course of the movie we realized that there's something to that. There's something to go back to there.
For more on "Promised Land," check out our video interviews with the cast:
Want more Movies? Be sure to like MSN Movies Facebook and follow MSN Movies Twitter.