MOD Movies: Brahm's Quartet
Four films in the shadows by director John Brahm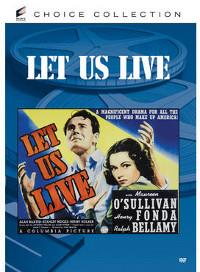 John Brahm was part of the grand flight from Germany during Hitler's reign. Born Hans Brahm, he trained on the stage and shifted to cinema, making his directorial debut in 1936 (a British remake of "Broken Blossoms") and his Hollywood debut a year later. His legacy rests on a pair of early gothic film noirs, his handsome 1944 remake/revision of Alfred Hitchcock's "The Lodger" and the 1945 follow-up "Hangover Square," both starring the great character actor Laird Cregar, a longtime heavy that Brahm promoted to dark, troubled leading man status. Both of those are on DVD from Fox (in a box set with his earlier B-movie production "The Undying Monster"), but until recently that was almost all that was available of his film work. Thanks to the proliferation of manufacture-on-deman​​d releases, his available features on disc have about doubled.
At his best, John Brahm had a handsome sense of design, a strong feeling for interesting women characters, and a Gothic sense of the shadows hanging over life, just threatening to move in and swallow us.
That's right up front of "Let Us Live" (Sony Pictures Choice Collection), a 1939 proto-noir with Henry Fonda as a taxi driver arrested, convicted, and sentenced to death for a crime he didn't commit (Fonda's second time, after "You Only Live Twice"). It anticipates Hitchcock's "The Wrong Man" in a low key, but with an emphasis on heroine Maureen O'Sullivan, the tirelessly supportive girlfriend turned plucky investigator who teams up with a maverick police detective (Ralph Bellamy).
What Brahm brings to the film is a terror born of official indifference -- neither the District Attorney's department nor the police will look into possibly exonerating evidence after Fonda and his equally innocent buddy have been handed the death penalty -- and he turns the race to stop the execution into a battle with bureaucracy. It's not a matter of corruption, merely the banality of power and privilege over compassion, and the distinction is not lost on Brahm. In place of a happy ending, he leaves a man broken by his ordeal and a film without any faith in the system or the gatekeepers who are supposed to be more interested in justice than job security. Sony has a great track record with their MOD releases and this is no exception. It's a solid, well-mastered B&W print.
Continue reading at Videodrone
For more releases, see Hot Tips and Top Picks: DVDs, Blu-rays and streaming video for week of January 1