Back to school: Two new stills from the obviously-adorable 'Monsters University'
Consider us registered for classes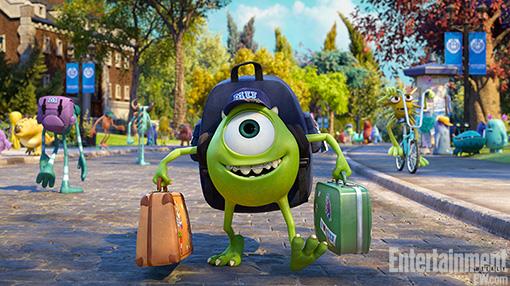 It's been over eleven years since we were first treated to the misadventures of the world's two most adorable monsters, Pixar's charming Mike Wazowski (voiced by Billy Crystal) and Sulley (voiced by John Goodman) in their hit film, "Monsters Inc.," but the pair are now returning for an all-new project. This one takes us back in time (oh, the freedom of animation), all the way back to, well, "Monsters University." 
Bing: 'Monsters University' | Pixar

The prequel centers on the beginnings of both Mike and Sulley's scary careers and their friendship. As Entertainment Weekly tells it, "the movie reveals that they started out as enemies, constantly one-upping each other with elaborate practical jokes." Producer Kori Rae goes deeper when it comes to talking about the benefits of such a prequel, telling the outlet: "We get to show off their differences. They both approach life in different ways. Mike is the go-getter type, anything is possible, and he's the super-hard worker. Sulley is different because he's a great scarer, he has this natural ability, but Mike has to work for it."
And yet, there's no doubt that "Monsters University" will be just as adorable as its predecessor. Just look at baby Mike showing up for his first day of college! (And, yes, that is a retainer). Surely, this latest Pixar project will be just as funny and sweet as the first film, and we're all in for a real treat come this summer. And, if you can't wait to see this new "Monsters" adventure, Pixar is re-releasing "Monsters Inc." into theaters on December 19, now in 3D!
Check out the second new still from "Monsters University," also thanks to 
EW
, after the break.